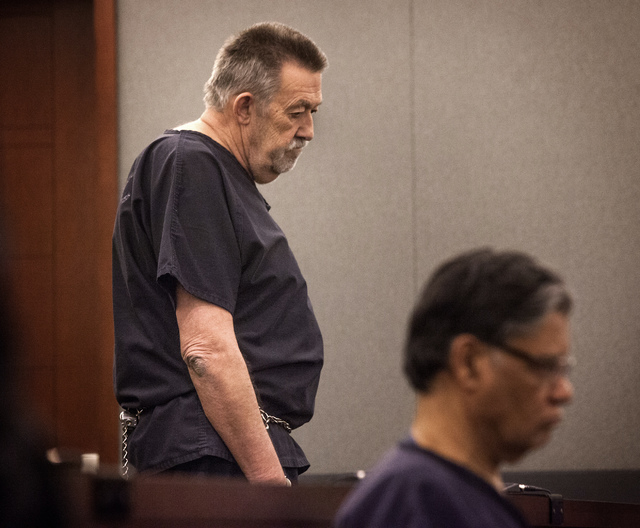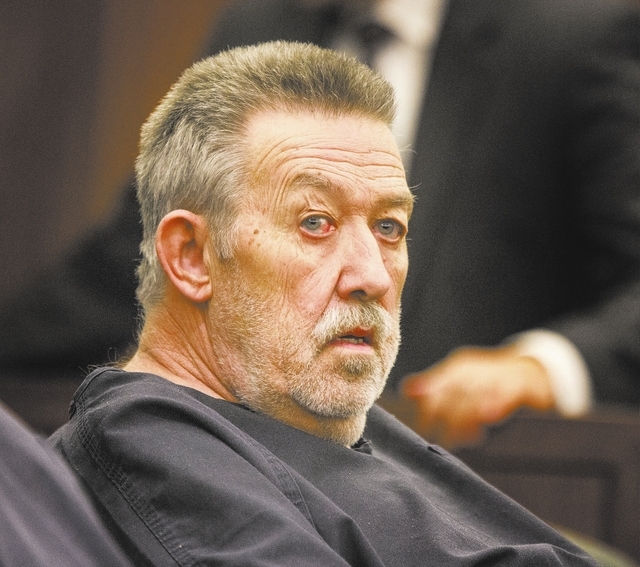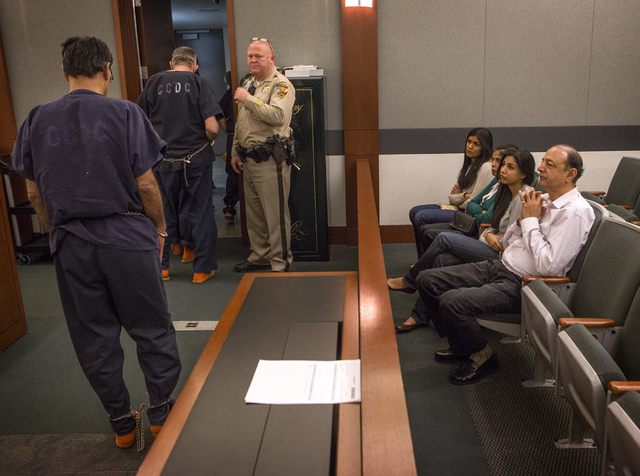 Dr. Dipak Desai was sentenced Thursday to life in prison with the possibility of parole after 18 years for his criminal convictions in the deadly hepatitis C outbreak.
His co-defendant, nurse anesthetist Ronald Lakeman, was sentenced to eight to 21 years behind bars.
Defense lawyers plan to appeal the July 1 convictions of both men, who are in custody at the Clark County Detention Center.
In handing out Desai's sentence, District Judge Valerie Adair said there was "no worse betrayal of trust" in society than what Desai did to his patients.
She said he consistently demonstrated a disregard for their well-being.
Desai, 63, dressed in navy blue jail garb and chains, looked straight ahead and showed no emotion from his seat in inmate row in the packed courtroom as Adair sentenced him.
Chief Deputy District Attorney Mike Staudaher sought the tough sentence, telling Adair that Desai was motivated by greed and that the impact of his actions stretched beyond his many victims.
"This community essentially was put at risk over many years," Staudaher said.
Desai's lead defense lawyer, Richard Wright, described Desai as a "caring" and "religious" man who was deeply remorseful. He urged Adair to be lenient.
"This tragedy was not anticipated. It was not foreseen," Wright said.
Desai's health has deteriorated since he was jailed after his conviction in the 2007 hepatitis outbreak, Wright said.
In court papers earlier this week, Wright said a harsh sentence would do nothing but "feed into the hysteria that has surrounded this case since its inception."
Lakeman's lawyer, Rick Santacroce, also asked for leniency, arguing that Lakeman's life, which included many good deeds, should not be defined by his role in the hepatitis outbreak.
Adair said she did not believe Lakeman set out to intentionally to harm patients, but he knew the risks he was taking.
"He knew what he was doing was wrong," Adair said, adding he could have stepped forward and reported what was taking place.
Santacroce said Lakeman, 66, who also was shackled in court, participated in more than 40,000 procedures without incident during his lengthy medical career.
Neither defendant addressed Adair before she handed out the sentence, and none of the victims testified.
Afterward, District Attorney Steve Wolfson lauded the punishment for what he called the "reckless behavior of these two professionals."
"I think the sentences are fair when you consider how many people were harmed by the conduct of the defendants," Wolfson said. "In addition to the loss of life and the others who contracted the potentially fatal hepatitis disease, there were thousands of other innocent victims who were notified that they had to come in for tests for the virus."
After a two-month trial, a jury found Desai guilty of all 27 criminal counts related to the outbreak, including second-degree murder in the death of infected patient Rodolfo Meana, 77.
Some of Meana's family members were in court Thursday.
Lakeman was acquitted on the murder charge and other charges tied to Meana's April 2012 death but was found guilty of 16 other counts.
Desai and Lakeman were indicted with another nurse anesthetist, Keith Mathahs, in June 2010. Mathahs, 77, pleaded guilty and testified for the prosecution. He faces 28 to 72 months in prison at his sentencing Oct. 31.
The charges, which included criminal neglect of patients and insurance fraud, focused on the cases of Meana and six other patients infected with hepatitis C at Desai's Endoscopy Center of Southern Nevada on Shadow Lane in 2007. Health officials genetically linked the blood-borne virus in those patients to the clinic.
Another infected patient, Michael Washington, 73, died in Texas in August. Wolfson said his office hasn't decided whether to pursue additional murder charges against Desai and Lakeman.
In court Thursday, Staudaher told Adair that Washington's death certificate shows he died from the hepatitis C virus.
During the lengthy trial, prosecutors contended unsafe injection practices involving the anesthetic propofol led to the outbreak. The combination of double-dipping syringes into propofol bottles used on multiple patients spread the virus from source patients infected with hepatitis C on two different dates in 2007, prosecutors contended.
Desai, who gave up his medical license, has suffered several strokes since the health district disclosed the outbreak in 2008.
He was declared competent to stand trial despite repeated concerns Wright raised about Desai's inability to assist the lawyers on his defense team.
The verdict closed the book on one of the largest and most complicated criminal investigations undertaken by Las Vegas police.
The investigation was launched in March 2008 after health officials disclosed the outbreak and urged about 64,000 patients to get tested for blood-borne viruses.
Contact reporter Jeff German at jgerman@reviewjournal.com or 702-380-8135. Followhim on Twitter @JGermanRJ.