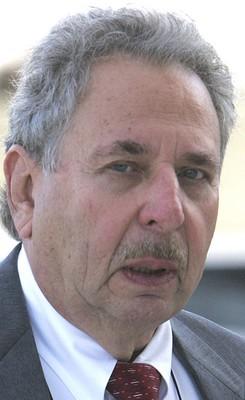 Developer Donald Davidson's public corruption trial was delayed about a month on Monday after his attorney, Dominic Gentile, said a family medical emergency will keep him from adequately preparing for the court proceedings.
It was the fifth postponement of the trial, which had originally been scheduled to begin in February 2006. Each of the prior postponements was requested by either prosecutors or Gentile. Workload conflicts were cited as the reason for the prior delays.
Davidson is accused of bribing and attempting to bribe elected officials.
On Monday, District Judge Roger Hunt set June 18 as the new trial date after Gentile said his fiancee was recently diagnosed with multiple sclerosis and needs out-of-state treatment.
In several motions filed before Monday's brief hearing, Gentile also complained of not having enough time to prepare for the trial after the federal government filed a second superseding indictment against Davidson.
Gentile claimed Assistant U.S. Attorney Daniel Schiess engaged in "vindictive prosecution" by filing two superseding indictments and piling more charges on Davidson.
Schiess issued more indictments against Davidson after Davidson testified at former Clark County Commissioner Lance Malone's Feb. 14 sentencing hearing and Malone's testimony before a grand jury later that month.
"The prosecutor used the grand jury as a tool for advancing a vindictive prosecution," wrote Gentile, who had also served as Malone's lawyer.
Davidson was initially indicted in November 2005 on charges related to paying then-Clark County Commissioner Erin Kenny $200,000 after she helped push through a zoning change that allowed a CVS Pharmacy in a residential neighborhood.
More charges were included in a follow-up indictment issued in October 2006. According to that indictment, Davidson and an "unnamed co-conspirator" attempted to bribe a Las Vegas city councilman. Court documents later named Malone as the co-conspirator and Michael McDonald as the city councilman.
Davidson and Malone were attempting to solicit McDonald's help in pushing through a controversial zoning change for developer John Hui, according to court records. Davidson directed Malone to "get to" the councilman, according to the second indictment. Hui has not been charged.
"You know, I have sixty … I figure the three of us chop it up, and if I have to share part of it, you know I'm not a greedy person," Davidson said, according to an Oct. 30, 2001, telephone conversation recorded by the government.
On March 13, Schiess filed a second superseding indictment against Davidson for devising a scheme to deprive Clark County residents "of their right to Kenny's honest services for the private gain of Kenny."
The charges were related to a contentious vote on a controversial casino planned for the Spring Valley neighborhood.
According to the indictment, shortly after the 2000 vote in favor of the casino, Kenny met with the members of the Ghermezian family, who planned to build the casino, and Davidson, then vice-president of the family's development company.
"The owner expressed his gratitude to Kenny for her vote on the Spring Valley casino matter," the indictment says.
Davidson delivered to Kenny $3,000 from the Ghermezian's Triple Five Development company "and continued to give her $3,000 nearly every month until early 2003. Most of the monthly payments were in cash," the indictment says.
Triple Five Development has denied the allegations.
Malone was sentenced to six years in prison for his role in a separate political corruption scheme during which he delivered cash bribes to elected officials in exchange for votes favoring the strip clubs of his boss, Michael Galardi. He is serving his time in Lompoc, Calif.
Kenny pleaded guilty in 2003 to accepting the cash bribes but has yet to be sentenced. Her sentencing keeps getting postponed every time Davidson's trial is postponed, apparently because she is expected to testify against Davidson.
Former Commissioners Dario Herrera and Mary Kincaid-Chauncey were found guilty of taking bribes during a lengthy trial last year.
Schiess rejected Gentile's notion that he is acting vindictively or that he used Malone's February testimony before a grand jury or Davidson's testimony at Malone's sentencing hearing against Davidson. In a motion filed in court, Schiess argued that he contemplated superseding the original indictment before Malone's sentencing hearing took place.
During Malone's sentencing hearing, the judge ruled that the Spring Valley casino controversy was irrelevant because it was not included in the indictment against Malone.
Schiess said he feared that if he did not include it in the second superseding indictment, the court would not allow him to introduce related evidence during Davidson's trial. During Malone's sentencing hearing, Schiess intended to argue that Malone agreed to accept a $200,000 bribe from Davidson and Ghermezian to vote in favor of the Spring Valley project. Malone's sentence was based in part on the amount of money the government could prove he accepted in bribes or paid in bribes.
U.S. District Judge Larry Hicks did not allow Schiess to make his argument because no charges had been filed in relation to the casino vote.