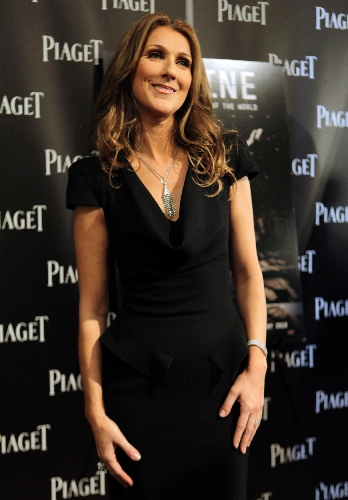 After the disappointment of several unsuccessful pregnancies, Celine Dion's prayers were answered twofold. She's expecting twins.
The French-Canadian superstar is 3½-months pregnant, said her assistant Anna DeMartino of Las Vegas.
Dion, 42, is due in late October or early November and plans to stick to her March 15 return to Caesars Palace for a three-year residency, DeMartino told Vegas Confidential.
Dion and her husband, Rene Angelil, have a son, Rene Charles, who turns 10 on Jan. 25.
Earlier this year, Dion said she was undergoing in vitro fertilization for the fifth time in hopes of becoming pregnant.
She conceived her son, as well, through the assistance of the couple's doctor, Zev Rosenwaks, the director of the Ronald O. Perelman and Claudia Cohen Center for Reproductive Medicine at the Weill Cornell Medical College and the New York Presbyterian Hospital.
Dion underwent acupuncture six weeks before the IVF procedure began and will continue to use acupuncture during her pregnancy, DeMartino said.
Dion announced last August that she was expecting, but the attempt didn't take.
According to footage from her documentary, "Celine: Through the Eyes of the World," she said the news left her and her husband in tears.
"Rene answered the phone, and when I saw the tears running down his face, I knew it wasn't the news we have been longing for.
"The disappointment hits you like a wave. But I swear, I'll keep trying until it works."
The process has been difficult, she said.
"I give the shots (of fertility drugs) to myself. My thighs are bruised and numb and full of lumps from the long needles that go deep into the muscle. I don't want people saying, 'Oh, poor Celine,' but it does take a lot out of me.
"Sometimes I just suddenly burst into tears for no reason. Rene and I want this so much and we go crazy waiting for the results. As a girl who grew up with 13 siblings, I found it hard."
SIGHTINGS
Elvis Presley's granddaughter, Riley Keough, celebrated her 21st birthday at CityCenter and the Bellagio over the weekend. She was joined by mother, Lisa Marie, and grandmother Priscilla. They dined at Union at Aria in the CityCenter and Yellowtail in Bellagio and partied at Haze in Aria and The Bank in Bellagio. Riley launched her modeling career at the age of 14 on the Dolce & Gabbana runway in Italy. She is pursuing acting and plays a patient in "The Good Doctor," starring Orlando Bloom. Last week she joined the cast of the horror movie "Jack and Diane."… Ne-Yo, singing "Miss Independent" to Paris Hilton, whom he had invited on stage for his first song during his mini-show early Sunday in Surrender nightclub at Encore Beach Club. Earlier Hilton, who was staying at a villa at The Mirage, was ringside at UFC 114 with show producer Jeff Beacher, who told me he has a big announcement coming next month. … At Tao Beach and Tao on Saturday: Wilmer Valderrama, Stacy Keibler, Larry Johnson of the Washington Redskins and Reggie Bush of the New Orleans Saints and Larry Fitzgerald of the Arizona Cardinals, hanging out in the same cabana; "Dancing With the Stars" pros Mark Ballas and Cheryl Burke, joined by original Pussycat Doll Ashley Roberts and Stephen Colletti from "One Tree Hill."… At Tao Asian Bistro on Saturday: Frankie Delgado of "The Hills," celebrating his birthday with a group that included Stephanie Pratt, who was with her new boyfriend, two-time motocross champion Josh Hansen. Also at Tao nightclub: Sam Worthington from "Avatar."… At Lavo in the Palazzo on Saturday: Academy Award winner Forest Whitaker, wife Keisha and producer Damon Elliott (Dionne Warwick's son).
THE PUNCH LINE
"We have some Norwegian guests in the studio tonight. This is why we need to seal the borders." — Jimmy Kimmel
Norm Clarke can be reached at 702-383-0244 or norm@reviewjournal.com. Find additional sightings and more online at www.normclarke.com.