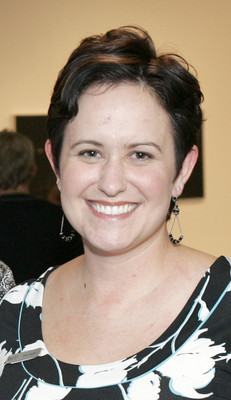 As the economy blew up, Libby Lumpkin threw herself on a fiscal grenade.
"In an art museum, the most expensive expenditure is staff. I thought that if anybody needs to take a break here and just let the museum motor hum for a while at a lower pace, it really ought to be me," said Lumpkin, who tendered her on-the-spot resignation as executive director of the Las Vegas Art Museum on Tuesday at a board meeting that was called to discuss a tightening budget.
"We did let two people go about a month ago when we anticipated the crunch. We have a wonderful staff, and some of them have moved here from far away, from Boston and Wisconsin and Texas, and I thought I'm really the most expensive one and the most expendable one."
Expensive? Perhaps, at an annual salary of $100,000 that kicks back into the operating budget.
Expendable? Questionable. As a museum director, writer, teacher and art historian — she was the founding curator of the Bellagio Gallery of Fine Art in 1998 and installed several new programs and shows since arriving at LVAM in 2005 — Lumpkin is a familiar and respected figure on the Las Vegas arts scene.
"The museum was deeply affected by the economic downturn," she said. "Annual gifts that we count on when we formed the budget weren't as great as we anticipated. We were just grappling with how to deal with the budget crisis. We had a significant reduction in what we could budget for in the coming year."
Significant in this instance means a 30 percent cut planned for the next fiscal year, leaving a budget that Patrick Duffy, the board's incoming president, said was "definitely less than the $1.6 million" of 2006, the last year for which figures are available. That stark financial reality triggered the unexpected development at the meeting.
"Libby elected to resign and up and left the meeting, which was a great disappointment to many, but we just continued the meeting because we have a responsibility to the community," Duffy said. "Our fan base always is tried and true, but many have reduced their giving not only to us but to other charities across the board. Attendance has been seemingly a flat line, which is great, actually. And our membership has seen a slight increase, which is good news. But when you look at the total macrobudget, it had to be reduced. We have to take a good business look at it."
Alex Codlin immediately was named LVAM's interim executive director, advancing from her position as executive assistant director. Neither she nor Duffy would confirm that further cuts to the 12-member staff were imminent, claiming they still were studying their budgetary options, but Codlin said that "stuff is going to be trimmed across the board."
Though the budget hit the fan, the museum is holding to its artistic plan.
"We're going to keep with the mission that Libby has put in place; we're going to focus on contemporary art," Codlin said. "Libby's done a really amazing job of mentoring me over the last year and a half. She really taught me the ropes. It was a shock to see her go."
Codlin, who joined LVAM as a curatorial assistant before shifting to the executive assistant's job in August 2007, earned a master's degree in art history from the University of Texas at Austin, where she also worked in development in the department of fine art. She was a curatorial assistant at the university's Jack S. Blanton Museum of Art, the center of Austin's art scene, before moving to Las Vegas.
"We're already programmed through August 2009, and we've been playing with some ideas for that fall show already, which we'll hopefully announce in the spring," Codlin said. "We've talked about revitalizing the Art Roundup we had done for 56 years, showcasing some Vegas artists, things the community would really love. But I still have to let everything sink in."
As Codlin gears up, Lumpkin says she's content to kick back. "Plans? Yes, lots of sleeping."