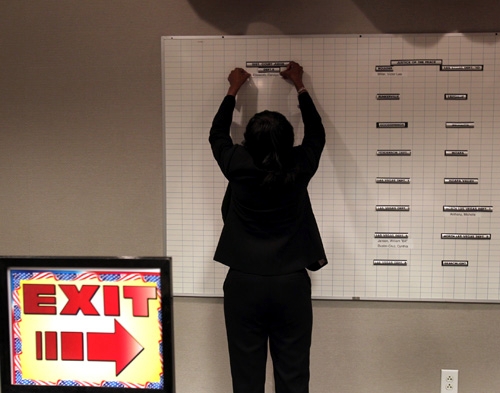 Nevada Supreme Court Justices Nancy Saitta, Michael Douglas and Michael Cherry filed together for re-election Tuesday morning for new six-year terms.
The justices opened the 2012 election season by showing up at 8 a.m. in the secretary of state's office in Carson City to file.
They weren't alone in getting to work on Day 1 of the election season: Every District and Justice Court judge up for re-election in the Las Vegas Valley also filed Tuesday.
Judicial candidates can file for office through Jan. 13. Non-judicial candidates will file during the first two weeks of March. The primary election will be held on June 12, the general on Nov. 6.
SUPREME COURT
The high court justices said they were not aware of any opposition, although Douglas noted he received an opponent six years ago just a minute before the filing deadline. If they are not opposed, judicial rules prevent judges from seeking campaign contributions.
Saitta, 60, is seeking re-election to her second term after spending eight years as a district judge in Clark County and two as a Municipal Court judge. She is the chief justice, a position that alternates.
Douglas and Cherry also are seeking their second full terms on the Supreme Court, although Douglas also served the final two years of Justice Myron Leavitt's term after his death. Both also previously served eight years as district judges in Clark County.
The justices are running for re-election after a year in which the court's monumental decision on May 26 led to the Legislature voting to extend $620 million in taxes that otherwise would have expired. Justices ruled in the Clark County Clean Water Coalition case that legislators and the governor could not take local government funds.
Because of that decision, Gov. Brian Sandoval had to redo his proposed budget with the taxes because it had been balanced by taking funds from local governments and school districts.
Two of the incumbents scored well on the 2011 Judicial Performance Evaluation, a survey of Clark County lawyers by the Las Vegas Review-Journal. Of the lawyers who participated, 79 percent said Cherry and Douglas should be retained. Saitta drew the lowest retention score, 56 percent.
CLARK COUNTY DISTRICT COURT
In Clark County, District Judges Jerry Tao and Carolyn Ellsworth filed Tuesday morning for the seats they now hold.
Sandoval appointed Tao to the Department 20 seat a year ago to replace David Wall, who resigned to take a position with a Las Vegas law firm. Tao got an 80 percent retention rating on the judges survey.
Sandoval appointed Ellsworth in September to fill the Department 5 seat after Jackie Glass left the post to serve as a judge on a TV court show. Ellsworth was not rated on the judicial survey.
Those are the only Clark County District Court seats that will appear on the 2012 ballot.
If elected this year, the two incumbents must run again in 2014 if they wish to be elected to a regular six-year term.
LAS VEGAS JUSTICE COURT
Justices of the peace dominate the 2012 judicial elections, and incumbents wasted no time filing for another campaign.
As of Tuesday afternoon, Las Vegas Township Justices of the Peace Deborah Lippis, Department 1; Joseph Sciscento, Department 2; William Jansen, Department 5; Ann Zimmerman, Department 8; and Melanie Andress-Tobiasson, Department 10; filed notice they will seek re-election.
Their judicial survey retention scores were Lippis, 69 percent; Sciscento, 91 percent; Jansen, 73 percent; Zimmerman, 68 percent; and Andress-Tobiasson, 87 percent.
Jansen and Lippis drew competitors the first day of the filing period. Attorneys Cynthia Dustin-Cruz and perennial candidate Robert Kurth are among the early challengers for Jansen's Department 5 seat.
Kurth has unsuccessfully campaigned for judicial office in Family, District, Justice and Municipal courts since 2000.
Neither he nor Dustin-Cruz was available for comment.
Attorney Vincent Ginn is challenging Lippis.
HENDERSON JUSTICE COURT
In Henderson, longtime Department 1 jurist Rodney Burr filed for another term. He is Henderson's lone justice of the peace with an election in 2012.
"Now it's down to the waiting game," said Burr, who is nearing the end of his third term.
Burr rated a 97 percent retention score in this year's Judicial Performance Evaluation, one of the highest scores in the county.
"Now it's up to voters," he said. "I always look at these elections as a job review every six years. People always ask me if I'll run again, and I always say, 'If the people will have me.' "
NORTH LAS VEGAS JUSTICE COURT
In North Las Vegas Justice Court, Natalie Tyrrell on Tuesday filed her candidacy for the Department 2 seat, which she already holds. Tyrrell, 47, is seeking a third term.
The Department 1 seat, held by longtime Justice of the Peace Stephen Dahl, also is up for election in 2012. Dahl, 56, is not seeking re-election. Michelle Anthony, Willard "Will" Ewing, Kalani Hoo and Jonathan MacArthur filed for the seat Tuesday.
Tyrell received a 76 percent retention score on the judicial survey.
BOULDER CITY JUSTICE COURT
Boulder Township Justice of the Peace Victor Miller filed for another term Tuesday. Boulder City's lone justice of the peace was not available for comment. Miller was not rated on the judicial survey.
Review-Journal reporter Lynnette Curtis contributed to this report. Contact reporter Carri Geer Thevenot at cgeer@reviewjournal.com or 702-384-8710. Contact Capital Bureau Chief Ed Vogel at evogel@reviewjournal.com or 775-687-3900. Contact reporter Doug McMurdo at dmcmurdo@reviewjournal.com or 702-224-5512.
Judging the Judges – 2011
Clark County election information
TUESDAY'S JUDICIAL ELECTION FILINGS
* indicates incumbent
NEVADA SUPREME COURT
Seat C — Michael Cherry*
Seat F — Michael Douglas*
Seat G — Nancy Saitta*
CLARK COUNTY DISTRICT COURT
District 5 — Carolyn Ellsworth*
District 20 — Jerry Tao*
LAS VEGAS JUSTICE COURT
Department 1 — Deborah Lippis *
Vincent Ginn
Department 2 — Joseph Sciscento *
Department 5 — William Jansen *
Cynthia Dustin-Cruz
Robert Kurth
Department 8 — Ann Zimmerman*
Department 10 — Melanie Andress-Tobiasson*
HENDERSON JUSTICE COURT
Department 1 — Rodney Burr*
NORTH LAS VEGAS JUSTICE COURT
Department 1 — Michelle Anthony
Willard "Will" Ewing
Kalani Hoo
Jonathan MacArthur
Department 2 — Natalie Tyrrell*
BOULDER CITY JUSTICE COURT (1)
Victor Miller*
BUNKERVILLE JUSTICE COURT (1)
no filings
GOODSPRINGS JUSTICE COURT (1)
Dawn Haviland*
LAUGHLIN JUSTICE COURT (1)
Tim Atkins*
MESQUITE JUSTICE COURT (1)
Bill Berrett
MOAPA JUSTICE COURT (1)
no filings
MOAPA VALLEY JUSTICE COURT (1)
Lanny Waite*
SEARCHLIGHT JUSTICE COURT (1)
no filings