DMV ends Dash Pass remote access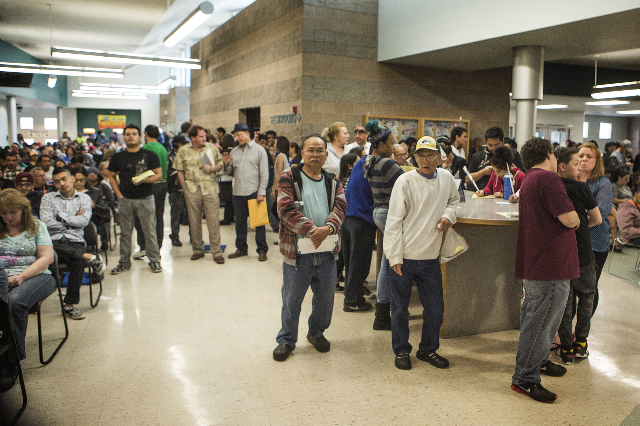 The Nevada Department of Motor Vehicles has scrapped remote access to its Dash Pass queue system because too many people weren'€™t showing up after securing a place in line.
The state's online system, unveiled in September, is under a four-year, $520,348 contract with Pasadena, Calif.-based QLess Inc., and has been used in motor vehicle departments in Texas, Michigan, Kansas and Missouri.
The system allowed persons with business at the DMV office to log on and get in line through the DMV website. The site enabled an individual to check the type of service needed and the office to be used.
The system would then text the number of people in line ahead of them and the approximate wait time so that they could arrive at the office when they reach the front of the line.
The Dash Pass line management system will continue to be used by the department with only remote access discontinued. Motorists can still leave a cellphone number to get line updates after first checking in at the information desk in the office.
Troy Dillard, director of the Nevada DMV, said 20 percent of the people who logged on to the Dash Pass queue system didn't show up at their appointed times.
"€œWe embraced a new technology that was intended to provide an enhanced customer experience," Dillard said in a statement issued by the department Wednesday. '€œThe technology was not as effective as promised once it was put into a real-world environment.'€
Because of the high no-show rate, technicians experienced reduced productivity waiting for people to arrive at counters.
"It's a few minutes of time lost per no-show," Dillard said. "œOver the course of an entire day at our five metro offices that adds up to a lot of lost time."€
The decision to eliminate outside access to the system came after the department shut down the system in two offices last week.
Dillard said outside queue access was shut down at the West Flamingo Road and East Sahara Avenue offices last week and the number of no-show counts was reduced by 175 customers a day. That was enough to convince department officials to shut down outside access statewide.
Department spokesman Kevin Malone said the department is working on establishing an appointment system after the Dash Pass failure. A pilot program to test setting appointments will be tried in Reno later this year. If successful, the system will be expanded statewide.
Lengthy DMV waits also are expected to be reduced after the department was authorized in its 2015-16 budget to hire 93 new employees. They'€™ll be trained and on duty by September.
Dash Pass was applauded by supporters and derided by critics.
"I was thrilled to death with it when I used it,"€ said Charles Goodwin, a 15-year Las Vegas resident who said he was in and out of the process in an hour and 15 minutes on a license renewal earlier this month.
"€œWouldn't you know it, they finally got something that I really liked and they do away with it,"€ he said.
But Marcel Ralbovsky, in a letter to the Review-Journal'€™s Road Warrior column, complained that when he used the system, he got an initial indication of a 70-minute wait that expanded through the day. Ralbovsky said his next message said there 39 people ahead of him with an 80-minute wait. In 4½ hours, the system said there were 17 ahead of him with a 208-minute wait.
"€œIf the DMV says their system was working well, I beg to differ,"€ he said. "Imagine if you were trying to plan your day around those wait-time estimates."
Contact Richard N. Velotta at rvelotta@reviewjournal.com or 702-477-3893. Find him on Twitter: @RickVelotta.