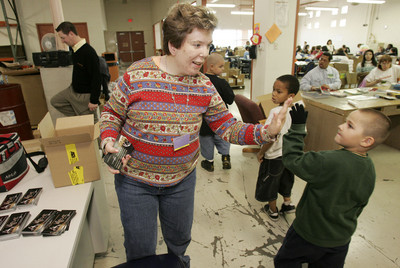 Every holiday season, children go crazy in anticipation of Santa Claus.
At the Magical Forest at Opportunity Village, the adults cannot wait for the kids to arrive.
"Our clients start asking in September when the kids are coming through," said Stephen Miller, the special events manager for Opportunity Village, 6300 W. Oakey Blvd.
"They will run up to the kids to give them high-fives and hugs."
The Magical Forest is a major fundraiser for Opportunity Village, which each year provides employment opportunities and vocational training for more than 3,500 people with intellectual disabilities.
This holiday season, more schoolchildren than usual are getting to mingle with Santa and his elves, sip hot chocolate and wander through a forest of decorated trees and reindeer exhibits. Sponsors are underwriting field trip costs for schools whose children can't afford the daytime $9 admission fee to the Magical Forest.
Generous backers have funded 14 school trips so far, but Opportunity Village is looking for more sponsors for eight public schools that primarily serve economically disadvantaged students. Miller said it costs about $2,500 to sponsor a school, which covers the entrance fees, transportation, lunch and other incidentals for about 150 kids.
Irwin Kishner, a local developer, paid for the first-grade classes of Gene Ward and Lynch elementary schools to visit Monday.
John and Linda Wasserburger, the grandparents of a 5-year-old girl who died in the summer in a fall from a building, are sponsoring a visit by Edwards Elementary School in memory of their granddaughter, Cheyenne Kouba.
In further recognition, the school trips are referred to as "Cheyenne's Magical Bus Tour." Cheyenne's aunt, Debbie Smith, is an educational liaison for Opportunity Village.
Officials said the school trips serve dual purposes.
They give children from poor backgrounds a taste of the holidays that they might not otherwise get. Cassie Desecki, a first-grade teacher at Lynch, said few of her students knew any holiday tunes, and many "don't get anything for Christmas or don't even celebrate it."
Before leaving the Magical Forest on Monday, each child got a gift, either a toy truck, a squirt gun or a tea set.
Beyond getting some holiday cheer, the students also were exposed to people with abilities different from their own.
"It teaches them tolerance," Miller said. "It tells them not everybody's the same, but you shouldn't treat them any different."
While 6-year-old Christopher Day enjoyed riding the carousel, Marco Cruz, also 6, got a thrill of "meeting the people."
Smith, the educational liaison, told the students beforehand that the clients would be happy to see them.
"They're going to want to show to you their work," she said.
Clients at Opportunity Village are paid for various tasks such as assembling gift baskets for conventioneers or testing remote control gadgets for Cox Communications.
Opportunity Village is probably most famous for producing the scarves that Elvis Presley once tossed to this adoring fans.
Dustina Maupin, 27, was as wide-eyed as an Elvis fan Monday. She was all smiles as she gave every first-grader a high-five as the children passed her work station.
Maupin was assembling gift bags for runners participating in an upcoming marathon, but her true passion, she said, is for children and animals. She wants to work in an animal shelter one day.
Juanita Hightower, a supervisor at Opportunity Village, said many clients have limited exposure to children because they live in group homes with other adults.
"They love it when the kids come on tour," Hightower said.
Contact reporter James Haug at jhaug @reviewjournal.com or 702-799-2922.