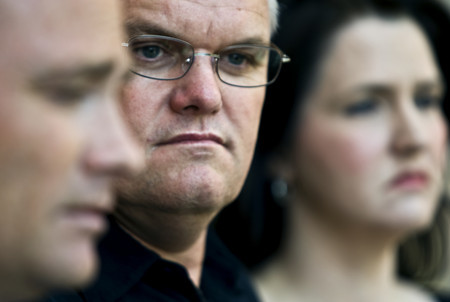 Calvin Darling was struck by a police car going 90 mph, arrested, labeled a drunken driver by police and later released after the facts cleared him.
But the casino worker whom friends call a "great guy" doesn't seem to hold a grudge against the Metropolitan Police Department.
"It was a highly charged incident. … I think it could have been handled a little differently, but all in all, I think everybody did what they thought they had to do," Darling said during a brief news conference outside the Regional Justice Center, his first comments to the public since the May 7 accident.
When asked whether he was treated fairly by police, he said, emphatically, "yes."
Just two hours before, police and prosecutors announced they will not be seeking any charges against the 45-year-old Darling, who was facing a Monday morning court hearing.
He was arrested shortly after the accident on charges of driving under the influence resulting in death and failing to yield to an emergency vehicle. But Darling passed a blood-alcohol test and an investigation revealed 28-year-old officer James Manor was driving 109 mph without his lights and siren on.
Clark County Sheriff Doug Gillespie, just hours after the accident, claimed Darling was driving under the influence and that he pulled in front of Manor while the officer's lights and siren were on. An investigation revealed both of those assertions were wrong, and Gillespie held another news conference two weeks ago to correct them.
District Attorney David Roger met Thursday with department investigators, who presented their case and recommended that no charges be filed against Darling.
Roger agreed. He said detectives couldn't show that Darling's low blood alcohol level — 0.035 percent, less than half the legal limit of 0.08 — impaired his driving.
The police investigation determined that Manor's speed was "unsafe and unreasonable" and the main cause of the collision.
"Any reasonable person would have been unable to determine the police cruiser was traveling in excess of 100 mph as it approached the intersection and would have felt sufficient time existed to make the left turn prior to the arrival of the officer's car," the department said in a news release.
Darling's attorney, Sean Sullivan, said he wouldn't comment on whether his client intends to pursue a civil lawsuit against the department.
Darling seemed slightly nervous but upbeat before the throngs of cameras and reporters. He frequently understated the effect the accident has had on him and his family.
"I've had better months, I'll be honest," he said.
Sullivan almost seemed more upset about it than his client.
"I think it was an emotionally charged incident," Sullivan said. "I think some officers were fired up. I know if my brother was dead in the car, I would be looking for somebody for cause or blame. Do I think that's right, that Calvin was treated that way? No. Do I see a reason for it? Yes."
Darling said he saw the police car as he was driving up Flamingo Road in the early morning hours. He believed he had enough time to make the left turn onto Ravenwood Drive into his neighborhood. He didn't, and Manor crashed into the side of Darling's truck, sending it rolling.
"At that point, I just woke up from hanging upside down and realized I had been hit pretty good," Darling said.
He then tried to help Manor by throwing dirt on the officer's burning police car.
"I heard a gentleman trying to get him out of the car door and I immediately went over to help. We were trying to put out the flames and at that time paramedics came with a fire extinguisher," Darling said.
He added, "It was just a shame that a young man's life had to be taken."
Darling suffered a gash on his head, which required four staples, and said he has been experiencing neck, shoulder and leg pain from the accident.
His fiancée, 40-year-old Lisa Gesiriech, stood by him during the news conference. Afterward, she had trouble fighting back tears.
"It's been devastating. Absolutely devastating," she said of the incident. "I can't even begin to tell you. For our daughter, too."
"It's been crushing, without a doubt," Darling added.
"And he has a 96-year-old grandmother, who kind of raised him, and it's been devastating for her also, the whole family," Gesiriech said.
Darling added, in another understatement: "I don't recommend this."
Review-Journal writer Brian Haynes contributed to this report. Contact reporter Lawrence Mower at lmower @reviewjournal.com or 702-383-0440.
Slideshow