Early voting indicates Amodei leading Marshall
August 29, 2011 - 3:27 pm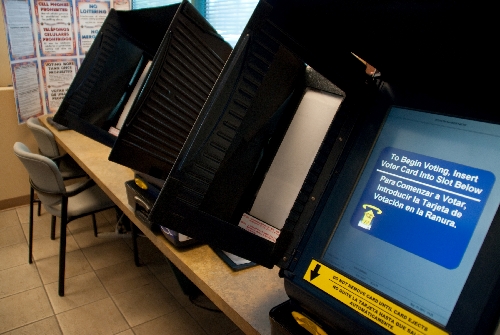 CARSON CITY — Republican Mark Amodei's campaign grew more confident Monday of a victory over Democrat Kate Marshall in the Sept. 13 special congressional election because partial returns from early voting show Republicans are voting in greater numbers than their percentage of registered voters.
The secretary of state's office reported that 6,183 voters cast ballots in the 2nd Congressional District on Saturday, the first day of early voting, but the office did not release a breakdown that showed the number of voters who cast ballots by political party.
The election registrars in Carson City and Washoe County, the most populous part of the sprawling district, did release those figures, and they showed a Republican voting surge.
A total of 51 percent of the Washoe County votes cast Saturday were made by Republicans, compared with the Republican registration in that county of 43 percent. Democrats cast 38 percent of the early votes, compared with their 35 percent of the county's registered voters. Voters with other parties or nonpartisans cast 11 percent of the votes, much less than their 22 percent registration figure.
In Carson City, 56 percent of votes were cast by Republicans, 32 percent by Democrats and 12 percent by others. The GOP voting rate is far greater than the 45 percent Republican registration in Carson City.
In Clark County, 127 people voted on Saturday, of which 43 were Republicans and 69 Democrats. Democrats hold a slight registration advantage in the county, the most populous county in the state but just a small part of the expansive 2nd District.
Peter DeMarco, a spokesman for Amodei, a former state senator, acknowledged that no one will know until after the election how people voted, but if they are voting along party lines, then Amodei is doing very well.
"It is only an educated guess, but it is better than we hoped for," he said.
There are 30,000 more registered Republicans than Democrats in the district, which covers the entire state except for the heavily populated central areas of Las Vegas.
Marshall spokesman James Hallinan said he was not disturbed by the initial early voting numbers.
"Numbers from the first day are just that," he said. "We have a lot more to come. Just Republicans are voting doesn't mean they are voting for Mark Amodei."
The winner of the special election will finish the last year of Republican Dean Heller's term in the House. Heller was appointed to the U.S. Senate earlier this year. Early voting continues through Sept. 9.
Contact Capital Bureau Chief Ed Vogel at evogel@reviewjournal.com or 775-687-3901.