Eight people file suit, say they were exposed to TB at Summerlin Hospital
November 19, 2013 - 5:49 pm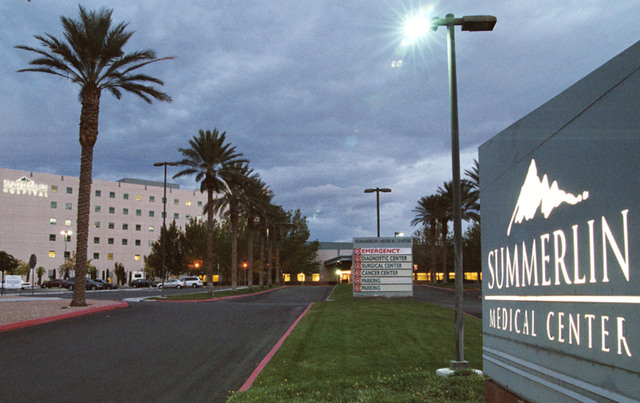 Summerlin Hospital Medical Center is being sued by a group of employees, former patients and visitors who say they were exposed to tuberculosis earlier this year.
The lawsuit, filed in District Court Monday, comes after a mother and one of her newborn twins died from the respiratory disease, which initially went undiagnosed by the hospital.
Attorney Matthew Callister said it will be up to the court to decide whether the case warrants class action status. The lawsuit currently names eight plaintiffs but could include dozens more, some of whom have tested positive for tuberculosis.
"There is an enormously large number who have been exposed," Callister said.
The suit accuses the hospital of negligence and a lack of oversight for failing to screen patients, maintain proper infection controls or adequately respond once officials there were notified that a former patient had died from tuberculosis.
Vanessa White, 25, died at UCLA Medical Center in Los Angeles on July 1, just hours after her family had her transferred there in failing health and without a diagnosis at Summerlin Hospital. An autopsy said tuberculosis killed her.
According to the lawsuit, White was first admitted to Summerlin on May 9 and gave birth May 11 to premature twin daughters, Abigail and Emma. She was discharged May 16 but returned to the hospital twice more for treatment over the next month. Her husband, Ruben White, has said she was allowed to visit her babies in the neonatal intensive care unit without a protective gown or mask, despite her fever. She was never given a TB test.
Emma, who also was never tested for the disease, died June 1 from respiratory failure and other complications from premature birth.
Abigail lived two months in the Neonatal Intensive Care Unit and then died there Aug. 1 from TB.
Those named in the lawsuit against the hospital include: Kathy Morris and Scott Taber, two current respiratory therapists at the hospital; former respiratory therapist Linda Gilliam; former patients Carolyn Donahue and Norman Forrest; and Linda Laird, Betty Scott and Lara Snyder, all of whom visited patients at the hospital.
Callister said one of the respiratory therapists treated the White babies.
When asked if any of his eight clients have tested positive for TB, the lawyer said, "Not yet."
Valley Health System, which runs Summerlin Hospital, insists the facility did what it should have.
"Although we have not yet seen the lawsuit, Summerlin Hospital intends to defend this case vigorously and looks forward to our opportunity to present all of the facts of this matter in court," said Valley Health System spokeswoman Gretchen Papez.
Diagnosis of TB requires reporting to public health officials. When Vanessa White died in California, state health officials there notified the Nevada tuberculosis office. Next the Southern Nevada Health District contacted Summerlin Hospital, which isolated and treated baby Abigail for TB but could not save her.
The mother's death also sparked TB testing of hundreds of people, including 140 infants who were in the NICU at the time.
The lawsuit contends that the parents of those babies received a letter in August telling them TB tests were not recommended for them or their babies. Then in October the same people received letters suggesting they should be tested.
None of those babies has shown signs of tuberculosis, but the lawsuit claims that a host of adults have tested positive for the disease, including hospital staff members, patients, visitors, contractors and other members of the general public.
"This is a very serious disease, and everything we've learned is that you want to immediately rein it in and keep it from spreading," said Callister, whose law firm took out ads in the Review-Journal and elsewhere seeking people who might have been exposed to TB at Summerlin Hospital.
The disease killed 84 people in Nevada last year. It is most commonly spread through the air, including by coughing or speaking, but it is curable when detected early.
Summerlin could face other lawsuits in connection with the case.
Lawyers for Ruben White, Vanessa's husband and the father of the babies, have said they will sue the hospital and possibly individual medical personnel in connection with the deaths.
Contact reporter Henry Brean at hbrean@reviewjournal.com or 702-383-0350. Find him on Twitter at @RefriedBrean.