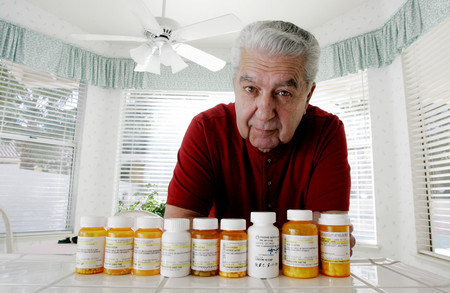 George Anter knows he has a lot to be thankful for during the holidays.
The heart he received during a transplant procedure 12 years ago, for which he gives thanks every day, continues to do its job.
He has won bouts with prostate and skin cancer, and his non-Hodgkins lymphoma remains under control with chemotherapy.
His four children and four grandchildren are thriving in their careers and in school.
And in December, Anter and his wife, Madeline, will celebrate their 53rd wedding anniversary.
But as grateful as he is, the 74-year-old Anter admits one thing will be bugging him during the holidays.
"The truth is," the retired paper sales executive said last week, "when I think about not being able to get a swine flu shot, I get real pissed off."
Two months after H1N1 flu vaccine was first distributed to public health districts around the country, people 65 and older with serious medical conditions still can't get vaccinated.
Anter's doctors at Stanford University Hospital, where he received his transplant, tell him he has a compromised immune system and "the H1N1 flu could do me in."
He takes at least nine prescription medications daily to stay alive.
"But when I try to get a shot, I'm told I'm too old " he said as he sat in the study of his Peccole Ranch home.
"I feel that they see me and other older people as garbage and are just waiting for the trucks to come pick us up," Anter said.
"I served my country. I enlisted during the Korean War. You don't treat people this way just because they're older."
The priority groups for the vaccine, which public health officials say is still in short supply, remain pregnant women; people who live with or care for children younger than 6 months; health care and emergency first responders; persons between 6 months and 24 years of age; and adults up to 64 with chronic health conditions.
The evidence has shown that, as a group, seniors need the vaccine less than younger age groups, according to Dr. Anthony Fiore with the federal Centers for Disease Control and Prevention.
And when there is a vaccine shortage, he said, you must prioritize.
Public health authorities admit they have been inundated with calls from the elderly who want to know when they can receive vaccinations.
Many seniors have called the Review-Journal to complain. Some refrain from giving their names because they fear their complaints could cause their Social Security benefits to be cut off.
No one knows when the system will change.
"We are working collaboratively with the Nevada State Health Division and other local health authorities in the state to determine if the state is in the position to expand vaccine availability," Stephanie Bethel, a health district spokeswoman, said in an e-mail.
Mary Ann Sokol, a 79-year-old cancer and heart attack survivor profiled by the Review-Journal in August after the priority groups were announced, said last week she and her husband no longer go out to dinner for fear her compromised immune system won't be able to fight off the H1N1 virus.
"I have to admit I'm sometimes really scared," she said. "When I feel that way, I always wear a mask when I go out."
When public health officials realized last August that the vaccine would be in short supply this fall, they studied the 44,000 cases of the virus that had been reported to the CDC since the outbreak began in April.
Seniors were affected the least, Fiore said. It appeared that older people have a pre-existing immunity to the H1N1 virus.
CDC researchers suggested that the immunity older adults appear to enjoy was built up either because they were infected with or vaccinated against an older seasonal flu strain that closely resembled H1N1.
Americans up to 24 years of age are about 20 times more likely to contract the virus than people older than 65.
People ranging in age from 25 to 49 are five times more likely to be hit by the virus than seniors.
And men and women in the 50 to 64 age bracket have a three times greater chance of catching the virus than those older than 65.
Anter is familiar with the statistics. But he says many seniors have underlying medical conditions that render their immune systems defenseless.
"You've got to make exceptions for people with very serious health conditions," he said.
Exceptions aren't favored by public health officials, however, including those with the health district who have repeatedly said that this would slow down the process of trying to contain the outbreak.
And private physicians who have enrolled in the H1N1 vaccine provider program aren't supposed to bypass public health regulations. They sign documents saying they will abide by the program's designated priorities if given vaccine to distribute.
The health district had stockpiled thousands of doses of vaccine while claiming there wasn't enough vaccine to vaccinate those between the ages of 25 and 64 with chronic health conditions.
Then, earlier this month, state health officials forced the health district to start vaccinating that group.
The district still has nearly 50,000 doses of vaccine on hand, as of Wednesday.
"Why not give it to those who need it?" Anter said. "They've given clinic after clinic to those they said were in priority groups, and they still have it left over."
Martha Framsted, a state health division spokeswoman, has said public health officials are continually reviewing the situation to see when vaccinations can be made available to more Nevadans.
"We want to give it to everybody," she said.
But Anter doesn't see any sense of urgency.
"When you get as old as I am, they see you as a big zero," he said. "They don't really care if we die."
Contact reporter Paul Harasim at pharasim@reviewjournal.com or 702-387-2908.