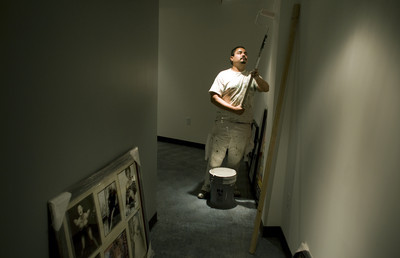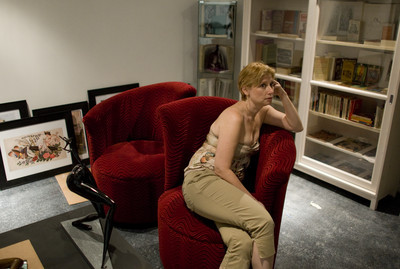 There's a new museum in town, but don't take the kids.
A day spent at the soon-to-open Erotic Heritage Museum on Industrial Road makes for an adults-only, blush-worthy outing meant to be fun for only part of the family.
There's the exhibit of mechanical bondage gadgets with wheels and straps and cuffs on the museum's ground floor, for example. The detailed sculptures of the naughty bits of men and women. The artwork with titles such as "Well Hung" and "Naked Ambition."
Then there are the 48 TV monitors on which are continuously broadcast selections from seven decades' worth of adult films, beginning with 1915's "A Free Ride" — considered to be the oldest-surviving
pornographic film made in the United States — and ending sometime in the 1970s.
"The Seventies were the Golden Age of pornography," said Laura Henkel, associate curator, who holds a doctorate in human sexuality from San Francisco's Institute for Advanced Study of Human Sexuality.
"You could take out the sex, and you'd still have an incredible film."
Behind her is a TV showing a 1970s-era adult movie filmed partly underwater, with scuba divers-slash-actors who don't seem all that interested, really, in observing oceanic life.
It's hard not to giggle. But the museum is a Serious Scholarly Endeavor, erotic comic book collection included.
"This museum will be the best representation of erotic pop and folk art in the world," Henkel said. "Artists and collectors from all over the world can start congregating here."
Henkel, 41, left Sausalito, Calif., where she lived on a houseboat, and moved to Las Vegas to run the museum, which is scheduled to open to the public next Sunday.
The nonprofit museum is being billed as a "celebration of the human sexual experience," designed "to preserve wonders of the erotic imagination," with a special focus on the American Sexual Revolution.
"I want people to leave with a smile but still learn something," Henkel said.
The museum is housed in a 24,000-square-foot building at Industrial and Desert Inn Road, next door to the Deja Vu Showgirls strip club. It includes a fine art gallery and museum store that sells posters, T-shirts, clocks and other memorabilia on which is imprinted erotic art.
The museum's full name is Harry Mohney's Erotic Heritage Museum.
Mohney, developer of the Deja Vu topless chain, donated the building and is listed as the museum's "grand patron."
The endeavor was the brainchild of Mohney and friend Ted McIlvenna, president of the Institute for Advanced Study of Human Sexuality, and has been in the works for several years.
"It will be the finest erotic art museum in the world," McIlvenna said. "It's a melding of the best of our erotic heritage from the standpoint of art, from the standpoint of what was contributed through the adult industry."
The museum is dedicated to "the belief that sexual pleasure and fun are natural aspects of the human experience, that such pleasure must be made available to all, and that our individual sexuality belongs to each of us," according to its Web site, eroticheritagemuseum.com.
In that spirit, opening exhibits include quirky erotic drawings by Canadian artist Francois Dubeau, "performative videos" by Keith Murray, which are collectively titled "Trannylicious Dishez," and photographs by Michael Grecco.
Grecco garnered attention recently for his coffee-table book, "Naked Ambition," which featured photographs of adult film stars in mainly PG-rated shots.
Henkel also showed off a display of sculptures including distorted female forms by Oregon artist Todji Kurtzman.
The curator especially loves Kurtzman's "hoop girl," a sculpture of a woman in a large hoop skirt and not much else.
"I love that you can see up her skirt," she said.
The museum includes life-sized replicas of an adult-movie set and a peepshow booth, both staffed by mannequins in various states of undress.
The majority of exhibits will rotate each six months.
"Sometimes, they'll be tame," Henkel said. "Other times, they'll be too much. Some people will say, 'I love that.' Others will say, 'It's just disgusting.' There will be things that will be very provoking but reflect who we are and were."
Henkel has traveled far, including taking trips to Italy, England and China, searching for fun and interesting items for the museum.
She also has traveled near, to some of the institute's 25 warehouses full of collections donated by erotic art and memorabilia collectors.
It's important to preserve such collections, said Jerry Zientara, a librarian for the institute who also teaches "erotology" — the study of the depiction of the acts of love and sex — because they're part of our history.
"Erotic history is the same as any kind of history," he said. "It's just like art history, but the subject matter goes further. Because it's sexual, a lot of people aren't interested in preserving it. How often does someone's uncle die and when the Playboys are found, they go to the Dumpster?"
Zientara is putting together the museum's library, which is stocked with books such as "Forms of Passion," the "International Who's Who in Sexology" and a 1901 edition of "Studies of the Psychology of Sex."
Plush red chairs are arranged around the room to encourage sitting and reading and looking.
Erotic art has always been around, Henkel said, and people have always enjoyed it.
"It's a part of how we express ourselves, of who we are, whether we want to admit it or not."
The museum is scheduled to open at 11 a.m. daily. Admission is $15 and only for those 18 or older. Locals will receive a 50 percent discount off admission with ID.
Contact reporter Lynnette Curtis at lcurtis@reviewjournal.com or 702-383-0285.