Ensign tries to ignore predictions that his political life is over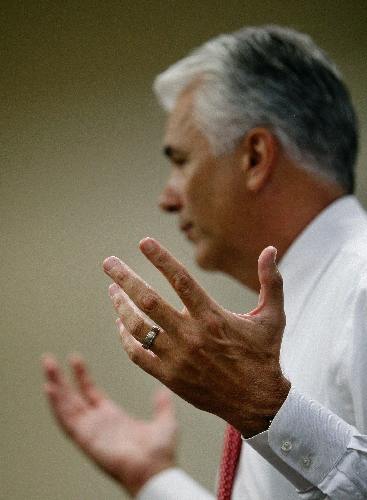 Nearly a year after submerging into scandal with his confession to an extramarital affair and subsequent allegations of payoffs and misdeeds that have ethics and criminal investigators on his tail, U.S. Sen. John Ensign cherishes signs of what used to be normalcy.
Traveling overseas with Senate colleagues on a fact-finding mission to Afghanistan. Getting an amendment passed. Co-sponsoring bills. Talking with school kids or chatting with workers during plant tours in the state. Even running in a 5K along the banks of the Potomac River or playing in the annual congressional baseball game.
Like Bill Clinton was said to have compartmentalized the Monica Lewinsky scandal that all but consumed more than a year of his presidency, that is what Ensign says he is trying to do. Compartmentalize.
"Certainly it is there on your mind a lot," Ensign, R-Nev., told the Las Vegas Review-Journal in a rare interview about the scandal and its aftermath.
"Put it this way. Let's say you are a professional athlete and you had some personal problems, whatever those were," Ensign said. "Well that night, the game's there. You have to go do your best for your team. They are paying you; you are a professional."
But as Ensign goes about public life under a dark cloud, congressional watchdogs and criminal defense lawyers knowledgeable about government ethics say his future appears bleak.
The Nevada Republican faces a fast-moving Senate Ethics Committee investigation, which could lead to sanctions and even his expulsion from Congress, and a more ominous Justice Department investigation, which could land him in prison.
Senate and federal investigators are trying to determine whether Ensign broke ethics rules and criminal laws in an attempt to cover up his affair with Cindy Hampton, the wife of Doug Hampton, the senator's former longtime friend and administrative assistant in Washington.
Lawyers say his one big bargaining chip in both investigations may be giving up the office.
"I think it's over for him. I think he'll be gone," said Melanie Sloan, a former federal prosecutor and now executive director of Citizens for Responsibility and Ethics in Washington. "I think it's just a matter of time before this realization catches up with the senator."
The group, also known as CREW, filed official complaints that sparked both investigations and an inquiry by the Federal Election Commission.
Craig Holman, government affairs lobbyist for Public Citizen, a Washington-based watchdog group, said he thought Ensign would have resigned long ago, when the scope of the scandal came into focus.
"I would not expect Ensign's career in politics to continue very long," Holman said. "He's in a great deal of trouble, legally."
In his interview with the Review-Journal, Ensign maintained his innocence and said he was cooperating with authorities, though he wouldn't answer questions on specifics of the allegations.
"Listen, I don't believe I did anything legally or ethically wrong, so I don't have any problems cooperating," he said. "It is just a process that is going to take some time, and all that kind of stuff is out of my control."
Ensign said his yearlong public ordeal has been "very painful" for those close to him.
"In some regards, it also has been one of the most valuable years of my life in learning lessons," said Ensign, a conservative Christian whose promotion of family values throughout his political career made his sin all the more striking.
"I have attempted certainly to become a better husband and father," he said. "I have worked really hard to try to earn the trust of the people of Nevada back by working harder than I have ever worked."
In June 2009, Ensign flew from Washington to Las Vegas and revealed the nine-month affair. The rushed confession came after Ensign was tipped off that a furious Doug Hampton had offered to expose the affair to Fox News Channel.
Ensign quit his Senate Republican leadership position the next day, just weeks after testing the waters in Iowa for a possible presidential run.
The Hamptons have not commented to the Review-Journal. But Doug Hampton has told other media outlets that after he confronted Ensign about the relationship in late 2007, the senator encouraged him to leave his staff and promised to set him up as a lobbyist to replace his lost income of about $13,500 a month.
At the same time, Cindy Hampton quit as paid treasurer of Ensign's two political fundraising committees.
When the Hamptons departed in late April 2008, Ensign's wealthy parents, Mike and Sharon Ensign, gave them a check for $96,000. The check, reportedly one of the matters under investigation, was described by the Ensigns as a legal and proper gift.
Doug Hampton described it as severance, while others have called it hush money.
During the same period, Ensign contacted friends and associates in Nevada seeking work for Doug Hampton. He ended up with contracts to assist NV Energy and Allegiant Air and reportedly worked with Ensign's office to advance their agendas in Washington.
But federal ethics law mandates a one-year "cooling off" period before former top aides can lobby the Senate. Investigators are looking into Ensign's role in lining up work for Doug Hampton.
They also are looking into whether Ensign tried to get Doug Hampton a place representing Las Vegas prepaid credit card firms by promising help with an industry matter.
The investigations have brought plenty of distractions for Ensign. He has a battery of lawyers guiding him through the delicate balance of dual investigations. Last month he established a legal defense fund to help pay the mounting legal bills that have topped several hundred thousand dollars.
Ensign said he has begun raising money for a 2012 re-election campaign, but when pressed on whether he would actually run for another term, he backed off from his previous statements that he would definitely seek re-election.
"Right now, all I can do is just focus on the job at hand," he said. "As I have been saying lately, the future will take care of itself. I am not going to deal with that until we are in that cycle. We will make that decision then."
Sloan, from Citizens for Responsibility and Ethics in Washington, said Ensign still has support from fellow Republicans on Capitol Hill, but she sees signs his colleagues are starting to cast him aside.
"You don't see Ensign on television. You don't see him in photos with other senators. And he's not talking in group news conferences," she said.
Added a Nevada Republican source: "He continues to come home every weekend, but he's not showing up at the usual haunts. He comes home and goes bike riding with his buddies and just stays quiet. … I never see the guy."
The source also said Ensign's staff is concerned about his future and their jobs.
But the senator insisted he has "great relations with other senators and their staffs" and that he has been effective in Congress over the past year.
He provided the Review-Journal with a detailed, seven-page outline of his accomplishments amid the scandal on a variety of issues, including health care, transportation, national security, housing and tourism.
Ensign also said his constituents rarely bring up the investigations.
"When I go around the state, the only people who ask me about this is the media," he said. "Wherever I go in the state, it is, 'Please don't resign. Stay in there. Keep fighting. You are doing a great job.'"
Last week at a meeting Ensign held with about 40 friendly employees at Martin-Harris Construction in Las Vegas, no one asked the senator about the investigations or his affair, even after he said any questions were "fair game."
Still, Ensign may face pressure to step aside if the Ethics Committee decides to bare evidence against him at a public hearing on Capitol Hill.
The committee has shown a reluctance to hold public hearings in disciplinary matters involving senators. The last time was in 1991, when the committee held multiple hearings on the so-called Keating Five who were accused of corruption in the savings and loan scandal of the day.
The panel did not hold public hearings in the 1995 case involving Sen. Bob Packwood, R-Ore., even though Sen. Barbara Boxer, D-Calif., led a charge for public sessions. Boxer, now chairwoman of the Senate Ethics Committee, wouldn't comment on the Ensign investigation.
Meredith McGehee, policy director for the Campaign Legal Center in Washington, said the Ethics Committee will want to wrap up the Ensign probe rather quickly.
"There's some institutional interest in getting this revved up and taken care of sooner than later," said McGehee, who has followed the Ethics Committee for the past 25 years. "They realize that they have someone in office who has fairly serious allegations against him and no election until 2012."
Congressional observers said the Ethics Committee's Ensign investigation is the most intense since 1995, when the six-member panel recommended Packwood be expelled on sexual misconduct charges. Top committee lawyers traveled to Las Vegas last month in a rare mission outside the Beltway to interview key witnesses.
But ethics experts and criminal defense lawyers said Ensign has much more to fear from the Justice Department investigation, which could take away his freedom.
This is where his resignation could be a particularly valuable bargaining chip, some said.
Ensign sidestepped the subject.
"People have speculated both ways on that," he said. "All I know is I have fully complied with the ethics laws of the land. I believe that strongly, and that is why we are fighting it and we are going to continue to cooperate."
University of Nevada, Las Vegas law professor Jeff Stempel said Ensign would be wise to strike a deal with prosecutors if the evidence against him keeps mounting.
"If I were Ensign's lawyers, and if resignation was an option, I would try to get an express agreement of no prosecution," Stempel said.
Elliott Berke, a Washington lawyer knowledgeable about government ethics cases, said if Ensign resigned without a deal, it wouldn't guarantee that the Justice Department would drop the case.
"A prosecutor brings the case based on the facts and the evidence, not on the office and whether or not the official continues to occupy it," Berke said.
It is unknown how far the Justice Department investigation has progressed. An agency spokeswoman wouldn't comment.
Las Vegas defense lawyer Charles Kelly, a former federal prosecutor, said the Justice Department could see the Ensign investigation as a way to redeem itself after blowing the corruption case against former Sen. Ted Stevens, R-Alaska.
A federal judge overturned Stevens' conviction last year after prosecutors acknowledged withholding evidence. The Stevens case was handled by the Justice Department's Public Integrity Section, the same unit spearheading the Ensign investigation.
Kelly said the case of whether Ensign violated the cooling off period to get Doug Hampton work would be uncomplicated and easy for a jury to digest.
Ensign's own hypocrisy and "prior history of high moral ground" would make him particularly vulnerable to a prosecution, Kelly said.
But others believe the Justice Department is leery of going after Ensign in the wake of the Stevens fiasco.
"I'd be very surprised if that doesn't weigh very heavy on the Public Integrity Section," said Douglas McNabb, a Washington defense attorney who has dealt with that unit. "Their careers are at stake here."
Tom Fitton, president of Judicial Watch, a conservative watchdog group in Washington, added, "I'm sure the Public Integrity Section is walking on eggshells when it comes to high-level prosecutions, such as those of senators."
As for the Ethics Committee probe, John Sassaman, the panel's chief counsel and staff director, said committee rules prohibited him from commenting on the investigation.
However, the higher profile maintained by the committee in the case signifies its investigation is moving quickly.
Ensign said the ethics investigation is in its preliminary phase, meaning the committee hasn't formally decided whether to take further action against the senator.
At the close of a preliminary investigation, the panel can dismiss the matter, issue a minor admonition or conduct an additional "adjudicatory review," according to a 57-page procedural handbook committee staffers gave witnesses in Las Vegas last month.
If a case reaches the adjudicatory level, the committee has found "substantial cause" that a violation occurred, and the panel can appoint a special counsel to continue the investigation and help decide the punishment.
Such a review in the Ensign case would leave the door open for the committee to recommend expulsion from the Senate, just as it did in the Packwood case.
Ensign could head off that action by resigning, as Packwood did.
Through it all Ensign remains positive, at least in his public face.
"My marriage is stronger than it has ever been," he said. "I think my relationship with my children is better. You find out the people who are loyal to you and who are fair weather friends.
"That can be a healthy exercise. It can be a healthy thing to go through."
Contact Jeff German at jgerman@reviewjournal.com or 702-380-8135. Contact Stephens Washington Bureau Chief Steve Tetreault at stetreault@stephensmedia.com or (202) 783-1760.