Epidemic or not, flu bug is upon us
February 15, 2008 - 10:00 pm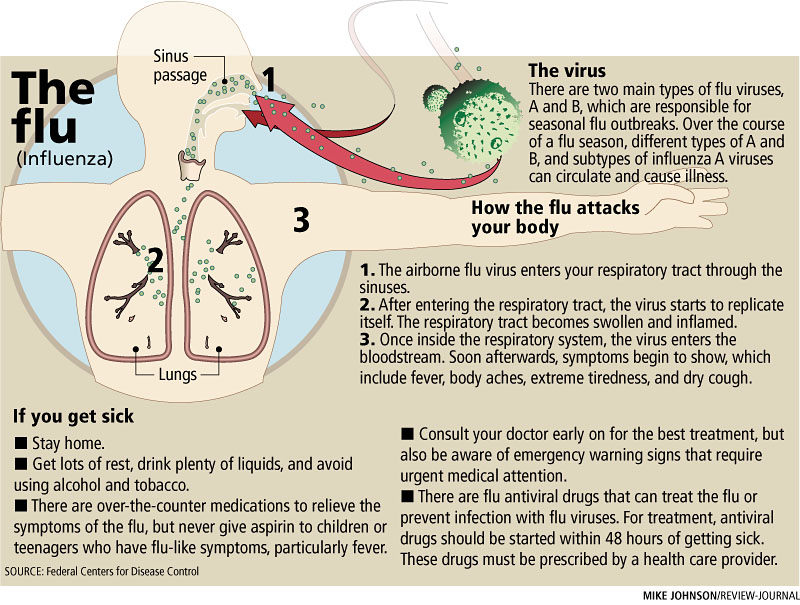 Nevada health officials aren't ready to describe this flu season as an epidemic, but they're seeing plenty of folks who are feeling under the weather.
This might be due in part because some strains of the virus aren't affected by this year's vaccine, a situation noted by health officials nationwide.
According to the federal Centers for Disease Control, Nevada is part of a regional flu outbreak.
That's a little less serious than the situation in more than 30 states, where the influenza virus is considered "widespread."
"There are two or three nasty bugs going around right now," said Dr. Dale Carrison, chairman of emergency medical services at University Medical Center.
"There are a couple strains not covered by the vaccine, and we've seen a few of those patients in our emergency room."
Brian Labus, epidemiologist for the Southern Nevada Health District, said the flu season started late in Nevada this year, so it's too early to say whether the overall season will be bad.
The flu typically begins in October, peaks in February and stretches throughout March in Nevada, health officials said.
"Predicting a flu season is almost like predicting the weather. We know it's going to get cold; we just don't know when," Labus said.
The Nevada State Health Division has confirmed 384 influenza cases statewide.
Last year, considered a mild flu season nationally, 659 cases were confirmed in Nevada, according to data from the state's health division.
Most of this year's cases have been reported in recent weeks, health officials say.
The figures do not include people who have not been tested for the flu or who haven't sought medical attention, said Rick Sowadsky, a state epidemiologist.
"This is just the tip of the iceberg, just a tiny fraction of all the flu cases that are in our community," Labus said.
Commonly known as the flu, influenza is a highly contagious viral infection of the respiratory tract.
Common symptoms include high fever, coughing, a severe sore throat and muscle aches, Labus said.
Symptoms typically last a week, but some people develop more serious medical conditions such as pneumonia.
Carrison said some patients who have come into the hospital's emergency room in recent weeks have exhibited secondary infections such as pneumonia, which can be dangerous.
An estimated 200,000 people are hospitalized for influenza annually. About 36,000 die, including 360 people in Nevada.
Influenza-related deaths typically occur once flu season hits its peak.
A few deaths in Nevada this season are being blamed on the flu, although the state's health division has yet to confirm the causes. Confirmation comes after a death certificate has been reviewed.
So far this flu season, three Nevadans have died after testing positive for Influenza B.
One of those was an 11-year-old Carson City girl. The girl's family said Thursday that she died of influenza after developing pneumonia.
Carson City health officials have yet to confirm the death as flu-related, said Dustin Boothe, disease control and prevention program manager.
"That case is still under investigation," he said.
The other two suspected flu deaths are in Lyon and Washoe counties.
There have been multiple pneumonia-related deaths at UMC in recent weeks, Carrison said.
Last week, a man came into the emergency room with severe pneumonia and died within 24 hours.
"That was someone who should have been here a lot sooner," Carrison said.
Carrison said there's really not a treatment for the flu other than an antiviral drug such as Tamiflu, which must be given within 24 to 48 hours of infection.
He said most people are urged to drink plenty of fluids, get rest and remain home from work or school for about a week.
"After three or four days, because it is a virus, there's really nothing you can do but wait it out," Carrison said.
"The problem is if it becomes a secondary infection, like if someone has upper respiratory problems, chest pain and shortness of breath. You need to get to see a physician quickly."
Health officials say the flu vaccine is by far the most effective way to prevent influenza. Its effectiveness depends on now well the vaccine is matched with the strains that occur.
Global health officials, including those from the CDC, choose the vaccine strains nearly a year in advance, which means prognostications can sometimes prove inaccurate.
Three types of viruses routinely circulate during flu season: two forms of Type A influenza, dubbed H1N1 and H3N2, and one form of Type B.
This year, the predominant H1 virus is matched very well with the vaccine. The H3 and B viruses seem to be variants from the vaccine strain, so there is less coverage, CDC officials say.
The flu virus is spread when a person coughs or sneezes and droplets containing the virus are released into the air and inhaled by healthy people nearby.
Occasionally a person may become infected by touching a surface contaminated by the flu virus, then touching their eyes, mouth or nose.
Even though flu season is well under way, health officials still urge residents who have not received a vaccine to get one.
Vaccines are strongly recommended for children age 6 months and older, seniors, women who are pregnant and those who suffer from chronic disease.
Contact reporter Annette Wells at awells@reviewjournal.com or (702) 383-0283. The Associated Press Contributed to this report.