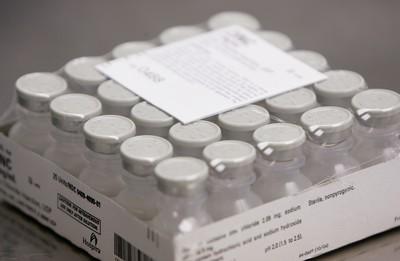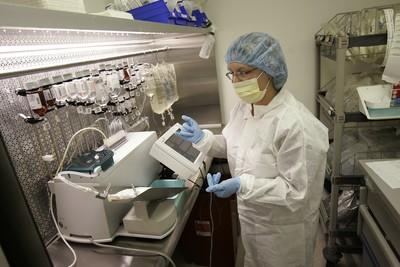 When a mistake goes through at least six staffers at Summerlin Hospital Medical Center, leading to the death of a premature baby, there's only one word to describe it, according to Dr. Florence Jameson, past president of the Clark County Medical Society:
"Sloppy."
The mistakes that led up to Alyssa Shinn's death on Nov. 9 started the night before when pharmacist Pamela Goff mishandled the entry of Alyssa's prescription into the pharmacy's computer. It ended with neonatal intensive care unit nurses hanging an IV bag containing zinc at 1,000 times the amount prescribed the preemie.
Since the death, Summerlin Hospital officials have implemented several policy and practice changes to prevent such an event from occurring again.
Hospital officials initially declined to comment for this story, but in an e-mail Friday, hospital officials said the medical facility has been focusing on auditing its compliance with safety procedures in order to ensure that it is exceeding quality expectations, and will continue to do so.
Hospital officials wrote: "When this incident occurred, Summerlin Hospital had policies and procedures in place to address medication administration. As a hospital, we must rely on people to properly execute those procedures. … With the changes implemented we are confident that an incident of this nature will not occur again."
The hospital has worked with a third-party consulting firm to further improve its delivery of quality and accurate patient care and will continue to do so, attorneys said at a Nevada State Pharmacy Board hearing last month.
Alyssa's death also prompted the Valley Health System — operators of Summerlin Hospital, Valley Hospital Medical Center, Desert Springs Hospital and Spring Valley Hospital — to evaluate its facilities, according to attorneys representing Summerlin Hospital's pharmacy.
"It's amazing in today's hospital, with all the technology and tight parameters, this kind of thing happened," Jameson said.
Gretta Woodington, the hospital's former director of pharmacy, said at the Pharmacy Board hearing that changes began the day after Alyssa's death, starting with a staff meeting and an internal investigation.
The specific actions leading up to Alyssa's death, and subsequent changes to policy, are as follows:
Alyssa died Nov. 9 at 4:20 p.m., nearly 24 hours after her neonatologist, Dr. Rafael Zenteno, correctly ordered 330 micrograms of zinc per 100 milliliters for her Total Parenteral Nutrition — also known as TPN — IV bag.
Goff, who was the lead pharmacist for the day shift, received the order and began processing it into the pharmacy's computer at 7:44 p.m.
The first mistake occurred when Goff, prompted by a computer to select a unit of zinc, selected 330 milligrams instead of 330 micrograms.
Goff tearfully admitted to the data-entry mistake during her testimony before the Pharmacy Board, but she also noted that Alyssa's prescription had arrived in the pharmacy late — the order was written at 4:30 p.m. and was processed into the pharmacy computer at 7:44 p.m. — and that physicians were consistently writing prescriptions in a manner of which she disapproved. This was particularly a problem with prescriptions coming from the neonatal intensive care unit, or NICU, Goff said.
From her training, Goff said, she understood TPN orders were supposed to be written in quantity based on a patient's weight, not quantity per volume of the IV bag's contents. Additionally, the hospital's automated compounding machine was set up for orders to be put in at quantity per weight of the patient.
Before her mistake, Goff calculated the total volume for the IV bag that would contain the finished solution and then converted Zenteno's zinc order as appropriate for the total volume of the bag. But because the nursing staff had raised concerns about her calculations in the past, Goff recalculated the zinc order and in the process selected milligrams instead of micrograms.
"I had to do things like everybody else was doing them," Goff told the Pharmacy Board. "I didn't want to get in trouble."
After typing Alyssa's prescription into the pharmacy computer, per hospital policy, Goff printed two labels, one reflecting Zenteno's original order and the other containing her calculations.
One label was to go on a blank sheet of paper and the other was to be placed on Alyssa's IV bag, she said.
Goff was supposed to check both labels to ensure that they were the same, which she did. However, she didn't notice that she had selected milligrams instead of micrograms.
Goff then gave those labels to pharmacist Nazanin Rezvan.
Rezvan's job was to verify that Goff's calculations matched what Zenteno's original order had called for.
Rezvan herself failed to notice Goff's mistake and forwarded the wrong order to be compounded.
According to testimony, Rezvan also didn't follow hospital protocol in that she failed to initial each of the labels to show that she had verified Goff's accuracy.
The next mistake happened when Alyssa's prescription got into the hands of pharmacy technician Asia Cornelius.
Cornelius had previously been fired by Goff when the two worked at a local Walgreens pharmacy for "lack of knowledge and poor performance." Goff and Rezvan had also told Summerlin Hospital administrators they had concerns about Cornelius' abilities, according to Pharmacy Board testimony. The hospital did not address the matter at the hearing.
Cornelius' job was to enter the preemie's TPN prescription into the pharmacy's Baxa Automatic Compounding Machine.
The machine, which pharmacists liken to a big mixer, combines all the nutritional ingredients that make up a patient's TPN prescription as prescribed by a physician. Ingredients such as zinc, which are often given in very small amounts, usually are added manually. However, because of Goff's error, Alyssa's order called for a larger amount of zinc, so the zinc came from the compounding machine.
Cornelius claims she replenished the zinc five or six times. But according to testimony before the Pharmacy Board, she would have had to replenish it at least 11 times to reach 330 milligrams. That accounted for 45 to 48 vials of zinc.
Though Cornelius sensed this was an abnormal amount of zinc, her thinking was, "The pharmacist put that in, so it had to be correct."
She told the Pharmacy Board that "techs shouldn't question a pharmacist."
The next mistake, according to testimony, occurred because of Summerlin Hospital pharmacy's policy.
About 10 p.m., Cornelius gave the IV bag to pharmacist Jackson Yu, the lead swing shift pharmacist.
Yu's job, at that time, was only to verify the vials and syringes used by Cornelius to manually inject added ingredients. Per hospital policy at that time, Yu was not required to compare the completed TPN product with what Zenteno had originally ordered.
Since Cornelius did not inform Yu of the unusual amount of zinc she added, and because the zinc was not manually added but added to the bag from the Baxa device, Yu did not catch the error.
Yu then sent the order up to the NICU floor.
The final mistake occurred about 3 a.m. when NICU nurses didn't verify Alyssa's prescription before administering the IV bag, now containing mostly zinc.
As a result of the multiple errors, the Pharmacy Board disciplined Goff, Yu and Rezvan as well as Summerlin Hospital's pharmacy. The disciplinary actions included fines and suspensions and called for continuing education.
After months of reviewing the errors, the hospital's administration took steps to ensure patient safety with respect to TPN orders, according to testimony by Woodington at the hearing, where other changes were brought up.
One change made is the hospital's new preprinted TPN ordering forms, one each for neonatology, pediatrics and adults. Those forms are standardized and call for TPN solutions to be calculated based on the patient's weight in kilograms, something Goff had asked for.
Woodington said that after Alyssa's death the hospital consulted with several hospitals, including University Medical Center and Sunrise Hospital, about their TPN order forms. Both hospitals operate the two larger neonatal intensive care units in Clark County.
Wilson Chu, manager of pharmacy services at Sunrise, said most computer software allows pharmacists to change the order method to match the way physicians have ordered solutions. However, he said, if the ordering method changed from the previous day's order, and the change is missed by the pharmacist, a significant error can occur.
At Sunrise, the TPN order form standardizes all additives, including zinc, to be weight-based to avoid the type of error at Summerlin, he said.
Summerlin Hospital's pharmacy also updated its policy and procedures for preparing TPN. One highlight of that policy is that only a registered pharmacist may enter TPN orders into the Baxa system which automatically mixes the solution.
Had that policy change been made before Nov. 8, Cornelius never would have typed in Alyssa's order. And, though Goff had already made the data entry mistake, that would have given Goff, Yu and Rezvan another chance to catch the error.
Another policy change is that all TPN orders will undergo three verifications at the pharmacy level, with each verification requiring that a pharmacist or pharmacy technician compare the actual order to the printed labels and the worksheet used to calculate the formula.
The third and final check, which will be conducted once the solution is compounded, compares the solution in the IV bag to the compounding formula worksheet to the physician order.
The new verification procedures allow pharmacists additional opportunities to catch errors.
In addition to policy and procedural changes regarding operation of the TPN compounding machine, the hospital's pharmacy now reports to the chief nursing officer. That new direction is to promote better communication between the nursing staff and the pharmacists, according to the pharmacy's response to the Pharmacy Board complaint.
Summerlin Hospital also holds weekly patient safety meetings. Before, the meetings were monthly.
The hospital is also requiring each pharmacist hired to undergo training on entering TPN orders into the pharmacy's computer and compounding system. Those individuals will have to show written and didactic competency within 90 days of their hiring.
In the Friday e-mail, Summerlin Hospital Marketing Director Lori Harris noted the hospital recently added a pediatric pharmacist to its staff, "which was a recruitment effort that had been in process for nearly two years due to the nationwide shortage of pediatric pharmacists."