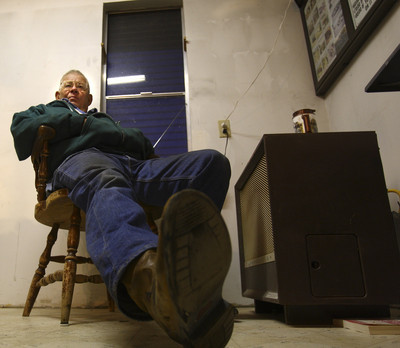 GOLDFIELD — When the toilets finally flush at a planned rest area here, R.J. Gillum wants to be there to shake the hand of the first tourist who uses the facility.
For more than four months, two gleaming white toilets, along with sinks, have sat off U.S. Highway 95 in a dirt parking lot, locked but never loaded, waiting to be hooked up to sewer and water lines.
About $600,000 worth of asphalt, landscaping, plumbing and signage are also planned for the rest area, Gillum says, to give tourists "a nice welcoming."
"I've worked on this rest area project for more than four years," says the 67-year-old Gillum, an Esmeralda County commissioner and owner of High Desert Automotive Service and Storage. "I've applied for every grant. I bought the toilets with $42,000 out of my county budget to show the state we're serious about getting more tourists. I figure it'll take at least another year before we get the money we need."
Goldfield, arguably Nevada's best example of a boom-and-bust mining town, once had a population of more than 20,000 in the early 1900s, larger than either Reno or Las Vegas. Fire and floods took their toll, but the petering out of precious ore was a virtual death blow. Today, only 400 people live in the county seat, an area where Wyatt Earp once kept the peace among miners fighting over gold strikes.
"I'm going to show up at the (presidential) caucuses to give everybody a piece of my mind," Gillum says as he sits next to a space heater in his auto shop.
"As far as I'm concerned, none of the candidates really care about rural America so I probably won't caucus. You don't see any of them showing up here. We're really struggling. The big politicians forget us. You think any of them will help me get my toilets hooked up?"
A little more than a three-hour drive from Las Vegas, Goldfield has enough remaining buildings, including the thriving Santa Fe Saloon and the shuttered but once opulent four-story Goldfield Hotel, to give visitors an indication of its past prosperity.
Gillum says he is doing all he can to entice tourists with money to the area. A late friend's art cars, painted in psychedelic freak with everything from toys and boats to fog horns stuck on them, are parked outside his auto shop.
"We get all kinds of people stopping to see them and some will go off to our town's restaurant to spend money on eating if it's open," he explains.
Those who stop often ask to use a restroom. He can only offer a porta-potty outside. If word gets around, he says, that Goldfield doesn't have many public restrooms, tourists will stop coming.
"I feel bad to treat a tourist that way," he says. "They don't get a place to wash their hands after going. A lot of years we only have the toilet at the courthouse or at one other business. And what do you do if they're closed? Now we have four places, but the way people go out of business here, you don't know how long that will last."
Interactive Map Slideshow Thursday, Day 5: Hawthorne, Schurz, Fallon Friday, Day 6: Imlay, Winnemucca, Mcdermitt