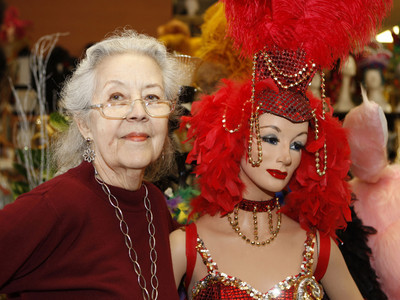 The "Folies Bergere" closed Saturday after 49 years. The show goes on in Nancy Williams Baker's store, Williams Costume Co., where 9,000 costumes, plus wigs and makeup, await dancers, showgirls, impersonators, Elvis and Marilyn wedding parties, and hotel event makers.
Baker didn't dance in "Folies." She danced in shows before "Folies." I have not altered her quotes, but I have moved them into chronological order.
The story of Nancy Baker:
"I was a dancer, you know. I was a Dice Girl. A high-kicking Dice Girl."
"I came here when I was 18 — 60 years now. From Los Angeles, in 1948."
"It was such a little town. … You could look all the way to the mountains, and there wasn't a single building."
"You could ride a horse out there … from Sahara to the Flamingo. There wasn't a single traffic light until you got downtown."
"We rode horses all the time. Do you know where the El Rancho was? Where the Dice Girls danced? Well, the stables were right there in the back. We used to get horses, saddle them up, we'd ride up the Strip, tie them up in front of the Flamingo, have lunch and ride them back."
"I had one run away with me all the way to the Trop. … I had to ride a big ol' pinto stallion. They were promoting the Western look in Las Vegas, and they put me on that damn horse out there on the railroad tracks and he took off. And I swear he never stopped till he got out to about where the Tropicana was."
"You could go in back of the Frontier and take a stagecoach out to Red Rock if you wanted."
"Guards all had two Western guns on their hips."
"When I danced at the El Rancho, we lived on the second floor. … There were eight girls. If you had nine girls, one would fall off the end of the stage. I was 5'4". I was always on the end, and my foot was always right there, ready to fall off, ha, ha."
"Seventy-five dollars a week for six days. But we had to work seven. So we got paid an extra $12.50 for the seventh day, and then the hotel kept that for our room rent."
"There'd be one big dressing room backstage, maybe two, so everybody dressed together — the dancers and the stars."
"I think I had worked here probably two years, at least, before I ever had to show my bellybutton! We were pretty well covered up."
"I'll show you pictures. … That's the Flamingo stage, all in quilted white satin. That's me in the front. I was a Spanish dancer, and I did the flamenco in that number."
"The bosses used to say, 'After the second show, you girls sit out there and dress up the joint.' We'd sit around and make it look nice."
"I stopped dancing right after the first shows started going topless because my mother would have killed me. … I wasn't mortified. It was just something I didn't want to do. I was a trained dancer."
"By that time, I was probably 22, 23. But I had already opened a dancing school. I taught all the mob's kids how to dance. And I was always making costumes, and it turned into this."
"Susie Berman was one of my students. Rossi Ralenkotter was a student. Brian Greenspun and his sisters, and the Binion kids — the girls, not the boys. … Tap dancing, cartwheels and somersaults. (Brian) — he was a nice little boy."
"I sold Liberace all the mirrors for his bathroom. He used to come shop with me. He bought all his rhinestones here."
"My husband came with Bugsy Siegel. He was a 21 dealer and a pit boss for many years. … He died 10 years ago."
"I think it's a damn shame — I can't believe Las Vegas has gone so far away from what we used to be."
"'Folies Bergere' was something all its own. … I haven't seen it in the past few years. My car chokes up when I try to cross Sahara anymore. It doesn't like it out there, ha, ha, ha."
"I think it's very sad to see those type of shows go away. These days, everything is starting to look alike, and that's not good. The entertainment is too much the same in various shows. Instead of having something that's a total, knockout, blast, beautiful, gorgeous show — with the beautiful girls — that's kind of gone away. And that's what we were known for, and it's too bad."
"It's very, very different."
"Don't forget the original spirit of Las Vegas — the spirit of grand entertainment at a comfortable price, and nothing indecent."
"When I moved here, I had a nice, two-week contract, and here I am still. … We had a good time."
Doug Elfman's column appears Sundays, Mondays, Tuesdays and Fridays. Contact him at 702-383-0391 or e-mail him at delfman@reviewjournal.com. He also blogs at reviewjournal.com/elfman.
Video
Slideshow