FAA to add more controllers after latest sleeping incident in Reno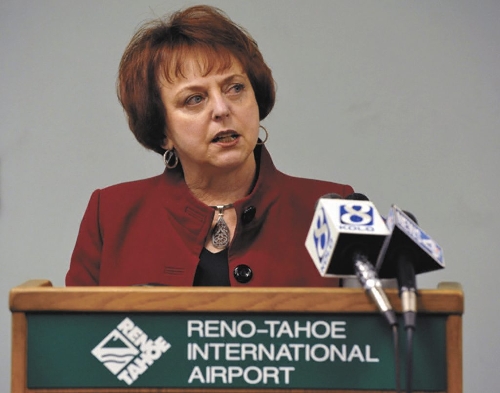 Federal transportation officials are moving to add air traffic controllers in Reno and at 26 other towers nationwide after an air ambulance carrying a critically ill patient was forced to land without guidance from a sleeping air traffic controller at Reno-Tahoe International Airport early Wednesday.
The FAA said the controller could not be reached for 16 minutes in the latest of an embarrassing string of air traffic control lapses.
Transportation Secretary Ray LaHood said he is "totally outraged by these incidents. This is absolutely unacceptable.
"The American public trusts us to run a safe system," LaHood said. "Safety is our No. 1 priority, and I am committed to working 24/7 until these problems are corrected."
The additional controllers will staff overnight shifts where only one controller now works.
FAA Administrator Randy Babbitt echoed LaHood's remarks, saying he "will not tolerate sleeping on the job. This type of unprofessional behavior does not meet our high safety standards."
Reno-Tahoe International Airport chief Krys Bart said three people were on board the five-seat Piper Cheyenne air ambulance when it landed at about 2 a.m. Wednesday. The FAA said the pilot, reportedly en route from Mammoth Lakes, Calif., was assisted by a California-based regional air traffic controller.
The FAA said the Reno tower controller has been suspended pending the outcome of an investigation. Federal officials said the 29-year-old controller has been an FAA employee for 18 months.
Speaking on the Senate floor, Sen. Harry Reid, D-Nev., said the pilot circled the airport several times.
"He tried to call the tower not once or twice, but seven times. The controller slept through every one of those calls," Reid said. "This shouldn't happen in Nevada. It shouldn't happen anywhere in the country. It shouldn't happen to any airplane. And it certainly shouldn't happen to an air ambulance."
But Rep. John Mica, R-Fla., the chairman of the House Transportation and Infrastructure Committee, questioned the move to add controllers at smaller airports.
"Only in the federal government would you double up on workers, averaging $161,000 per year in salary and benefits, that aren't doing their job," Mica said. "This increase in staffing, when there is little to no traffic, also misdirects our resources and focus away from congested air traffic control facilities." The incident comes on the heels of a March 23 lapse at Reagan National Airport in Washington, D.C., where two jetliners landed without guidance after the sole air traffic controller fell asleep during an overnight shift. The two pilots managed to land safely after they contacted a regional radar facility and were told to treat Reagan National as an uncontrolled airport.
In the wake of the Reagan National incident the FAA ordered that the tower there always have at least two controllers on duty.
Similarly after the Reagan National incident, two controllers were temporarily assigned to the overnight shift at the Reno-Tahoe airport, which like other smaller airports often had just one controller on duty. After a few days, until new procedures were implemented, the FAA reverted to having one controller in the Reno-Tahoe tower during the overnight shift. But as a result of Wednesday morning's incident, staffing again was increased to two controllers on the overnight shift.
Reno-Tahoe International is the 60th busiest commercial airport in the nation, serving more than 4.43 million passengers per year on eight commercial airlines.
McCarran International Airport in Las Vegas is the eighth busiest airport in terms of passengers serving nearly 40 million last year, according to airport spokesman Chris Jones.
Since March 1, the FAA has had 47 controllers working at McCarran and 61 at the Las Vegas Terminal Radar Approach Control, or TRACON facility.
Las Vegas TRACON and McCarran's tower each have two controllers on duty during the overnight shift. Additionally, one supervisor is on duty for both facilities located in the same building, bringing the total to five people on duty.
Babbitt and Paul Rinaldi, president of the National Air Traffic Controllers Association said his group will launch a nationwide "call to action" on air traffic control safety and professionalism.
The FAA is reviewing the nation's air traffic control system to resolve staffing and scheduling issues.
The review will include investigations of other lapses.
In February an air traffic controller was found sleeping on the job during the midnight shift at McGhee Tyson Airport in Knoxville, Tenn.
A controller at Seattle's Boeing Field-King County International Airport fell asleep during the April 11 morning shift. The controller was monitoring local traffic while two others were working aircraft that were arriving and departing. The controller already was facing disciplinary action for twice falling asleep during an early evening shift on Jan. 6.
Two other controllers were suspended for a March 29 incident at Preston Smith International Airport in Lubbock, Texas. During that midnight shift, they failed to hand off control of an aircraft departing the Fort Worth Air Route Center and could not be reached by other controllers.
The National Transportation Safety Board and the House Transportation and Infrastructure Committee have announced investigations of the air traffic control lapses.
Earlier Wednesday, Reid said the Reno lapse shows the need for additional funding.
"My office has contacted the Federal Aviation Administration to make it clear that this situation is completely unacceptable and to request that there be a minimum of two air traffic control personnel in the tower at all times," the Senate majority leader said. "This is yet another reason we must reauthorize the Aviation Jobs Bill to make important safety enhancements and oppose the House version of the legislation that slashes resources FAA needs to keep passengers safe."
Members of the House transportation committee said they planned to hold a private meeting with FAA leaders Thursday to discuss controller errors and incidents of sleeping on the job.
The federal air traffic control work force is undergoing massive turnover that will take several years to complete. It is the legacy of labor strife in 1981, when the controllers went on strike and President Ronald Reagan fired them all.
The thousands of people brought in to replace those strikers are now reaching retirement age. Controllers are required to retire at 56, although they may retire earlier if they have 25 years of service. The FAA began replacing those in the retirement bubble in 2005, and two years ago the agency set a goal of hiring 17,000 controllers by 2017.
Sen. John Rockefeller, D-W.Va., who chairs the Senate transportation committee, said he contacted Babbitt about the Reno lapse on Wednesday.
"I just got off the phone with the FAA and told the administrator that I am sick of this," Rockefeller said. "We can't have an aviation system where some of the people responsible for safety are literally asleep at the switch. This has to stop."
Stephens Washington Bureau Chief Steve Tetreault, The Associated Press and The Washington Post contributed to this report.
Sen. Harry Reid's statement about Reno landing incident