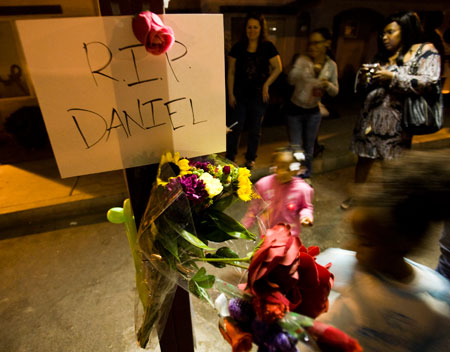 Since Saturday night, 45-year-old Pamela Earls has been helping care for her slain son-in-law's seven children.
The questions don't stop.
"Does my Daddy have a phone where he's at?"
"Yes, he has a phone," she tells them.
"How come we can't call him?"
"He can call you, but you can't call him."
"Why?"
"He just can't. He's always looking over you."
"It's like a dream," Earls said today. "I'm speechless. I don't know what to say."
Her son-in-law, 40-year-old Arbuary Daniel Fuller, was gunned down on Halloween night, moments after taking his children inside his apartment after trick-or-treating.
Las Vegas police are still looking for the suspects in the 8:41 p.m. shooting at the Shepherd Hills Townhomes, 1950 Simmons Street, near Vegas and Rancho drives. They have not yet released suspect descriptions.
Earls, who also lives in the complex, said she heard five or six shots that night and saw two suspects running away and jumping into a white Dodge Intrepid. One suspect was shouting, "I got him, cuz, I got him," she said.
She heard her grandchildren's cries and ran over to Fuller's apartment.
Her son-in-law was on the ground, surrounded by his children. They were screaming, "Daddy get up! Daddy get up!"
Earls' husband, 55-year-old Lewis Torrence, plucked his grandchildren off their father's body.
Earls looked into the dying man's eyes.
"Oh Momma, I can't breathe. I can't breathe," he told her.
A Clark County coroner's office official called the family today. Fuller had five gunshot wounds, she said.
Fuller's children range in age from 4 months to 16 years. On Saturday night, he'd taken them trick-or-treating, carrying his youngest door to door.
"He was just that kind of a guy," Torrence said. "It's just etched into my mind."
He had taken them home briefly because he forgot a diaper bag. He was going to show Earls and Torrence the children's costumes.
Earls said Fuller had been with his 29-year-old wife for 11 years. The two were married last year. Fuller was a stay-at-home father who cared for the house and the children. He always attended their school functions.
"My daughter didn't have to do anything but work," Earls said. "You don't find many young men like that anymore."
Flowers and letters were taped to an awning near the site where Fuller was gunned down.
"You were a super hero & a super dad," one letter read.
Fuller moved to Las Vegas in 2002, in part to escape a sometimes troubled past in California, Earls said.
But she didn't know of any enemies her son-in-law had.
"They took him away from seven kids," Earls said. "They took him away from my grandchildren."
Contact reporter Lawrence Mower at lmower@reviewjournal.com or 702-383-0440.