Family wants answers in Nevada Navy veteran's death
January 2, 2016 - 11:39 pm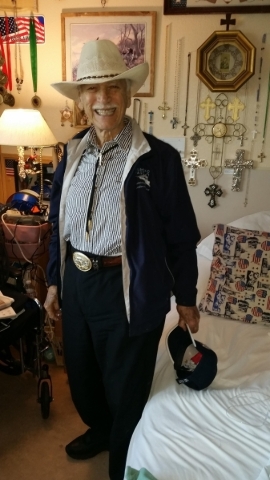 Friends and family members knew Charlie Demos as a proud Greek-American, good father, military veteran and prosecuting attorney who practiced law for 56 years in Florida.
Talk about sturdy stock. Demos was born into an immigrant household in 1926 in Trenton, N.J. His family ran a Greek diner called the Bordertown Bar & Grill while he was in high school before he joined the U.S. Navy in 1944. He was the kind of man who embraced life and was passionate about the importance of making a contribution.
And although 2015 found him up in years at age 88, he deserved a better fate than his "untimely and preventable death" in April as a result of contracting Legionnaires' disease at the Nevada State Veterans Home in Boulder City. Charles Demos Sr. was a fighter in life, and his surviving son continues to fight in his name.
Through attorney Martin Little, a complaint and class action lawsuit was filed in District Court in December on behalf of the Demos estate and family that accuses Nevada Department of Veteran Services Administrator Mark McBride of failing to "implement a proper program for the prevention, detection, or control of legionella bacteria and the prevention of Legionnaires' Disease."
Even more troubling is the accusation that McBride attempted to hush the family's concern that their loved one had died as a result of pneumonia caused by the preventable disease. A department official has denied Legionnaires' disease was a factor in Demos' death or out of control at the veterans home.
"At or around the time of the April 7, 2015 meeting, McBride assured the Demos Family he had the matter under control, and requested that they keep this Legionnaires' Disease Outbreak 'quiet,' and to direct any questions or concerns directly to him," the lawsuit alleges.
Despite the assurances, the elder Demos' health continued to deteriorate. By April 19, he was transferred from St. Rose de Lima to Nathan Adelson Hospice. He died two days later. When family members later pointed out that the death certificate listed "Acute Myelogenous Leukemia" as the primary cause of death, the lawsuit alleges, they were told the designation "was only identified for billing purposes." (The official death certificate also lists "Aspiration and Legionella Pneumonia" as a cause of death.)
After the family complained to the Southern Nevada Health District, an inspection of the VA facility found the "presence of legionella in many areas … including Charles Sr.'s room." The district's report said that "based on these results, the presence of Legionella pneumophilia in the water system may pose a health threat to residents and staff. As such, this finding should be immediately addressed to ensure that the disease causing organism is appropriately removed from the water system."
A June 6 story in the Review-Journal reported that the veterans home's water system had been cleansed after positive tests for legionella bacteria and that the issue had attracted the health district's interest after an unnamed resident who died in April had tested positive. The story cited Veterans Services Department Director Kat Miller noting that the death wasn't related to legionella and that no other cases of the disease had been reported.
But after reviewing the health district's legionella investigation of the veterans home, that sounds far less than certain. It begs troubling questions.
Legionella is especially dangerous to the elderly but is easily preventable, so how did it manage to survive and spread at the veterans home?
And, more importantly, was Charlie Demos the only victim?
While we're on the subject, where were all those Nevada elected officials who talk so much about helping our veterans when Charlie Demos needed them?
"My father spent his life helping people," an angry surviving son Paul Demos said in a recent interview. "He was a helper."
The Demos family wants answers and plans to make sure his death leads to changes in what they call a system of neglect.
— John L. Smith's column appears Sunday, Tuesday, Wednesday, Friday, and Saturday. Reach him at 702 383-0295, or jsmith@reviewjournal.com. On Twitter: @jlnevadasmith.