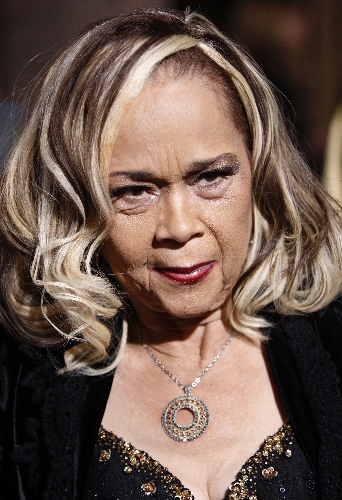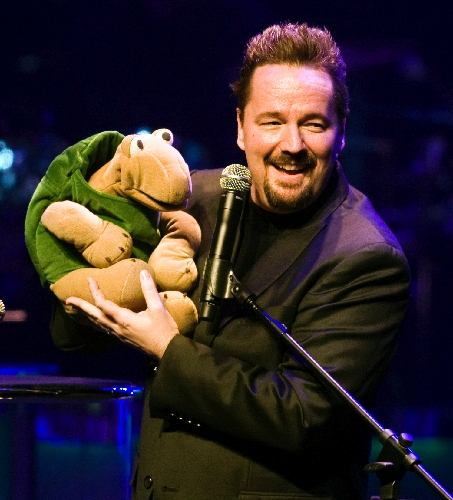 One of Terry Fator's biggest regrets in life is that he didn't get to personally thank Etta James for changing his life.
When he heard the news that the six-time Grammy Award winner had died Friday at 73, The Mirage headliner decided to pay a perfect tribute: he and his puppet Emma Taylor sang "At Last" in Friday's show.
"I'm just proud I could be part of her legacy in a small way," Fator said Saturday.
James had contacted him and said she went on YouTube.com to see his version. "She said she liked it and hoped we could meet.
"I'm just very sad I didn't get a chance to see her. I can't thank her enough for the contribution she made to my life and I hope now that she's in heaven she knows how much I appreciate her."
Five years ago, as he walked onto the "America's Got Talent" stage for the first time, Fator got the attention of the judges and NBC viewers with a stunning performance featuring Emma doing "At Last."
"I had only been doing it a couple years. The first time I heard the song was in the movie, 'Pleasantville.' "
About that time, some Texas friends of his presented him with the Emma Taylor puppet. "They said most of my puppets were male. They found Emma at a toy store in Austin."
To prepare for "America's Got Talent," Fator said he rented the "Pleasantville" movie and started practicing. "That particular movie really made an impact on me."
It was one of best moves of his career. "That song is right in my range as perfectly as it could be."
During Friday's tribute, he told the audience about James' contribution to his career and dedicated his new song, "Horses in Heaven" to her.
BEST TIP
Over the years, I've met a lot of cabdrivers with remarkable stories.
Heard this one on Friday and it might be the best of the bunch:
Back in late summer when it was still 100 degrees-plus, a cabdriver picked up an older man whose car had conked out near the Fashion Show mall.
The man needed a ride to the Las Vegas Country Club estates.
The passenger appeared to be worn out from waiting in the heat so the cabby offered him a cold bottle of water.
By the time the five-minute ride ended, the passenger had emptied the water bottle.
As the man handed over the fare, the cabby did a double take. Upon realizing he had $300 in his hand, "I thought he made a mistake," said the longtime cabby, in a thick Arab accent.
The appreciative passenger was billionaire Kirk Kerkorian, the father of Las Vegas megaresorts.
Kerkorian turns 95 on June 6.
THE SCENE AND HEARD
Steven Tyler of "American Idol" was using the alias "Rosetta Stone" during his Las Vegas visit last week. Our collection of aliases include fellow judge Jennifer Lopez, who went by "Jessica Rabbit" on previous Las Vegas trips. Her estranged husband, Marc Anthony, often used "Justin Case" while in Las Vegas. Britney Spears went by "Alotta Warmheart." Barry Manilow took the name Norman Maine, after Fredric March's drunken character in "A Star is Born." …
The latest celebrity additions for Muhammad Ali's 70th birthday tribute at the MGM Grand Garden: Stevie Wonder, former heavyweight boxing champion Evander Holyfield, Steve Schirripa of "The Sopranos," and actor Chazz Palminteri. The tribute is part of the 16th annual Keep Memory Alive Power of Love benefit for the Cleveland Clinic Lou Ruvo Center for Brain Health.
SIGHTINGS
Tyler, an avid knife collector, spotted walking through the SHOT show Thursday at the Sands Expo Center with Ken Ciancimino, executive vice president at the LVH-Las Vegas Hotel & Casino , formerly the Las Vegas Hilton. … Former "Dynasty" star Joan Collins, dining at Gustav Mauler's Spiedini restaurant (Rampart Casino) with her former assistant Judy Bryer and husband Max, who was celebrating his 90th birthday. … Floyd Mayweather Jr., with a group at N9ne Steakhouse (Palms) on Friday. … Philadelphia Phillies star Shane Victorino, sitting with former Nevada Gov. Bob Miller at the Bishop Gorman-Findlay Prep game at Cox Pavilion on Saturday. Victorino, who lives in Las Vegas during the off-season, sent a pre-game "good luck bro" tweet to Bishop Gorman star Shabazz Muhammad, who goes by the Twitter handle @phenom15ball. … The Grammy-winning Zac Brown Band, chilling out in the Minus5 Ice Bar at Mandalay Bay after their concert at the resort's event center.
THE PUNCH LINE
"Having the 'Idol' contestants sing Beatles songs is a bad idea. It's like having 'Spandex night' on 'Biggest Loser.' " — Jimmy Kimmel
Norm Clarke can be reached at 702-383-0244 or norm@reviewjournal.com. Find additional sightings and more online at www.normclarke.com. Follow Norm on Twitter @Norm_Clarke.