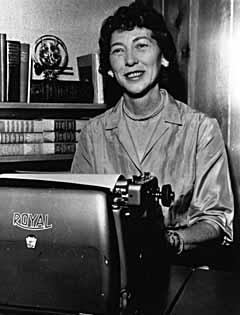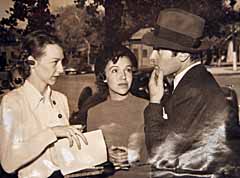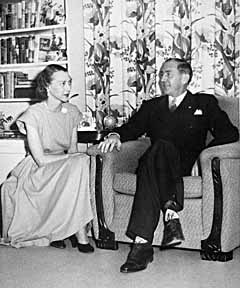 Florence Lee Jones had a chance to be Las Vegas' most sensational journalist, jerking tears with tales of women wronged and justice miscarried. Instead, she became a meticulous scribe, documenting the people who built a city.
Unlike most journalists, she was herself a founder and joiner of important organizations, participating in the civic story she covered.
She was the first important female journalist in Southern Nevada, covering big, hard news stories in years when most women newswriters were still confined to tea-party beats. Only after proving herself as a hard news reporter did she concentrate on society news; she then dominated that field locally for 20 years.
"I have been in the business of building Las Vegas since I wrote my first story," she told a younger journalist in 1984, a year before her death. "I think I helped make the town happen."
Born in Missouri in 1910, Jones spent some of her teen years in Sumatra, where her father was teaching Shell Oil crews how to use new rotary drills. Living in small camps newly carved from the jungle, the Jones kids were taught to smell the outside air the moment they opened a door. A heavy, musky odor meant a tiger might be lurking under the house, waiting for an American breakfast.
Florence's brother, Las Vegas lawyer Herb Jones, recalls, "We were a close family and took a lot of walks in the jungle, and my older brother Cliff and I were always climbing trees. Nobody could imagine Sister climbing trees. She was kind of a dignified person.
"Can you imagine a person who is dignified yet friendly and not prudish? That was her."
Her family returned to Missouri so Florence could attend college there, but in 1931, her father and mother were supposed to return to Sumatra. "Dad and Mother … were on their way to Long Beach, the port from which they were to embark," said Herb. "They were in Kingman and somebody told them about this little town across the river where they were starting to build a big dam. They took a ferry across, Dad looked around, and said, 'I'm not going back to the jungle.' "
The elder Jones built a service station on the road to Boulder Dam, near Pittman, and later went into real estate. His sons, Herb and Cliff, would work their way through college with jobs on the dam, and would become prominent Las Vegas attorneys. Cliff also would serve as lieutenant governor and hold interests in casinos throughout the world.
Florence Jones graduated from the University of Missouri with a bachelor's degree in journalism in 1933.
A journalism degree from Missouri was the best professional credential to be had, but 1933 was a poor year to be in the job market.
"Only three in our class of 100 went into journalism," she recalled 50 years later. "Men were store clerks and gas station attendants. Those were the only jobs they could find."
Jones joined her family here and lucked into a temporary job at the Evening Review-Journal. "I was hired to cover a special story," she wrote later. "My assignment was the famous Kraus trial, which related to claims of a truck driver in the tunnels of Boulder Dam that he had lost his sexual powers because of exposure to the carbon monoxide fumes in the tunnels. The defendants were the Six Companies Inc., the contractors on the dam construction."
One of the defense tactics was to hire undercover agents who befriended Kraus and introduced him to certain ladies of the evening. No journalism course at Missouri had offered Jones any courtroom experience, let alone prepared her for the explicit testimony extracted from the prostitutes. Kraus' lawsuit didn't succeed, but Jones' trial by fiery language did. The Review-Journal hired her full time.
The R-J was the chief newspaper in a boomtown, but most residents had little money, so circulation was still small and advertising rates had to be kept affordable. The newspaper kept costs as low as possible. Jones was the only full-time reporter. John F. Cahlan also wrote some stories, but had to double as wire and sports editor.
Jones was immediately assigned to cover the biggest story Las Vegas offered — the construction of Hoover Dam — as well as the city and county governing bodies.
"I made a trip on Lake Mead with the National Park Service during which we named various scenic points, of which Iceberg Canyon still retains the name," she wrote in a column marking her retirement in 1983. "I can remember the noise and see the lights strung across the canyon as the crews worked round the clock, rushing the project to completion for the dedication by President Franklin D. Roosevelt on Sept. 30, 1935."
When she was assigned to cover the formation of the new Las Vegas Junior Chamber of Commerce, the "Jaycees " enthusiastically signed her up as a member. Jones recruited several more women. When the Las Vegas Jaycees learned that national Jaycee rules forbade women from being members, they registered them anyway under their initials. Some of the male Jaycees, however, spilled the beans at a national convention, and in 1944 the Las Vegas chapter was forced to change its policies to exclude women.
By that time Jones had already chaired the Jaycee committee that developed the first ski facilities on Mount Charleston. This required a paved road, but to justify paving it, the state highway department had to show there was enough traffic. Learning the day the highway department planned to conduct the traffic count, the Jaycees scheduled a picnic on the mountain. Everybody "forgot" something and made two or three trips past the checkpoint. Mount Charleston got its first paved road.
Jones was especially skillful at covering court news. Her editor and mentor, John F. Cahlan, recalled being caught up in a dramatic crime story. The perpetrator was a sympathetic figure, cultured and articulate, all but deserted by her husband. A policeman gave her a tiny pistol to protect herself and she put a tiny bullet through the husband's heart.
It promised to be a huge national story, the kind that could bring a local stringer bylines in newspapers from coast to coast. Cahlan grew flushed with excitement as he described the opportunity. Why, Florence could become a modern version of Nellie Bly, the Denver Post reporter who won fame by undercover exposÈs and sensational coverage of important trials.
It was a fine idea, except Cahlan had overlooked one important element, Jones told her boss.
"The woman is GUILTY," she emphasized.
Jones wrote that story straight, and she kept doing that for 50 years. In 1940 she married Cahlan, and an oral history he recorded in the 1980s implies that this aspect of her personality was one of the foundations of their relationship. She was a clear-thinking person who never lost sight of the moral shoreline. He flew most of his ideas across her desk. She admired most of them and shot down the ones that had no business in the air.
Their marriage was initially secret because the newspaper had a policy against nepotism. It was tough to pull off a secret marriage, John remembered later, but they had special abilities. "We were newspaper reporters. We knew where the blind spots were as far as news was concerned, and Kanab, Utah, was one of them."
The marriage in Kanab remained secret more than a year, during which Florence lived with John's mother, giving John a plausible excuse, within the bounds of propriety, for long and occasionally overnight visits. Even after they revealed it, she retained her maiden name in bylines; in private life she added Cahlan to her name.
World War II brought the hardest years Jones would see as a journalist. Las Vegas continued to boom with war industry and a military base, but the R-J staff stayed small, largely because most people with journalistic credentials were in uniform. Yet Jones felt obliged to report the movements of Las Vegans in service, and the only way to do it was to correspond with them. Meanwhile, she was working 12- and 14-hour days covering everything from coroners' inquests to ladies' club meetings.
After peace came, the women who had worked as volunteers — for the American Red Cross, the USO, Travelers' Aid, rationing boards and in war bond drives — wondered if their demonstrated abilities could be tapped to address post war problems.
"Seven young matrons formed the nucleus of the organization now known as the Service League," Jones wrote.
In its first few years, League members helped the health department run clinics, rounded up clothes for needy children and sometimes made them by hand, lobbied the Legislature for child welfare laws, and assisted in fund drives for half a dozen charities.
Jones served as president for the League's first two years. The Service League evolved into Junior League, probably the most active and influential working charity for women in Las Vegas.
By the early 1950s the Review-Journal was big enough to have a full-time women's editor, and it was Jones. Maisie Gibson Ronnow became her assistant in 1951. She says that Jones' volunteer work was hard to separate from her journalism. "It almost seemed that she gave 100 percent of her time to each of them."
She remembers that Jones was a stickler for double-checking all facts. Long retired by 1998, Ronnow said, "To this day I carry a 3-by-5 card in my purse to take notes. I'm sure I picked that up from her."
Even Ronnow didn't know it, but Jones kept thousands of those 3-by-5 index cards filled with personal information about people she knew. The card for Mrs. J.D. Smith starts with the following information:
"Nurse in World War I.
"Sister, Mrs. Pauline Gibson of Toronto, Canada. Visited in summer, 1942. Has son, Eugene, of Toronto. Daughter Mary (Mrs. Sidney C. Wooten, Was. D.C.) Wed summer, 1942, after LV divorce."
At some later time, with a different typewriter, she added the names of the foster parents who raised Mrs. Smith, the date of the foster parents' golden wedding anniversary, the maiden and married names of Mrs. Smith's niece, the fact the niece had a baby, and a reminder that the niece had visited Las Vegas in 1944.
Nothing derogatory — just the sort of details that make stories sparkle. Today her index cards rest in the Nevada State Museum.
Jones retired in 1953 because of a serious illness and spent the next decade getting well and doing free-lance projects. Most of them were writing, but she also managed the Southern Nevada campaign for Eugenia Claire Smith, the Yuban coffee heiress, who decided to live in Nevada because of its low taxes and then decided she should represent it in Congress. John Cahlan recalled in his oral history, "Florence said that she used to go to the conventions and the meetings all decked out in furs and jewelry that you couldn't buy for less than $12,000 apiece — necklaces and rings. Eugenia Claire didn't know what politics was all about."
Smith was trounced by Walter Baring, but carried Clark County as a result of Jones' work for her. "It was something that I think Florence regretted … because of the kind of person Eugenia Claire was," Cahlan said. "Eugenia Claire Smith didn't have an original idea in her mind."
In 1955 Jones wrote a voluminous special section for the Review-Journal, marking the town's 50th anniversary. Lavishing time on the project, she looked up old-timers who were still alive, and the aging offspring of others, and recorded their memories. "You find things in that edition that aren't found anywhere else," said David Millman of the Nevada State Museum.
In a city that lived in the present, where she participated in and chronicled every boom, Jones was uniquely aware of the vanishing past. She captured parts of it that nobody else bothered to notice. Once she spent a week in California interviewing Lelah Vegas Gass Slaughter, the 80-year-old daughter of Octavius Decatur Gass, the first white to make a long-term home in the Las Vegas Valley.
She resumed writing a social column for the Review-Journal in 1963, but found time to pursue historic projects. She served on the Governor's Commission on Nevada History in 1967 and chaired the commission that ran the Lost City Museum at Overton. In 1972 she became the first woman ever selected to the board of trustees of the Nevada State Museum.
Jones edited Stanley Paher's "Las Vegas As it Began — as it Grew," published in 1971. With John Cahlan, she wrote "Water, A History of Las Vegas," which shows how the development of the city was determined by the availability of water. It was published in 1975.
As late as the 1980s, the Review-Journal would call in Jones to write obituaries of old-timers. Consulting her file cards and clippings and an almost infallible memory, she reconstructed lives that peaked decades before, as clearly as events of the day before.
Jones retired for good in 1983. Still a stickler for accuracy even thereafter, she wrote the R-J editors in 1984 to correct a misidentified photo caption. Her letter began, "It bothers me when the Review-Journal prints UN-historic information, such as … "
The following year, she died of cancer.
In her last important interview, in 1983, she told the Review-Journal's Ed Vogel she never found any trouble melding her respected position in the community with work in the sometimes-gritty field of journalism.
"I was always treated with the highest respect because I behaved like a lady," she said. "The communications field should inspire people to be better and to reach higher. I take pride that I have been at the beginning of many wonderful things."
---
Part I: The Early Years
Part II: Resort Rising
Part III: A City In Full