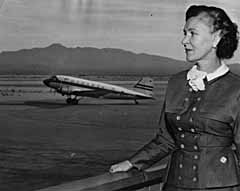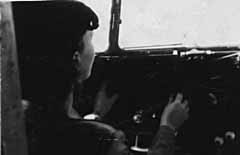 There was a buzz in the air that day in 1936. It emanated from a two-seat Piper Cub circling Las Vegas. John and Florence Murphy had been waiting for it. They knew it was an itinerant pilot offering rides, and that he would continue buzzing Vegas until a respectable crowd gathered out at Rockwell Field, near the current-day corner of Paradise and Sahara.
"We went out there because we were both interested in airplanes," says Murphy. "My husband took a ride, came back and asked me if I wanted to go and I said, 'Of course.'
"When we got airborne, the pilot, who was sitting in the rear, tapped me on the shoulder and said, `Take a hold of the stick, it's all yours,' and he threw his hands in the air. So I tried to level her off, and I had a pretty hard time doing it. But as I went along, it became easier, and finally I was able to look out and the wings weren't flapping up and down. I was up there about a half-hour and I just loved it.
"I think I had an inherent love for being up in the sky. One of my favorite things to do, once I became a proficient pilot, was to fly out at dawn over Sunrise Mountain, and go back and forth across it, and look down at the panorama. It looked like a great big Indian blanket, different every time I went out because of the strata on the mountain, and as the sun moved, the colors would become more subdued or more brilliant from up above."
Murphy had aviation fuel in her blood, and a head for business. With her husband, she built the facility that is now the North Las Vegas Airport. Later, her business acumen would help make a success of the first Las Vegas-based commercial airline.
Florence Jones was born in 1912 in Fernley. Her dad worked for the Southern Pacific Railroad. She was one of seven children — five of those were boys.
"I was a tomboy," Murphy laughs. "I never played with dolls; I played with trains and boys' toys.
"And whatever my brothers could do, I could do too."
Except fly an airplane.
"It was an impossible dream then," she says.
Murphy attended the University of Nevada for two years, before meeting and marrying John Murphy, an engineer for the State Highway Department, in 1930. In 1936, John Murphy was transferred to Las Vegas, and elevated to the rank of division engineer. Florence went to work as a legal secretary.
But John Murphy wanted to learn how to fly, and he encouraged Florence to do likewise.
"When we went up to fly together, he would try to tell me how to fly the airplane," she recalls. "He wanted me to do things his way, and I wanted to do them my own way. It was just like a man teaching his wife to drive an automobile."
By 1938, they both had earned their private pilot's licenses. At that time, the only public airfield was old McCarran Field, now the site of Nellis Air Force Base. In early 1941, the U.S. Army took over the facility. This left private pilots with no place to land in the valley, and it opened up an opportunity for the person who would provide one.
"We were told we couldn't fly there anymore," says Murphy. "So my husband, Bud Barrett and I went out to see where we could scrape off some sagebrush for our own field, and for our eight or 10 friends who flew."
They found an area just off the old Tonopah Highway that was suitably flat, and bought 200 acres, paying from $10 to $50 per acre for it.
Then Florence learned how to operate some new kinds of machines.
"My husband 'borrowed' some equipment from the highway department, and I was on a Cat and blade alongside them. Remember, anything they could do, I could do."
With plans to operate a charter service and a flight school, Florence received her instructor's license in 1941, and her commercial pilot's license in 1944 — the first woman in Nevada to earn that credential.
They scraped off a north-south runway, an east-west runway and a diagonal. Trees and shrubs were planted, sanitary facilities installed and a hangar was hauled from the Las Vegas Air Base. A few finishing touches, and the new field, dubbed Sky Haven, was ready.
A grand opening was scheduled for Sunday, Dec. 7, 1941.
"Tommy Hull (builder of the El Rancho Vegas Hotel) was our master of ceremonies," Murphy recalls. "The town was small, so everyone was out there … and we had also gotten in touch with all of our flying friends from California, Utah wherever we knew there were flying clubs." The celebration attracted at least 150 airplanes.
"We had a great day. We were having spot-landing contests — which I incidentally won. We were having bomb-dropping contests and aerobatics — just having a great time."
Late in the afternoon, Murphy says she spotted a low-wing monoplane coming from the direction of the Army field.
"He was hedge-hopping, flying very low," she says. "We thought he was just showing off and was coming over to join us, and we all went out to greet him. He said, 'You're grounded, all of you!' and then he told us that Pearl Harbor had been bombed by the Japanese.
"We were awestruck. People had flown in and couldn't fly back. We had to get special permission, but not before we were fingerprinted and re-licensed." For those who were from out of town, the Army speeded up the process — they were able to fly home in a couple of weeks.
"I didn't get my license back for two months," says Murphy.
John Murphy and Barrett immediately volunteered for service, and were sent to Wickenberg, Ariz., as civilian flight instructors.
Florence decided to join the Women's Army Special Services (WASPS.) She sent her 4-year-old daughter, Margaret Lynne, to her parents' home in Winnemucca.
"I had enrolled and went down to Los Angeles to take my physical," she says. "I called my mother and my daughter in Winnemucca to tell them goodbye, that I was on my way. Well, my daughter got on the phone and she sobbed and sobbed and said, 'Mama, please don't go.' " As she listened and wept, Florence remembered the times that she had bundled her only child in blankets and tucked her carefully behind the pilot's seat, the child's first steps, her first words. In the end, maternalism won out over patriotism, and Murphy remained a civilian. Which is not to say that she spent the war playing pinochle. She had an airfield to operate.
"It wasn't difficult at all," she says. "We already had a set pattern for people that wanted to come out and fly or take flight instruction. And we had no debt. Everything was paid for."
One of her most memorable and beloved students was a young man with severe palsy, which caused him to have involuntary muscle movements.
"That boy wanted to fly so badly and he was so very spastic," she recalls. She tried to explain the difficulties of flying for someone with his affliction, the need for good eye-hand coordination, but he persisted.
"So I said if you want it that badly, I'll work with you for as long as it takes — and I did work with him for a long time." Simple movements were very difficult for the boy, but Florence says that he eventually devised his own way of working the controls.
"I finally got him settled in and he soloed," she says. "That was the proudest man I have ever seen in my life. And I was so very proud of him. To think that he would stick with it, with all those handicaps, and make it."
A friend, Lawrence McNeil, had sold his home to a just-discharged Navy veteran with plans to set up a law practice in Las Vegas. The man's name was Edmund Converse, and McNeil introduced him to John and Florence Murphy.
In 1945, Converse and two associates, June Simon and Charlie Keene, convinced Southern Nevada was ready for real commercial air service, had formed a partnership they dubbed Bonanza Air. The fleet was a rented single-engine, three-seat Cessna Skymaster, and its first home base was Murphy's Sky Haven Airport.
In early 1946, Bonanza moved briefly to George and Peggy Crockett's Alamo Airport, a small facility now part of McCarran International Airport. That fall, Bonanza moved into an old wooden hangar at the old Army Air Field, where Western and TWA airlines made their infrequent Las Vegas stops.
That was the year Florence Murphy cast her lot with the fledgling company, at the urging of her friend June Simon. Murphy's duties were "management of the maintenance department, ordering supplies, licensing planes, setting up traffic schedules, and helping with any problems in the new air service."
The company had a couple of twin-engine Cessna five-seaters for the charter trade.
"We started out with one flight a week to Reno," she says. "It was on Monday, a round trip and we had so many requests, that we had to make it two flights a week, then three. Finally, we were going up there every day."
In 1946, the U.S. military began a bargain sale of surplus C-47 airplanes, the military version of a Douglas DC-3. The only difference is that the interiors of the DC-3s were designed for comfort. This was important, since they weren't especially fast. The one-way trip to Reno took two hours.
"They were very commodious," recalls Murphy. "People weren't packed in like they are on modern airplanes. We had 21 seats in a space we could have probably packed in 36."
Bonanza eventually built up a fleet of nine of the sturdy old planes, three of which were purchased from Kirk Kerkorian, back when the casino owner was dabbling in the used airplane business.
Meanwhile, Murphy had risen to the position of vice-president and secretary of the company — the only female airline vice president in the country. She was Bonanza's director of personnel, and handled labor relations.
But Florence Murphy, for all her administrative ability, was a flier. She was licensed to make those scheduled runs to Reno, and so she did.
"Believe it or not, I was afraid people would jump out if they saw me flying," she laughs. "It was a man's world; women were NOT in aviation. But I could always do what my brothers could do, so I was in the thick of it. And I had to prove myself. They would look at me, and I could see they were thinking, 'That gal should go home and tend the baby.' But I finally gained their respect."
Bonanza's in-state operations were rarely profitable, and only by obtaining an interstate route, and an airmail franchise, could they receive government subsidies. And the more airmail routes a line attained, the larger the subsidy.
"We bought TWA's route from here to Phoenix, and that made us interstate and we could carry mail," Murphy explains. "Our first subsidy was $25,000 for one year. So we started going after more mail routes and getting more subsidies all the time. And that was why I broke with Bonanza in 1958. You see, when you're receiving subsidies from the government, your earnings are also limited. I just don't believe in the government trap anyway, I wasn't brought up that way."
Murphy says she tried to get Converse out of the subsidy game.
"I told him we can do it on our own, without subsidy, if we provide the service. That was our main disagreement, and the main reason I left."
She has been in the real estate business ever since.
One of her most poignant memories is a hand-drawn picture, rendered by her daughter when she was 9. It shows an airplane, all the people at Bonanza Airlines, and their positions. With the clarity of a child, Ed Converse is labeled "the man with the money." Beside her mother's picture is the legend "the lady with the brains."
---
Part I: The Early Years
Part II: Resort Rising
Part III: A City In Full