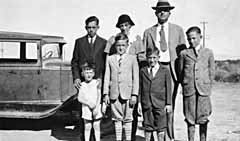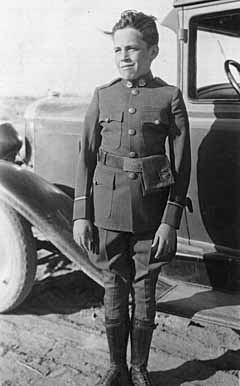 Summing up the life of Roger D. Foley, Harry Reid told a tale of boyhood games he could never win because older kids kept changing the rules. It made him appreciate the Foleys, he said, because: "The Foleys never changed the rules. In the game of life, they played by the rules."
It was a reason the Foleys were liked and a reason they were disliked, through five generations in Nevada. It was certainly the reason a picture of Roger D. Foley's head, cut out and pasted to a clown's body, was posted in the Las Vegas office of the Federal Strike Force in 1979. In Judge Foley's courtroom federal agents had to meet the same standards of proof as everybody else. Some of them didn't like it.
The rules cut both ways. Though a liberal at heart, Foley denied compensation to widows of Nevada Test Site workers who died of leukemia after a nuclear test went awry. Yes, the government was negligent, Foley found, but the widows failed to prove radiation exposure caused leukemia.
Foleys have been making legal history in Southern Nevada since 1906. They have included two federal judges, two district judges, several district attorneys, two state senators, an assemblywoman, a University of Nevada regent, and enough lawyers to form their own bar.
The first was Thomas L. Foley, who moved to Goldfield in 1906. The son of an Irishman who immigrated to the United States during the potato famine of the 1840s, Thomas L. was both a lawyer and a fight promoter in Chicago, but in Goldfield practiced only law and Democratic politics.
His son, Roger T. Foley, was 24 in 1910 when he gave up a career in banking and moved West to "read law" as his father's apprentice. By 1913 he was deputy district attorney for Esmeralda County. He sent for his sweetheart, Helen Drummond, and married her one hour after she stepped off the train.
Roger T. always claimed Goldfield was more civilized than much of the desert West. "There never was the great violence in Goldfield which characterized so many of the Western mining camps," he told an interviewer in 1963. "The miners and muckers, men who had to work hard with their hands, were extremely well-read. Many of them had traveled a lot, in Colorado and Alaska. They knew what was going on in the world and they talked intelligently about it."
But it was still the wild West. His son, the late Roger D. Foley, remembered what happened when his father started divorce proceedings on behalf of a client whose husband beat her.
"The guy had been in a bar bragging that he would kill my father," said Roger D. Thus it was that as the Foley family walked home from church one morning, the baby carriage contained not only baby George Foley but also a large revolver, hidden under the mattress.
"Here came this miner down the street," said Roger D. "And my mother jumped between my father and him, in case he started shooting. Those being hard times, I guess she figured if one of the Foleys got shot, it had better not be the breadwinner."
Neither feudist knew quite how to deal with the intervening woman, so they not only failed to shoot; they didn't even speak ill of one another in passing.
Tough customers couldn't run the Foleys out of Goldfield, but tough times could. Mining declined after the 1900s, and went from bad to worse after 1918. A fire in 1922 destroyed 37 blocks and thus Goldfield's base of general business. Thomas Foley moved to California in 1919; Roger T. in 1924. But in 1928, Roger T. moved to Las Vegas, and the family is still here.
"My mother learned to love it, but she hated it then," said his son, Roger D. "It was dusty, and dirty, and milk cost 25 cents a quart here when it had cost 11 cents in Southern California."
So Roger T. milked his own cow at what was then a rural residence on California Avenue, a little south of today's Charleston Boulevard. They raised their own goats and chickens. The Foleys lived humbly long after it ceased being financially necessary.
But Roger T.'s sense of justice would cost him money. He got a job as municipal judge soon after his arrival. Roger D. related that one of the city's fund-raising mechanisms was to tolerate open prostitution within its red-light district, but arrest about 20 courtesans every month and fine them $100 each. That seemed rank hypocrisy to the young judge. "So one time he fined each of the girls one cent.
"The city council called an immediate meeting and fired him."
In 1930 Roger T. ran for district attorney. Harley A. Harmon beat him, but immediately hired Foley as his chief deputy, and they became a legendary prosecutorial team, plainly feared by criminals. Foley succeeded Harmon from 1934 through 1938, was appointed a district judge in 1939, but lost the post in the 1940 election.
In 1944, Roger T. Foley helped Pat McCarran in his successful re-election campaign for the U.S. Senate. Because McCarran today is remembered largely for red-baiting and shameless patronage politics, this requires some explanation. "McCarran had been a justice on the Nevada Supreme Court, and a good one," explained Roger D. "He wrote very brilliant opinions … I think it was best summed up at the time of his death when a man wrote that he would have been a great man but for the flaws of his personality. He made enemies; he enjoyed making enemies.
"He would help people, but once he had done a favor for you, he thought he owned you. He would call you up and tell you exactly what he wanted. He would not suggest. He would tell you in so many words to do it."
Obedience was what McCarran apparently expected after Foley was confirmed in 1945, on McCarran's nomination, as a U.S. District Court judge. But when publisher Hank Greenspun sued McCarran and others in 1952 on allegations they organized an advertising boycott against the Las Vegas Sun, Foley ruled for Greenspun. McCarran would never again wield quite as much power.
Roger T. Foley died in October 1974. By then, his sons were legends on their own.
Roger D. Foley studied for the priesthood and retained a priestly sense of propriety after returning to a secular life. While serving as district attorney from 1951 to 1954, he was offended by stripper Lili St. Cyr's act at El Rancho Vegas. St. Cyr would bathe in a glass bathtub, entering and leaving the water behind a towel. Foley decided the towel wasn't big enough, and charged her with lewd conduct.
However, it is hard to hold the moral high ground when people are laughing at you. In those days, one of Las Vegas' most important institutions was the annual Branding Iron dinner, dedicated to deflating dignitaries. When the sincere district attorney arrived at the Flamingo Hotel for that year's dinner, he was greeted in the lobby by a poster-sized photograph of the posterior of Lili St. Cyr. Beside it was a picture of Foley holding a branding iron, as if to apply it to the St. Cyr rump.
Many years later, Roger D. admitted he thus learned something that his father tried to teach him, less painfully. "Try to remember you're a prosecutor, not a policeman," advised Roger T. "You can't impose your moral standards on a community."
But after his appointment in 1962 to Nevada's federal court, Roger D. did impose a standard, for decent treatment of prisoners. Las Vegas had been a bad place to get thrown into its overcrowded and brutal jails.
Brent Adams, now a district judge in Washoe County, but in those days assistant federal public defender in Las Vegas, said jailhouse lawyers often contested the conditions to no avail. "Prisoner writs were routinely ignored but Foley did not ignore them." Instead, he appointed Federal Public Defender Ken Cory, Adams and defense attorney Oscar Goodman to convert a single petition to a class action.
Adams said, "He personally went through that jail and saw conditions first hand, and he was outraged. There was the hole cell. No furniture, no light, and a hole in the floor into open sewerage. One inmate died in that cell and had been dead three days before he was found.
"There is no doubt in my mind that Judge Foley used the full weight of his power in that case, and that he saved many lives by doing so. The statistics showed we had daily assaults there and a murder about once a month. … He put the case on a fast track and resisted every effort to delay."
Foley ruled that jail employees could be deposed in public, so the grim jail conditions were reported on front pages. Sheriff Ralph Lamb folded, agreeing to sign a consent decree setting operating standards for the jail. A much-needed new jail was built. Foley also decided the hard-fought case of the Devil's Hole pupfish, a minnowlike species found only in a single desert spring not much bigger than a bathtub. He ruled agricultural interests could not pump so much ground water from nearby wells that it lowered the water level in Devil's Hole and threatened the pupfish, even if that made farming un- profitable.
Many rural Nevadans began to display their feelings on this issue with a bumper sticker that said "Kill the pupfish." As the case wore on and Foley made unpopular rulings, a new sticker began to appear.
"Kill the pupfish and Foley too!"
The first time Foley saw that sticker, he posed for a photo with it.
The Baneberry case was named for a nuclear device detonated at the Nevada Test Site on Dec. 18, 1970. Spokesmen for the Atomic Energy Commission announced that the shot had gone off flawlessly, an outright lie. In fact, the underground test had leaked radiation into the air, forcing the evacuation of 600 people from the site, but not before half of them had been sprinkled with radioactive fallout. Many of those employees would develop health problems and some died. The widows of two sued.
The government advanced the formerly bulletproof argument that the test was a "discretionary function," taken in the interest of national security by the executive branch, and therefore not subject to review by the court. Foley didn't buy that argument.
The resulting parade of witnesses gave Americans a clearer idea of the risks of nuclear testing, and revealed a lax attitude toward safety.
Foley eventually ruled the widows could not collect damages because they failed to prove their husbands' deaths resulted from the accident. But Foley set an important precedent: It is no longer automatic that government agencies can evade scrutiny of their actions simply by invoking "discretionary function."
Larry Johns, lead attorney for the Baneberry plaintiffs, said the case was "one of a triumvirate of cases that resulted in Congress apologizing and enacting the Radiation Exposure Compensation Act, whereby they set up a $200 million fund to compensate cancer victims."
One of Roger D. Foley's proudest accomplishments could be mentioned, by the rules of his organization, only after his death in 1986. He was proud of belonging to Alcoholics Anonymous and living up to his pledge for the last 28 years of his life, said his daughter.
Other Foleys have made their own contributions to Nevada. Roger T. Foley had five sons, four of whom immediately followed their father into the legal profession. The fifth, George Foley, preferred the fat tokes and lively life of a bellhop, until one of his brothers razzed him at a family gathering. Wounded in his pride, he enrolled in Hastings Law School and graduated at the top of his class.
George, born in 1922, became Clark County District Attorney and is now in private practice. The late Thomas A. Foley, born in 1919, served on the Clark County District Court bench for 11 years, until his death in 1993. Joe Foley, born in 1924, was a University of Nevada regent during an epic battle for the soul of UNLV, between president Robert Maxson and head basketball coach Jerry Tarkanian. Joe Foley usually supported Maxson. John P. Foley, born in 1927, served in the Nevada Senate and is remembered for a lawsuit that overturned the Tax Shift legislation, known almost universally as the Tax Shaft because it unfairly distributed public revenues to Clark County's disadvantage.
There are 26 adults in the family's fourth generation in Nevada. Six are lawyers, and one is in law school. Helen Foley, Joe's daughter, served in both houses of the Nevada Legislature and is now co-owner of a public relations agency. Daughter Mary Lou Foley is Focus School Coordinator for the Clark County School District, finding businesses to sponsor at-risk schools. George's son Todd, a Republican wild card in a deck of Democrats, worked in the White House for Presidents Reagan and Bush and is now a corporate attorney.
---
Part I: The Early Years
Part II: Resort Rising
Part III: A City In Full