Former Detroit mob boss Zerilli mines Jimmy Hoffa mystery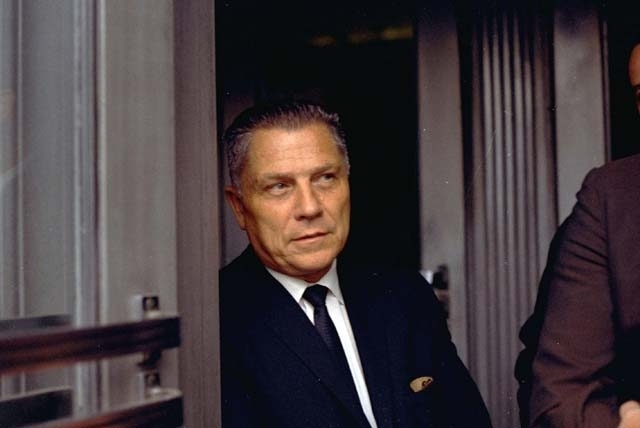 Don't be too hard on Tony Zerilli.
There are only so many ways for an aging gangster to make a legal buck, and the 85-year-old former Detroit mob boss figured he'd come up with a great one: Tell the world where the body of notorious Teamsters boss Jimmy Hoffa is buried.
He wouldn't be the first to work that angle.
Since Hoffa's disappearance in July 1975, wiseguys and con artists have made money by claiming knowledge of Hoffa's final resting place. The FBI and other law enforcement agencies have riddled the countryside with holes from Detroit to the New Jersey Meadowlands.
To date, their best efforts have come up as empty as Tony Zerilli's wallet.
Zerilli's assertion that Hoffa's body was buried in Oakland Township on farmland once owned by Jack Tocco makes plenty of sense, but he backed his claim with second-hand sourcing. As Zerilli tells it, Hoffa was knocked unconscious with a shovel and buried alive, which seems like a lot of detail for a guy who wasn't there. (Trouble with Zerilli's theory is, multiple law enforcement sources have reported, the smart money is on Hoffa's body being shoved through a wood chipper.)
At least Zerilli can say he has the La Cosa Nostra pedigree to make an educated guess. His late father, Giuseppe "Joseph" Zerilli, was a founder of Detroit's Purple Gang and dominated the city's underworld for more than a generation.
But the mob's retirement plan — shallow graves or penitentiaries — has always been problematic, and these days Tony Zerilli finds himself broke and working the mob's increasingly lucrative racket: storytelling.
Which returns us to the Hoffa epiphany.
For just $4.99, you can download his 21-page opus on the subject from his Hoffafound.com website. The price goes up to $7.99 if you want a copy mailed to your address. And if you want Zerilli to know your address, that's your business.
Although mob expert Alan Lengel reports rumors of Zerilli writing a book about his life, I'd respectfully suggest the old hoodlum start typing faster. Most 85-year-olds aren't writing their memoirs, they're sketching their eulogies.
Then there's the photograph.
Not the one of Hoffa's grave, but the glamour shot of Zerilli available on the website. Maybe it's just me, but I think he resembles Carl Reiner's Saul Bloom character in the 2001 remake of "Ocean's Eleven."
If you've always wondered what it would be like to have an image of Tony Zerilli staring at you while you're trying to eat your breakfast, this is your chance to find out.
For a fee, of course.
The photo costs $9.99, but $22.99 if you want it autographed. If you want it personalized, the price goes up to $34.99.
For that money, Zerilli's signature had better be written in Hoffa's blood.
In his version of the fateful events Zerilli writes, "They threw him into the hole, and buried him alive. He wasn't shot, he wasn't stabbed, nothing like that. A cement slab of some sort was placed on top of the dirt to make certain he was not going to be discovered. And that was it. End of story."
More like the next chapter in a continuing saga.
By the end of the week, the FBI called off its treasure hunt for the Teamsters titan, one that generated newspaper headlines and punch lines for late-night comedians, but no James Riddle Hoffa.
Still, don't be too tough on Tony Zerilli. In fact, try to have a little pity. It's not easy being the guy whose family once had their hands on the golden goose and let it scuttle away honking in derision.
Imagine how you would feel if every time you drove down Las Vegas Boulevard and passed the site of the old Frontier casino you were reminded of what you'd once been a part of in the gambling capital of the world. That pang of regret surely hits Zerilli like a sucker punch, and he wound up going to prison in connection with the Frontier hidden-ownership case. Detroit mobsters also had their hands on the Aladdin and their eyes on a casino in Laughlin. But they're gone, too.
Back in the mid-1960s, when Zerilli's pals had the run of the house, the Frontier was a bustout joint riddled with cheating dealers and a floor management as slippery as its true owners. Those owners didn't stay hidden long. By 1967, they were shoved out during Howard Hughes' casino-buying binge.
Although he probably would settle for a comped buffet or a senior citizens fun book, there's good news for Zerilli. After many decades of denying the mob's existence and downplaying its influence in the growth of Las Vegas, this place has figured a way to embrace its notorious past and even market its gangster heritage.
If he can hurry and finish that mobster memoir, Tony Zerilli can once again make a buck from Las Vegas. And you can't blame a fellow for trying to make a buck.
But I've got to be honest with you, Mr. Z. I'm still not coughing up $9.99 so you can watch me eat breakfast.
John L. Smith's column appears Sunday, Tuesday, Wednesday and Friday. Email him at Smith@reviewjournal.com or call 702-383-0295. Follow him on Twitter @jlnevadasmith.