Former prosecutor in email: Judge Jones 'freaking hot'
December 2, 2013 - 7:54 pm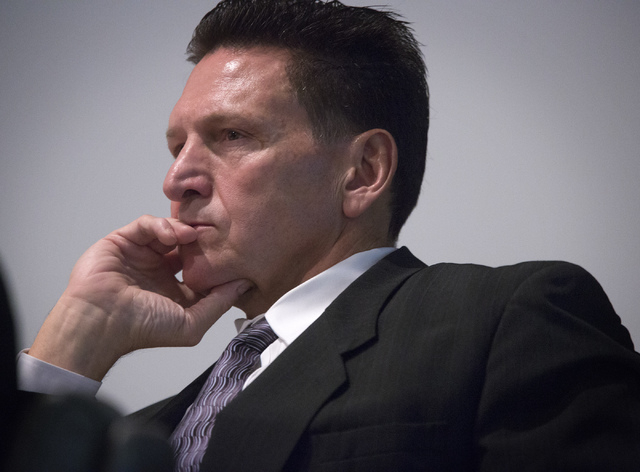 Attorneys for the Nevada Commission on Judicial Discipline Monday described how suspended Family Court Judge Steven Jones began a romantic relationship with former prosecutor Lisa Willardson in October 2011 while she appeared before him on the bench.
William Cooper, special counsel for the commission, said in his opening statement that investigators obtained a series of emails between the two and ultimately hundreds of text messages that had been written by the end of 2011. In an initial email to one of the judge's assistants on Oct. 17, 2011, Willardson described the judge as "freaking hot," Cooper said.
In an Oct. 20 email to a lawyer, Willardson said she was dating Jones and, "unfortunately," people were becoming aware of it at the courthouse.
Cooper said Willardson made several appearances in child abuse and neglect cases before Jones between Oct. 17 and Nov. 2, 2011.
The relationship was publicly exposed after one of Willardson's fellow deputies in the district attorney's child welfare unit snapped a photo with her cellphone of what appeared to be Jones' hand near Willardson's knee under a table during a party, Cooper told the commission.
The photo was shown by the deputy, Michelle Edwards, and another deputy, Janne Hanrahan, to supervisors at the district attorney's office, leading to a rift between the office and Jones and ultimately to Willardson's firing in December 2011.
Both deputies testified under oath Monday that they saw Jones and Willardson flirting at the Oct. 28, 2011, party, which occurred at a Mexican restaurant in Henderson. They stuck to their stories under cross-examination by the judge's lawyers.
Jones and Willardson denied being involved with each other when supervisors in the district attorney's office pressed them about it in the days after the party, Cooper said.
Supervisors were among those who saw Jones go into Willardson's office in November several times, always closing the door behind him, according to Cooper.
Eventually, Willardson named Jones as her "significant other" and beneficiary in employment papers she submitted at the district attorney's office in December and told people she planned to marry Jones, Cooper said.
In his opening statement, Jones' lead attorney, James J. Jimmerson, acknowledged that the judge was fighting for his professional life.
Jimmerson argued that Jones and Willardson were not dating in October while Willardson was appearing before the judge, and he blamed the judge's troubles on a group of jealous deputies who were part of a "ladies" fan club of Jones. The two deputies who blew the whistle on Jones and Willardson, however, denied being part of the club they said Willardson started.
Jimmerson described Edwards' conduct as "juvenile," and said she should have been prosecuted for taking a photo of the judge's "crotch" under the table.
"This case is about the independence of the judiciary over the bullying of the district attorney's office," Jimmerson said.
The commission is hearing evidence all week into allegations that Jones mishandled the relationship and violated the Nevada Judicial Code of Conduct.
Former District Attorney David Roger removed Willardson from child abuse and neglect cases before Jones after the relationship became public and raised questions about conflict of interest for both Willardson and the judge. Roger later fired Willardson and sparked the commission's investigation of Jones.
More than a year later, in December 2012, commission attorneys filed a 12-count complaint against Jones.
The complaint alleged Willardson, as a deputy district attorney, "actively litigated cases" in the judge's courtroom, and Jones failed to disqualify himself from those cases.
Jones also was accused of abusing his discretion by banning Edwards and Hanrahan from his courtroom after he learned that the photo had been taken at the party.
Roger was the first witness commission attorneys called on Monday.
He said Jones sent him a message in December 2011 through Leonard Cash, Family Court's top administrator, that he wouldn't ban Edwards and Hanrahan from his courtroom if Roger agreed to let his successor decide whether to move Willardson out of the child welfare unit.
But Roger said he refused to accept the offer because he had serious concerns about the romantic relationship and how it might affect court cases being heard by Jones.
He told commissioners that he wasn't looking to get into a fight with the longtime judge.
"All I wanted to do was get out of Dodge," said Roger, now a general counsel with the Las Vegas Police Protective Association. "I was 30 days from retirement."
But Roger also explained that he wanted to do the right thing.
Under cross-examination from Jimmerson, Roger said he viewed the judge's actions against Edwards and Hanrahan as "retaliatory."
Roger said he had several reasons to end Willardson's employment in addition to the predicament she created for herself with the relationship with Jones. He said he questioned her judgment in the office and learned she also once had a romantic relationship with a defense lawyer who had juvenile cases before her unit.
Both Edwards and Hanrahan testified that it was obvious to them at the Henderson party that Jones and Willardson were flirting with each other and were very cozy. Jones constantly had his arms under the table as he sat next to Willardson, they said.
Edwards said as everyone was leaving the restaurant, she looked back at Jones and Willardson in the parking lot and saw them appearing to embrace.
Jones fought to derail the hearing for months, arguing the commission violated its own rules and his due process rights during its investigation into the misconduct allegations.
Both Jones and Willardson — who was given a letter of caution by the State Bar of Nevada critical of her professional conduct — are expected to testify later this week. The hearing is taking place at the board room of the Las Vegas Convention and Visitors Authority.
If the commission finds that Jones violated the Judicial Code of Conduct, it will hold another hearing beginning Dec. 16 to consider punishment, which could include removing the judge from the bench.
In November 2012, the commission suspended Jones with pay after he was indicted by a federal grand jury in what authorities allege was a $3 million investment fraud scheme. He has been collecting his $200,000 annual salary since then.
Jones, first elected to Family Court in 1992, was charged with using the power of his office to carry out the investment scheme over a decade. He is set to stand trial in March.
Contact reporter Jeff German at jgerman@reviewjournal.com or 702-380-8135. Follow him on Twitter @JGermanRJ.