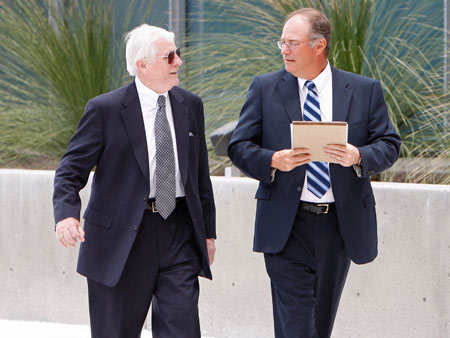 Donald McGhan, 75, the former chairman of a financial company that failed while owing $95 million to real estate investors, pleaded guilty in federal court Monday to four counts of wire fraud. His plea agreement calls for a prison term of eight to 10 years.
U.S. District Judge Philip Pro did not decide whether to accept the guilty plea and the penalty as outlined in the agreement, but said he will make that decision at McGhan's sentencing in September. If Pro rejects the agreement, the prosecution or defense could demand a jury trial.
Pro said the maximum sentence for wire fraud is 20 years in prison and a $250,000 fine.
Defense attorney Dominic Gentile declined to comment on the guilty plea after the hearing, although he said the federal case is independent of a state felony charge against McGhan.
McGhan is charged in state court with being an unlawful intermediary in a tax-free exchange. He is expected to plead guilty to the state complaint on June 22.
A Clark County grand jury also indicted McGhan's daughter, Nikki Pomeroy, on 11 counts of embezzlement and 11 counts of being an unlawful intermediary. The criminal case against Pomeroy remains pending.
McGhan and Pomeroy were executives at Henderson-based Southwest Exchange, which served as an intermediary, or accommodator, for real estate investors who wanted to delay taxes on gains from the sale of properties. Under the Internal Revenue Code, real estate investors may postpone paying taxes on property sales if they rely on an intermediary to take possession of the proceeds and use the money to buy another property.
Southwest Exchange was responsible for $95 million in cash from 122 investors when it closed in late January 2007.
McGhan, a white-haired man wearing a dark gray suit and big wire-frame glasses, spoke respectfully in a gravelly voice in response to Pro's questions during the hearing Monday.
The defendant bought Southwest Exchange in 2004. McGhan said he used $40 million from Southwest Exchange customer accounts to buy Eurosilicone, a French breast implant manufacturer, with a Las Vegas company that McGhan founded, MediCor Ltd.
Southwest Exchange's contract with real estate investors did not limit how McGhan used clients' money, McGhan told Pro.
Under questioning by Assistant U.S. Attorney Daniel Schiess, McGhan acknowledged that Southwest Exchange promised to release clients' money within 180 days or less. McGhan said "at times" he concealed from investors that he might not be able to return their money.
McGhan said he knew from August 2006 until Southwest Exchange closed in January 2007 that the company was insolvent. However, the defendant conceded that Southwest Exchange continued to market itself as financially secure and stable.
McGhan agreed to make restitution, but it's not clear who will receive the money, Schiess said. Most of the $95 million the company held has been recovered from third parties, including insurance companies and stock brokerages that did business with Southwest Exchange.
"I'm pleased to hear that the federal government proceeded with a criminal case against Mr. McGhan and that he will be serving some time in prison," said Brad Johnston, an attorney who represented a family that did business with Southwest Exchange.
McGhan now lives in Texas, but Pro agreed to keep the city and his address confidential, because defense attorney Mark Dzarnoski said McGhan and his family have received numerous threats.
Contact reporter John G. Edwards at jedwards@reviewjournal.com or 702-383-0420.