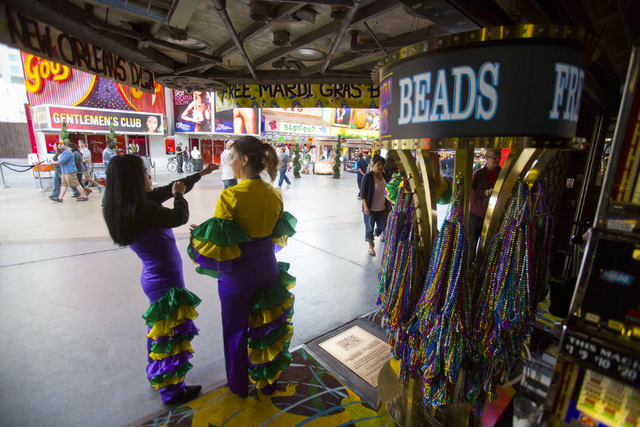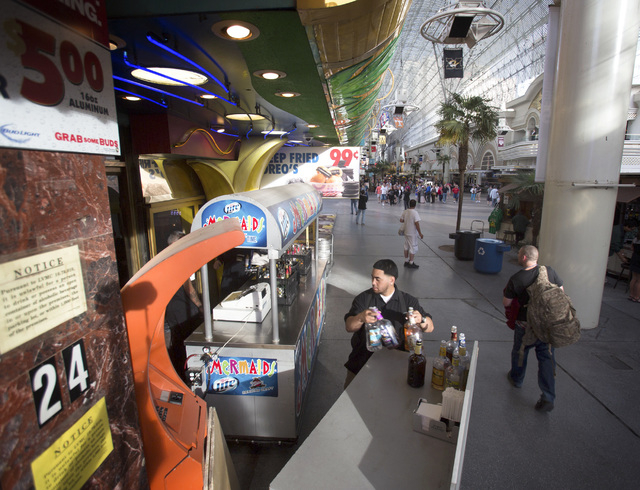 The liquor wars aren't even close to ending on Fremont Street, but a small skirmish could be resolved through a new ordinance introduced Wednesday by Las Vegas Mayor Carolyn Goodman.
For the city of Las Vegas, it's a small step, more a clarification of wording than an overall solution.
But the vehemence of the legal struggle between the Fremont Street Experience and Steve Burnstine, owner of Mermaids and La Bayou casinos, plus Burnstine's decision to pull into the fray of city officials eight months ago, has intensified feelings on all sides.
One sign of deep feelings is that the litigation filed four years ago included quarrels over whether the words "a bar" meant that two bars weren't allowed.
To resolve that, the city and Burnstine had to go before District Judge Elizabeth Gonzalez, who recently decided a city ordinance referring to "a bar" means one bar.
The meat of the litigation centers on whether the city's contract 17 years ago to allow the Fremont Street Experience to manage the pedestrian mall violates Burnstine's constitutional rights of due process and equal access and discriminates against businesses who aren't members of the experience.
Goodman's ordinance would allow "up to two qualifying bars" on the mall and grandfather in the properties that already have two bars on the mall — the Golden Nugget and the Golden Gate — and soon Binion's.
The hotels with the bars and the experience "are good with the language," said Terry Murphy, president of the Downtown Las Vegas Alliance.
"We are fairly certain they're just making sure it does not conflict with existing ordinances," she said.
Not so happy is Burnstine. His attorney, Jim Jimmerson, and lobbyist Jay Brown are expected to try to block the ordinance when it comes up before the City Council's recommending committee and eventually the council itself.
The language "up to two qualifying bars" suggests that Burnstine has to "qualify" with the Fremont Street Experience officials he is currently suing in District Court, so he plans to oppose it.
"There's no protection in that ordinance for Mr. Burnstine," Jimmerson said.
The ordinance will be voted on later and is expected to pass so that the Golden Nugget, Golden Gate and Binion's do not have to tear down one of the two bars they each have outside their properties.
Burnstine is fighting the Fremont Street Experience because it won't allow him to put bars out on the mall itself unless he becomes a member or pays rent like the kiosk owners do.
Jimmerson said his main message is that "the city of Las Vegas turned over authority to Fremont Street Experience, one of the most valuable assets the city has."
The city has a 17-year-old contract with the experience allowing it to manage the mall.
Fremont Street Experience members pay about $78,000 a month; plus they pay rent for bars sitting on the mall.
Karen Duddlesten, the city's business license manager, explained that two of Burnstine's properties can be eligible for up to two qualifying bars.
The two properties have a nonrestricted gaming license with a tavern license.
If approved, the additional bars would be counted as an additional bar under the tavern license count. The first qualifying bar would be handled administratively and the second qualifying bar would have to be reviewed and approved by City Council according to the proposed ordinance.
Although the Boyd Corp. hasn't put bars in front of its downtown properties, the ordinance would protect their ability to do so.
A representative for Burnstine, who asked that his name not be used, said Burnstine's team doesn't support the ordinance and will argue against it, because "it doesn't provide any relief for Mr. Burnstine."
It is likely the City Council will vote for it, but the representative said, "All they are doing is ratifying an illegal decision they made previously."
Mediation efforts involving the city and the other parties have failed.
Murphy said Burnstine has options for putting a bar in front inside his own property line.
"In front of Mermaids, he could do exactly what Binion's is doing (with a bar with outdoor seating) on his own property if he moved his entrance and took out a few feet of his casino," as Binion's has, she wrote in an email.
"Or, he could (and he's been told he can by FSE) rent space on the mall as everyone else does. The members of FSE pay approximately $78,000 per month for membership PLUS they pay to lease the space that falls outside of their property lines if their bars extend beyond their property lines. Mr. Burnstine has been offered multiple prices per square foot for lease, he has been offered that with or without membership."
Burnstine was offered a lease rate that was the equivalent of the average that is paid by all of the kiosks selling trinkets, T-shirts and such, plus an additional amount for the ability to sell liquor, according to Murphy.
His current request is to have a bar on the mall and pay no fee, she said.
Meanwhile, the city is wrestling with what to do about other liquor issues, including licensing more stores to sell packaged liquor on Fremont Street.
But that seems to be a battle for another day and on another front.
Contact Jane Ann Morrison at jmorrison@reviewjournal.com or 702-383-0275.