Front-runners seeking 4th District Congressional seat faced off in debate Wednesday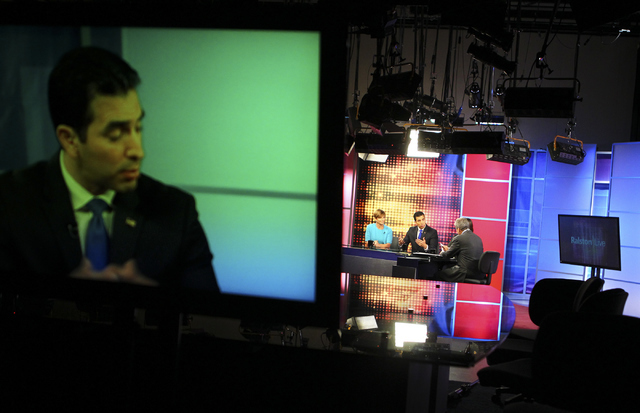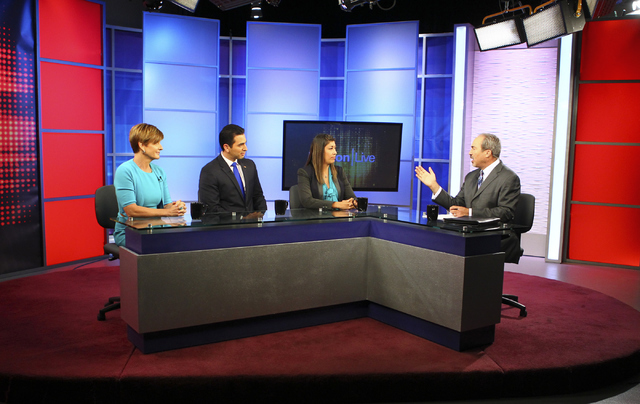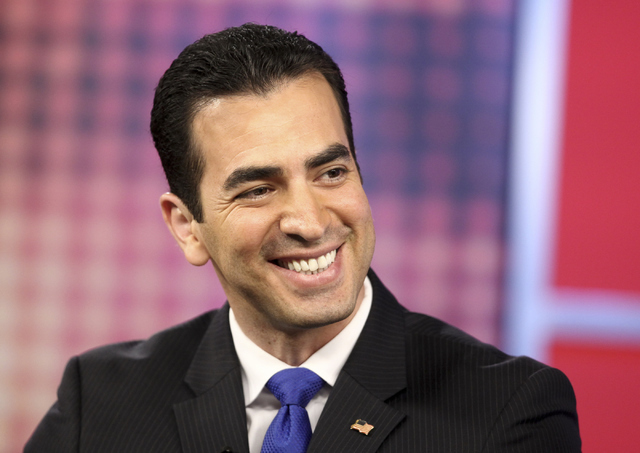 Three Democratic front-runners vying for the 4th Congressional District seat held by Republican incumbent Cresent Hardy jabbed at each other and debated hot topics such as health care and making college affordable one last time before Tuesday's primary.
Locked into the most competitive congressional primary in the state, 4th Congressional District Democratic candidates Lucy Flores, Ruben Kihuen and Susie Lee went on local political talk show "Ralston Live" Wednesday night for the sit-down style debate hosted by journalist Jon Ralston. The first 30 minutes aired Wednesday on PBS Channel 10. The second half will air 7 p.m. Thursday in Las Vegas on the same station.
Kihuen, a state senator who has support from Sen. Harry Reid and former President Bill Clinton, said early on that he wasn't interested in attacking fellow Democrats.
But that didn't stop his opponents from taking the occasional shot at each other.
Lee, a philathropist, started out saying she was "running against politicians more interested in running for one office after another." Both Flores and Kihuen responded by saying their political careers were strengths.
Like the former assemblywoman has at previous debates, Flores railed on Kihuen for his legislative record, calling it "fair game."
Kihuen mentioned his fights in the 2015 Legislature for a higher minimum wage and "equal pay for equal work."But Flores wondered why he was using those fights in his campaign, given that neither fight proved fruitful. She also poked at Kihuen for not sponsoring or drafting a single bill during the 2011 Legislature, and noted that the things he "fought for" were only in the latest legislative session, despite being a state lawmaker for a decade.
Kihuen responded by noting the Republican majority in the Legislature, which he said made progressive bills difficult to pass.
All three agreed that higher education should be more affordable. Kihuen said he believes two-year colleges should be free. To fund those free colleges, the very wealthy and large corporations should pay bigger shares, he added.
On health care, Flores took a firm Bernie Sanders-style platform stance by advocating for a single-payer system, while both Kihuen and Lee said that the Affordable Care Act works and needs to be expanded.
To close out the debate, Ralston threw a curveball: He asked the candidates if they supported a bill Hardy recently got passed in Congress, called the Eastern Nevada Land Implementation Improvement Act. The bill passed the House by an overwhelming — 360-7 — vote.
Flores admitted that she didn't know about the bill, while Lee said she opposed it and that land issues need to be looked at on a "case by case basis."
Kihuen said he doesn't support the bill, adding that he supports protecting public lands, "just like under Harry Reid's leadership, who, by the way, I'm very proud to have the support of." Reid co-sponsored the related bill in the Senate.
The candidate clarified his response to the question in a statement sent to media after the debate.
"It's hard to keep track of Congressman Hardy's public lands legislation, most of which centers around undercutting the Antiquities Act to enact Cliven Bundy's version of land management," Kihuen said.
"In the heat of a debate, I mistook Hardy's one piece of legislation that makes modest changes to federal land law for one of his numerous extreme anti-public land legislative efforts. I would have supported the Eastern Nevada Land Implementation Improvement Act in Congress," he said.
The 4th Congressional District encompasses much of North Las Vegas and several rural counties in southern and central Nevada.
Contact reporter Colton Lochhead at clochhead@reviewjournal.com or 702-383-4638. Follow @ColtonLochhead on Twitter.