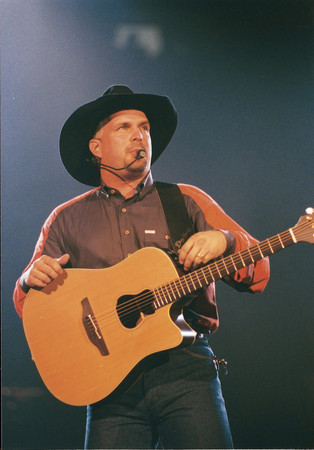 A handful of reporters covering Garth Brooks' historic news conference Wednesday at the Nashville International Airport got a surprise with their invitation.
They were informed of the usual nuts-and-bolts stuff — where and when — and then came the kicker: Bring a change of clothes.
"We were told it's an overnight trip" to Las Vegas, a Nashville reporter told me Wednesday.
Brooks, the country music icon who retired at the height of his popularity in 2000 to raise two daughters, is ending his retirement to become a resident headliner at Wynn Las Vegas.
It was announced Wednesday that Steve Wynn, chairman and CEO of Wynn Resorts, will make a special entertainment announcement at 1 p.m. today at the Encore Theater.
A live Webcast of the news conference will be shown at wynnlasvegas.com, encorelasvegas.com and garthbrooks.com.
LAS VEGAS ROCKS CAFÉ
Tony Sacca, longtime syndicated TV producer and host, is adding restaurateur to his title. He's putting a Las Vegas history-themed restaurant into Neonopolis, with a December opening.
Sacca will partner with his girlfriend, French chef Josette LeBlond, who will be closing Josette's Bistro to merge with the Las Vegas Rocks Café, after the song Sacca wrote and sang four years ago.
Snippets of Sacca's celebrity TV interviews from his long-running show "Entertainment Las Vegas Style" will be part of the dining experience.
SCENE AND HEARD
That sighting of former Privé nightclub honcho Greg Jarmolowich working the door at Louis Bar in Miami over the weekend was a case of mistaken identity. Neither Jarmolowich nor Frank Tucker, who co-managed Privé during the time that Privé was cited for a number of serious issues that led to its temporary closure, are any longer employees of The Opium Group, according to Vanessa Menkes, vice president of communications of Miami-based The Opium Group. …
Jim Rees, co-owner of Hash House A Go Go, has been named Nevada Restaurateur of the Year by the Nevada Restaurant Association. The award goes to an individual who administers an excellent restaurant business and also helps the community and overall advances the culinary industry. …
Saturday's season opening of the Nevada Ballet Theatre, with new director James Canfield, will pay homage to legendary French fashion designer Coco Chanel. The show starts at 8 p.m. Saturday and 2 p.m. on Sunday. …
Animal trainer Gregory Popovich of the Comedy Pet Theater is being featured in a one-hour ABC special Sunday called "Tales for Pet Lovers." His first book, "You CAN Train Your Cat," is coming out this week. …
The second annual Vegas Podcast-a-Palooza is from 4-6 p.m. Saturday at the Palms in The Gossy Room, formerly The Lounge. There will be a roundtable and Q-and-A session, along with 30-minute podcasts. Information at VegasPodcastaPalooza.Com.
SIGHTINGS
Justin Timberlake, playing in a foursome including Anthony Kim, Sal Masekela and David Bomar on Wednesday in the pro-am at TPC Summerlin. Other celebrities in the event: Alice Cooper, Greg Maddux, Kenny G, Alfonso Ribeiro, Natalie Gulbis, Oscar De La Hoya, Daniel Negreanu and Phil Hellmuth. … Timberlake dining with friends Tuesday night at Stripsteak at Mandalay Bay.
THE PUNCH LINE
"Scottish celebrities are trying to prevent Donald Trump from building a huge golf course in Scotland. Trump has a way around them, though. It's called buying Scotland." — Jimmy Fallon
Norm Clarke can be reached at (702) 383-0244 or norm@reviewjournal.com. Find additional sightings and more online at www.normclarke.com.