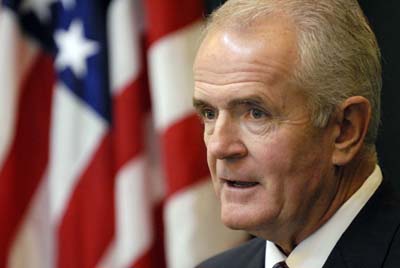 CARSON CITY — Cleared by the U.S. Justice Department of bribery charges, Gov. Jim Gibbons used a news conference today to blast political opponents for trumping up charges to ruin his political career and hurt the state.
"In case you haven't noticed, there is a pattern of false accusations against me that become widely reported and are proven to be absolutely untrue," Gibbons said during a 17-minute news conference.
"I am mystified and disturbed that elected leaders in this state don't seem to be able to set aside partisanship for even five minutes to come up with solutions to the problems our citizens face," he added.
Gibbons' Washington lawyer, Abbe Lowell, said Sunday that the Justice Department and FBI have ended an investigation into whether Gibbons sought to steer secret federal contracts to eTrepp Technologies, a Reno company owned by his friend, Warren Trepp, in exchange for money, gifts and a $10,000 Caribbean cruise.
He also received $100,000 in political contributions from companies owned by Trepp, former chief trader to convicted junk bond dealer Michael Milken.
The governor said today that he has maintained from the beginning that the allegations had no basis in fact. He said he has paid lawyers nearly $200,000 to fight the charges.
Gibbons said he holds "one individual" responsible for the allegations that led to the federal probe into whether he accepted bribes during his 10-year career as a member of Congress. But he would not identify that individual, saying "intelligent individuals can figure it out."
The governor, however, would not rule out filing a lawsuit against Reno software developer Dennis Montgomery, who accused him of taking money, chips and a cruise from Trepp.
The allegations were the basis of the federal investigation.
"Like everyone says, the doors to the courthouse should remain open," said Gibbons when questioned about whether he would sue Montgomery.
Montgomery could not be reached for comment.
Reports that Gibbons was under federal investigation surfaced just before he beat Democrat Dina Titus in the November 2006 governor's race.
Before becoming governor, he served 10 years as the congressman for the 2nd Congressional District.
Gibbons accused political foes also of trumping up allegations that he used his position to secure a tax break on 40 acres of land he purchased for $575,000 last year in Lamoille, 20 miles south of Elko. Gibbons' tax bill on the land is less than $40 a year.
Earlier this fall, the Nevada Ethics Commission dismissed a complaint filed by state Democratic Party Executive Director Travis Brock. Brock did not respond to a call seeking comment, but state Democrat Chairman Sam Lieberman dismissed Gibbons' complaints.
"We have an election tomorrow and everyone is excited about change," he said. "We need to change our governor."
Until reaching a settlement in September, Montgomery and Trepp had been involved in a federal lawsuit over who owned top secret software designed by Montgomery that Trepp's eTrepp Technologies LLC sold to the Department of Defense. The two men formerly were business partners. The software was designed to detect terrorists.
A smiling Gibbons said today he was putting the past aside and looking for ways to resolve state budget problems.
"This state is in dire straits," he said. "We have some challenges and obstacles ahead of us. My focus is on helping find a solution for the state of Nevada."
He even said he likes North Las Vegas Mayor Michael Montandon, who might be considering running for governor in 2010. Gibbons reiterated he will be a candidate for re-election.
"I know Mike. I have a great deal of respect for him. I encourage anybody who is interested in running for political office," the governor said.
Montandon could not be reached for comment today.
When questioned today, Gibbons did not answer when he thinks his divorce against his estranged wife will be finalized.
The couple have been involved in a messy divorce case since May. At one point, Gibbons admitted he sent hundreds of text messages from a state phone to a female friend. He also was photographed in public places with another female friend.
Also, Chrissy Mazzeo, a Las Vegas cocktail waitress who claimed two years ago that Gibbons tried to rape her, filed a lawsuit in October against the governor.
The lawsuit alleges that Mazzeo's constitutional rights to due process and equal protection were violated in the alleged assault and subsequent police investigation. It seeks damages of more than $10,000.
But Gibbons said he has not been distracted from doing his job as governor by false accusations.
He noted that as a pilot during the 1991 Gulf War, "people shot at me with real bullets" and that did not keep him from carrying out his missions.
Contact reporter Ed Vogel at evogel@reviewjournal.com or 775-687-3901.