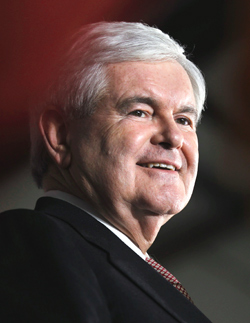 Newt Gingrich is making an eleventh-hour play for Nevada.
In the final days before the Feb. 4 GOP presidential caucus, Gingrich's campaign is hoping momentum, tea party support, conservative volunteers and big money backing from Sands Corps. Chairman Sheldon Adelson will help him win over Republicans in the Silver State.
"We're reaching out to everybody," said Dan Burdish, a GOP operative in Nevada who's working for Gingrich's rapidly expanding campaign. "At this point, it's nothing but a grass-roots effort."
The Gingrich campaign is looking to open offices in Las Vegas and Reno by this weekend or early next week, Burdish said. So far, 4,000 to 5,000 Nevadans have said they support the former House speaker, according to the campaign. Volunteers already are working the phones, urging supporters to attend the Feb. 4 party meetings.
Gingrich plans to campaign in Nevada right after the Jan. 31 primary in Florida, where he is working to take the GOP front-runner mantle from Mitt Romney with a victory there. If Gingrich pulls off two wins in a row after his upset win in South Carolina, he would ride a tailwind into the Silver State.
Still, Gingrich has much ground to make up in Nevada, where Romney and Rep. Ron Paul of Texas have been organizing for years and finished No. 1 and No. 2 in 2008. Gingrich's best hope might be to finish close behind Romney and battle Paul for second place, GOP insiders said.
"I say anything within 3 to 5 points is a win," Burdish said. "Romney is very organized here, and Ron Paul is strong. He (Paul) does not poll well, but his people show up."
STAKES IN NEVADA CAUCUS INCREASE
Nevada's 28 GOP delegates will be split proportionally based on the percentage of the vote candidates get in a poll of caucus-goers. If the GOP nomination contest drags out, every delegate will count, raising the stakes to do well here.
Four years ago, Romney won Nevada with 51 percent of the vote thanks to the turnout of Mormons, who accounted for one-quarter of the 44,000 participants, exit polls showed. The former Massachusetts governor has lavished attention on Las Vegas, including visiting a neighborhood hit by the housing crisis and unveiling his economic plan here last year.
Romney also has locked up high-profile endorsements, including Lt. Gov. Brian Krolicki, U.S. Reps. Joe Heck and Mark Amodei and most of the Republicans in the Nevada Legislature.
Ryan Erwin, Romney's top adviser in Nevada, said the campaign doesn't worry about "the highs and lows of other candidates" but is focused on ensuring that supporters attend the caucuses.
"Our job is to go out and advocate for Governor Romney and turn them out for the caucuses," Erwin said. "There will be people who will try to buy a caucus, but it's hard to do."
Money helps, though. Gingrich is getting a lot of financial support, making him the strongest threat to Romney, who is seen as too moderate and staid for the most conservative wing of the GOP.
Adelson and wife Dr. Miriam Adelson have donated a total $10 million to the Winning Our Future political action committee, which is backing Gingrich. The super PAC can't coordinate with the campaign but is running a parallel ground organization and plans TV ads here to back him.
Chuck Muth, a conservative activist in Nevada and founder of Citizen Outreach, is working for the super PAC. He has been using his email newsletter to push Gingrich and trash the GOP competition.
The day after Monday's debate in Florida, Muth defended Gingrich's record and slammed Romney for calling the ex-House speaker a "failed leader" in Congress. Gingrich's big accomplishment was the 1994 Contract With America, which helped the GOP take the House.
"For more than three decades, Newt Gingrich has been both a foot soldier and a general in the battles for limited government, low taxation, free markets and individual liberty," Muth wrote Tuesday "Has he been right on every issue? No. Has he been correct in every tactical and strategic decision? No. But he's been right more than he's been wrong, and he's won more often than he's lost."
GINGRICH COURTS REPUBLICAN LEADERS
In a pre-caucus push, the Gingrich campaign is wooing GOP leaders across Nevada to act as surrogates to persuade Republicans to turn out for him on Feb. 4. And Gingrich operatives are tapping former volunteers for Texas Gov. Rick Perry's failed campaign to help hit up conservative support.
Sue Lowden, the former chair of the Nevada Republican Party, said Tuesday that she endorsed Gingrich and agreed to campaign and speak for him at her precinct meeting Feb. 4. Tuesday morning, Lowden went on conservative radio talk show host Heidi Harris' program on KDWN-radio, AM 720, to boost Gingrich.
Lowden said she decided to back Gingrich after watching the presidential debates, where she said he showed the best ability to battle his opponents, including President Barack Obama in November.
"He's the person I believe could go against Barack Obama during the course of this election year," Lowden said.
Lowden has kept a low profile since her defeat in 2010 in the GOP primary campaign for the U.S. Senate. She lost to Sharron Angle, a tea party favorite who lost to Sen. Harry Reid, D-Nev. He portrayed the conservative Angle and the tea party as "too extreme" for Nevada.
TEA PARTY SUPPORTERS PURSUED
Gingrich campaigned for Angle in 2010 in Las Vegas, but his campaign isn't openly seeking her endorsement. The former House speaker has been a strong supporter of the tea party movement.
Tea party members in Nevada who aren't happy with Romney or Paul are moving toward Gingrich instead of the only other conservative still in the race, former Sen. Rick Santorum, R-Pa.
Frank Ricotta, a former Clark County GOP chair and a tea party leader, said he has been backing Gingrich in posts on the Internet and among friends and acquaintances. He said the tea party movement remains fractured and disorganized in Nevada, but members share Gingrich's ideals.
"Santorum is solid, but he's not going to beat Obama," Ricotta said. "Romney's a wimp. If there's going to be a fight, even if we lose the fight, I'd rather see the other guy's face beaten and bloodied. Gingrich is the man to lead the fight, not Romney."
The Tea Party Express, which endorsed Angle in 2010 and donated heavily to her campaign, is moving carefully in the presidential race and has not yet backed a candidate. Tiffany Ruegner, a former organizer for the Tea Party Express, has been working for the Gingrich campaign since November in Nevada, however, giving his campaign a behind-the-scenes boost within the movement.
Amy Kremer, chair of the Tea Party Express, said she doesn't know whether the organization will endorse a GOP presidential candidate before the Feb. 4 caucus in Nevada. Members of the tea party movement have been backing Gingrich on their own, including in South Carolina, she said.
"In South Carolina, you saw people coalescing around Gingrich," Kremer said. "That's how you saw him go from being down double digits to winning by double digits."
DEVELOPMENTS MIGHT BENEFIT PAUL
Paul's Nevada campaign is pleased by Gingrich's rise, state Chairman Carl Bunce said. The Texas congressman has a loyal following in the libertarian-minded state.
"He can only take votes from Romney, which makes us smile," Bunce said. "I think Gingrich will get some momentum from Florida, but I kind of like him in the race because it splits the establishment vote. Our votes will not go for Gingrich."
On Jan. 31, as Florida is voting, Paul plans to be the only GOP presidential candidate in Nevada, demonstrating his devotion, Bunce said. Paul plans to campaign in Reno on Jan. 31 and in Las Vegas from Feb. 2 through Feb. 4.
There's only one snag the Paul campaign sees: the special post-sundown caucus the Clark County GOP plans in Las Vegas for Jewish Republicans. Other Nevadans will caucus during the day, but Adelson and others of the Jewish faith pushed for the special caucus to ensure observant Jews get a vote.
The vote will be at a private school named for Adelson and his wife.
"It bothers me," Bunce said. "I know they want to be inclusive, but why should they allow a special caucus for religious reasons but not for someone who had to work Saturday morning? I just think that no campaign should have any advantage, and it should be open to everybody."
Contact reporter Laura Myers at lmyers@review journal.com or 702-387-2919. Follow @lmyerslvrj on Twitter.