Goodman legacy might be bricks not booze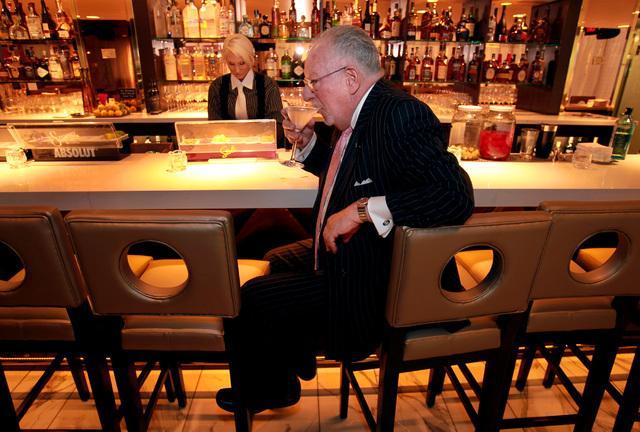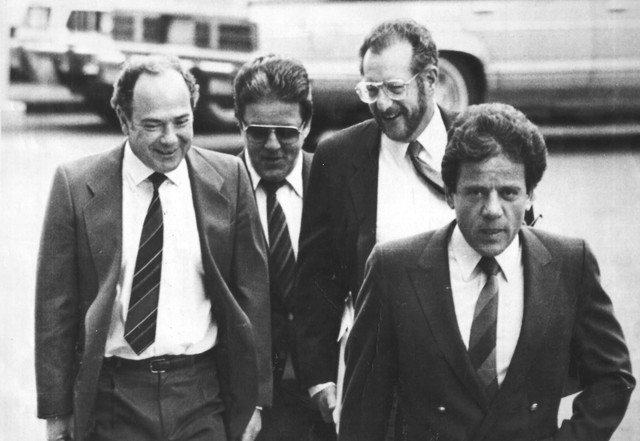 Editor's Note: Nevada 150 is a yearlong series highlighting the people, places and things that make up the history of the state.
A pattern exists when profiles are written about Oscar Goodman, whether it's The New York Times, the Los Angeles Times, The New Yorker or the Review-Journal.
First, nary a profile is written without a reference to "mob lawyer turned mayor." Usually several mobsters are mentioned, the most famous being Anthony Spilotro and Meyer Lansky.
In short order, there are references to his fondness for gin and the showgirls who accompanied him to public appearances for the 12 years he was mayor starting in 1999. It is practically mandatory to quote him as "the happiest mayor in the world."
It's all part of his shtick.
And now that his wife, Carolyn Goodman, wears the mayoral mantle, she's higher up in the stories and credited with continuing the Team Goodman vision and legacy, if not the shtick.
The couple moved to Las Vegas in 1964 with $87, another oft-reported factoid in the family history used to emphasize the rags-to-riches, self-made-man aspect of the Goodman saga.
GOODMAN LEGACY
It's too early to calculate Carolyn Goodman's political legacy, but her husband's legacy, his successes and his failures are already part of history.
Writers can't quite resist taking a mocking tone, but the fact is, Goodman's niche in Nevada's history is solid. He is the first mob lawyer turned mayor. He is the first Las Vegas mayor whose wife succeeded him.
And between 1999 and 2011, downtown renovation went from his vision to reality.
"I think I'll be remembered for bricks and mortar," he said in a two-hour interview in his office at the Las Vegas Convention and Visitors Authority peppered with memorabilia from every phase of his life.
He turns 75 this month. He was 59 when he was first elected mayor of Las Vegas.
Over the years, he's become more careful in his phrasing, saying he didn't do it alone, that these were public-private partnerships and it helped that these achievements were mostly pre-recession.
"Basically, I said I want this done and staff did it," he said. They had to work out the details; he was the man with the plan.
He can easily list these achievements. As a criminal defense attorney, he had scorn and derision for the FBI. But when the FBI was going to move its offices out of the city to Henderson, he worked to keep them in Las Vegas, which he calls his first mayoral success.
He headed the effort to acquire the then-vacant 61-acre parcel now called Symphony Park. It's no longer vacant. An outlet mall is there, as is the World Market Center. Businessman Larry Ruvo moved what is now the Cleveland Clinic Lou Ruvo Center for Brain Health to the city "as a favor to me," Goodman said of his friend.
The Smith Center for the Performing Arts is up and running. Irwin Molasky built the Southern Nevada Water Authority headquarters and the Internal Revenue Service building there.
Then, elsewhere downtown, is Goodman's brainchild — the Mob Museum. That inspired development on Third Street. The Fifth Street School was renovated and put to good use by the city.
The city's commitment prompted some casino owners to make investments and spiff up tired properties. The El Cortez. The D. The Golden Gate.
He pushed for a new City Hall on Main Street. (He denied that he or his wife have anything to do with a push to rename the building, or the street in front of it, after him.)
Cordish Cos. came in with plans to build a stadium on the old City Hall site, but then Zappos said it would leave Henderson and come to City Hall. Goodman had to convince (and pay) the Cordish Cos. to move to Symphony Park so Zappos could have it.
Now Zappos CEO Tony Hsieh is earning chits for downtown redevelopment through his Downtown Project and his $350 million investment in the city.
"As mayor, you get blamed for things you have nothing to do with and take credit for things you have nothing to do with," he said with a smile. "Everything I touched turned to gold. It was almost biblical."
His most visible failure is that there is no sports stadium in downtown Las Vegas, but the current mayor is pushing her husband's dream.
He declined to respond to former Mayor Jan Jones Blackhurst's previous comments that he benefited from strong economic times and didn't deserve the credit for all the things he claimed.
But he said — and it's hard to dispute — that he met the goal of all mayors: He left the city better than he found it.
BEING ADORED
"I thrive on adulation," he freely admits time and time again.
He received adulation within the mob world for his outright successes in court and for delays that sometimes equated to success. The mob guys took him to the finest restaurants, flew him on private planes, treated him with respect and paid him well.
When he became mayor, the adulation exploded. The showgirls helped.
"The whole world knew I was mayor of Las Vegas, as long as I had the showgirls," he said.
Even today, he believes if he was in London walking down one side of the street and Queen Elizabeth was on the other, the photographers would focus on him … because of the showgirls.
Ask him which job he enjoyed the most, defense attorney or mayor, and he won't pick. He loved them both, just as he loves his current job — invented expressly for him — as LVCVA Host Committee Chair. The showgirls are still with him as he promotes Las Vegas by welcoming conventioneers, thanking them for coming here and telling a few of his stories.
"I loved every second of every job," he said.
When he was a Democrat, Goodman twice considered running for governor, once in 2002 and again in 2006. Now he's a registered nonpartisan. He said he spent about six weeks in Carson City on a case once and "I saw I'm not a small-town guy."
Plus the governor's first duty is figuring out the state's spending plan. "Carolyn said the governor is about the budget, and she said, 'You can't even balance your own checkbook.' "
UNFILTERED STATEMENTS
"When I have a thought and I think it's a good one, I blast it," he said in a 2000 Review-Journal profile. At that time he was just six months on the job, and the joke making the rounds was about a new sandwich called the Oscar Goodman: It's got a little bit of tongue and a lot of baloney.
Two books have been written about Goodman. Review-Journal columnist John L. Smith wrote "Of Rats and Men," published in 2003, and 10 years later George Anastasia wrote "Being Oscar." Goodman cooperated with both and described the second as a memoir.
Goodman's theme in "Being Oscar" is that he was the good guy and government officials were the real bad guys. He saw himself as a defender of the Constitution who forced the government to play fair when it sought to bring down his clients.
In that book, he discussed getting a mall developer to build the factory outlet mall downtown. "Whenever I was asked, I would say, 'It's the best dollar-per-square-foot producing mall in America.' Actually, I made that up. But it got repeated and took on a truth of its own. I was the mayor, and I could say whatever I wanted."
Negative press — and there was a fair amount of that — rolled off his back, he said, despite his admission he keeps an "enemies list" in his mind. Sometimes Goodman's "truths" don't match with the facts.
He admitted his words came out unfiltered and sometimes inaccurately but said: "I'll be remembered for speaking my mind. It may be a fault and a virtue."
Early on as mayor, Goodman advocated legalizing prostitution and said he envisioned "magnificent brothels" downtown bringing in "tremendous benefits." The local and national press picked up on it and blasted him for demeaning women. Now he softens his tone, saying "it should be discussed."
Goodman asserts his place in history with two songs: "I did it my way and I dreamed the impossible dream."
Anyone who remembers the shabby downtown of 1999 has to admit the city doesn't look the same.
Said Goodman, with a relatively newfound humility that contrasts with the old mob-lawyer-turned-mayor shtick: "I didn't do it by myself."
Contact Jane Ann Morrison at jmorrison@reviewjournal.com or 702-383-0275.