GOP convention in Las Vegas would draw Democratic 'trackers'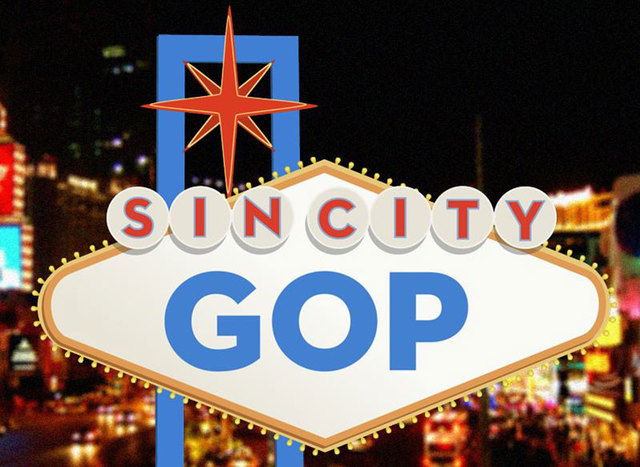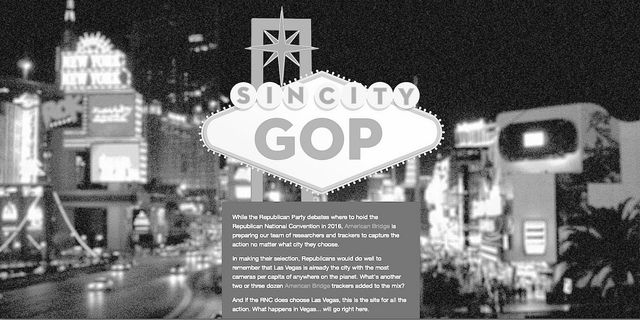 If Las Vegas wins the 2016 Republican National Convention, delegates will be stalked by three dozen "trackers," or operatives with video cameras, looking to catch convention-goers getting into trouble or even just going into and out of Strip bars and casinos — which might not go over well at home.
The plan by American Bridge, a Democratic opposition research and tracking organization, was reported Friday by Politico.
American Bridge also would set up a "war room" to edit any incriminating video quickly to disseminate on websites and social media, and possibly be used in television ads, Politico reported.
"American Bridge's efforts … would be looking to capture everything from the late night carousing of politicians to simply filming candidates who claim to be the bastion of family values entering and exiting bars and casinos," an unnamed Democrat told Politico.
The group already has a "Sin City" website — www.sincitygop.com — to host the video.
"If the RNC does choose Las Vegas, this is the site for all the action," the Website reads. "What happens in Vegas … will go right here."
Nevada organizers of the effort to win the 2016 Republican National Convention dismissed the plan.
"It's a sad PR stunt by a Democrat consulting firm trying to make money," Jack St. Martin, executive director of Las Vegas 2016, told the Las Vegas Review-Journal.
David Damore, a University of Nevada, Las Vegas political science professor, said it would be business as usual if the Democrats send video trackers to Las Vegas since both political parties use the tactic to capture embarrassing moments.
"My sense is that type of activity is pretty standard operating procedure these days and it would happen regardless of where the convention is being held," Damore said.
Voters seem to pay more attention, however, when they see or hear politicians' own actions, Damore added. For example, he noted, U.S. Sen. Harry Reid, D-Nev., in 2010 used Republican Sharron Angle's own words against her to win re-election.
"One of the lessons that has been learned from the past few cycles is that the most effective ads are those that use a politician's words against them," Damore said. "It is one thing to have the voice-over make the claim, but when you get the candidate saying something they should not, it really seems to resonate."
A Republican official close to the selection process said trackers are expected in whichever city wins the convention, and so the Democratic plans for Nevada shouldn't hurt Las Vegas' bid.
Las Vegas is one of eight cities vying for the 2016 GOP convention. Others are Denver, Dallas, Kansas City, Mo., Phoenix and three cities in Ohio: Cleveland, Columbus and Cincinnati.
Five of the cities presented their convention plans to the Republican National Committee's Site Selection Committee on Monday. A storm delayed the presentations of Las Vegas, Dallas and Cincinnati until March 21.
Ryan Mahoney, communications director for the RNC, welcomed any Democratic trackers to the convention where Republicans formally will nominate their presidential and vice presidential candidates.
"The more the merrier," Mahoney said. "Hope they spend a lot of money to help us boost local businesses in what­ever city we choose. Would be a good first step toward fixing President Obama's economy."
Las Vegas is seen as a front-runner because the city is host to hundreds of conventions each year and hotel rooms, restaurants and other entertainment options are plentiful around the Las Vegas Convention Center, making logistics easier than in other cities. Also, generous GOP donors such as Las Vegas Sands Corp. Chairman Sheldon Adelson and casino owner Steve Wynn are expected to help cover the $55 million to $70 million needed to put on the convention.
The convention would bring 50,000 visitors and as much as $400 million in revenue to the city, according to estimates.
American Bridge was founded by David Brock, who also launched Media Matters for America, and is run by Brad Woodhouse, a former Democratic National Committee communications director.
Concern about the reputation of the host city is nothing new. In 1988 some Republicans were worried about holding the GOP convention in New Orleans, a noted party town in a state known for political corruption.
Democrats were on the prowl for scandal then, too, but the most harm that grew out of the convention involved George H.W. Bush's nomination acceptance speech. He proclaimed: "Read my lips: no new taxes."
Bush won the presidency in 1988 — and won Louisiana, too, although it was considered a Democratic-leaning state — but he broke his pledge two years later and lost to Democrat Bill Clinton in 1992.
Contact reporter Laura Myers at lmyers@reviewjournal.com or 702-387-2919. Follow her on Twitter @lmyerslvrj.