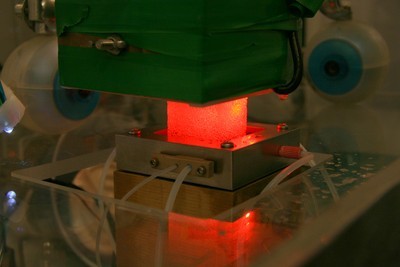 CARSON CITY — Reno scientist Joe McConnell was not particularly surprised when he discovered high traces of pollution embedded in ice taken in southern Greenland.
After all, talk about greenhouse gases causing global warming and the hole in the ozone layer has been going on for decades.
But McConnell noticed that the highest traces of pollution in the 115-meter-long section of ice he examined were deposited around 1900, not in recent years or during the peak of industrialization in Europe and North America in the 1960s and '70s.
In fact, McConnell found that pollution levels in the early 1900s were two to five times the levels of today.
In particular, toxic levels of heavy metal pollutants from burning coal — cadmium, thallium and lead — were found in Greenland ice.
It didn't take McConnell, the lead researcher and director of the Desert Research Institute's Ultra-Trace Chemistry Laboratory, long to figure out why: One hundred years ago was the time when most factories and homes in Europe and the Eastern United States burned coal.
"Things are looking better," McConnell said of today's pollution emissions in North America and Europe. "The Clean Air Act has made a big difference as has the demise of Soviet industry in the Arctic. A lot of people don't believe humans can have had such a large amount of impact. But our data showed they have."
Americans should not take his results as a reason to forge ahead with coal-fired power plants and gas-guzzling cars, McConnell said.
The study he and fellow DRI researcher Ross Edwards completed was published last month by the National Academy of Sciences. The study was partially funded by the National Science Foundation.
In their conclusions, the researchers express concern about the effects that pollution generated in China and India will have around the world because of the "rapid coal-driven growth of Asian economies."
This industrialization may pose a risk to the food chain as toxic heavy metals are carried through the atmosphere and deposited in the polar regions, the study contends.
"But cleaner burning coal technologies, or better yet, reduced reliance on coal burning, may head off the potential problems," McConnell wrote.
Before taking his DRI job 10 years ago, McConnell worked in the oil industry and in China. He believes the world must end its dependence on fossil fuels and develop non-polluting alternative energy sources.
"The United States ought to lead the charge toward renewable energy," he said. "There is no doubt that coal is a dirty source of power."
Although scrubbers in coal-fired power plants today capture a lot of particulate material, McConnell said, they do not catch all the heavy metals he found in the Greenland ice.
He now wants to study ice core samples from Alaska or Russia to determine the effects of pollutants in the Pacific region.
In analyzing why pollution was so great 100 years ago, McConnell perused history books.
Pittsburgh then was America's dirtiest city. He said the air over the Steel City was so filled with coal emissions that street lights remained on for days at a time because the sky was dark with the "black fog."
Nearly 70 people died in the Pittsburgh suburb of Donora in 1948 when industrial pollutants from steel plants were trapped by an air inversion.
"London fog," McConnell added, originally wasn't the term of a line of clothing but referred to the coal-polluted, smoggy air over London that during air inversions killed hundreds of residents.
The word "smog" was created in London in 1905. Coal smoke from thousands of chimneys combined with natural fog to form smog.
McConnell and Edwards collected their ice core samples during a trip to Greenland in May 2004.
One-inch by one-inch by 2-foot-long sections of ice were removed from the ice pack and taken to the researchers' Reno laboratory, where they were melted and analyzed.
"We can accurately date ice," McConnell said. "It is like tree rings."
They analyzed ice dating to 1772. The effects of industrialization started showing up in the 1860s and peaked about 1905.
The Greenland ice field is two miles thick, and some of the ice was created 4,000 years ago, McConnell said.
McConnell found a nifty use for ice he didn't need to analyze: He held a party, melted the ice and served the water.
"Imagine the feeling of drinking water that was there at the time Thomas Jefferson wrote the Declaration of Independence," he said.
Contact Capital Bureau Chief Ed Vogel evogel@reviewjournal.com or 775-687-3901.