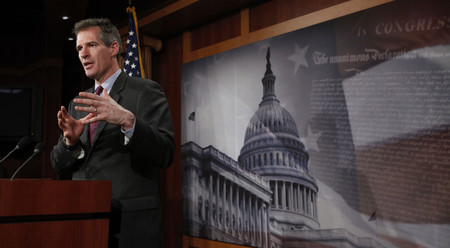 WASHINGTON — The House voted last week to revive a set of federal budget controls in an effort to rein in spending and reduce the deficit.
Lawmakers voted 233-187 to write into law new "pay-as-you-go" rules that require new spending and tax cuts to be offset with budget cuts or tax increases elsewhere.
"Pay-as-you-go," also known as "paygo" in Capitol Hill shorthand, was said to be a key ingredient in federal budgets that showed surpluses in the 1990s. They expired in 2002 and were not renewed.
"Under President Clinton, paygo helped turn record deficits into a $5.6 trillion projected surplus," said House Majority Leader Steny Hoyer, D-Md. "I'd point out that it brings our country more fiscal discipline than it has seen in nearly a decade.
"Paygo can't get us out of our fiscal hole, but it can keep us from digging it deeper."
The pay-as-you-go rules contain up to $1.5 trillion in exemptions over the next 10 years. The major ones would allow Congress to extend middle-class tax cuts without having to come up with an offset.
All the votes for pay-as-you-go budget controls were cast by Democrats.
Votes against the budget strategy came from 172 Republicans and 15 Democrats.
Critics said pay-as-you-go was merely a fig leaf, riddled with exemptions that will shield major parts of the budget.
"The truth is the bill before us today is about 58 pages long, and 32 of those pages are all the programs that are exempted from the requirements," said Rep. Mike Pence, R-Ind.
"Forty percent of federal spending is exempted from the fiscal discipline fix. The truth is what paygo really means here in Washington is that you pay and they go on spending."
Reps. Shelley Berkley and Dina Titus, both D-Nev., voted for pay-as-you-go. Rep. Dean Heller, R-Nev., voted against it.
DEBT LIMIT INCREASED
As part of the debate over fiscal discipline, the House passed and sent to President Barack Obama a bill that raises the limit on how much money the government can borrow to stay in business.
Lawmakers voted to increase the debt ceiling by $1.9 trillion, to a new high of $14.29 trillion. The key vote was on a procedural motion that passed 217-212.
All the votes to increase the debt limit were cast by Democrats. One hundred seventy-five Republicans and 37 Democrats voted against it.
Democratic leaders argued there was little choice but to keep borrowing as catastrophe would ensue if the Treasury did not have the money to honor its obligations.
Republican dissenters said voting against raising the debt limit would send a message that enough is enough on government spending.
They blamed Democrats for record spending in President Barack Obama's first year, while Democrats charged that fiscal discipline collapsed during the years President George W. Bush was in the White House.
Berkley voted to raise the debt limit.
Titus and Heller voted against the increase.
Contact Stephens Washington Bureau Chief Steve Tetreault at stetreault @stephensmedia.com or 202-783-1760.