October 26, 2007 - 9:00 pm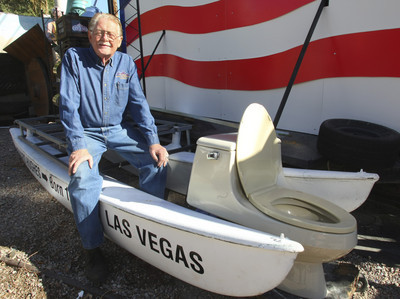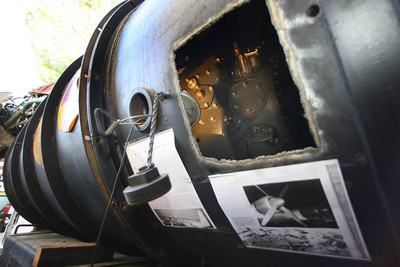 Howard Hughes was never a king, but Lonnie Hammargren has his throne.
The eccentric collector of all things eclectic now owns a toilet from the New Frontier hotel that was purportedly used by the famous aviator turned reclusive billionaire.
You can see the toilet Sunday when Hammargren opens his home to the public in honor of Nevada Day.
Hammargren, a former brain surgeon and lieutenant governor, has hosted Nevada Day open houses for more than a decade. He didn't have one last year, however, because he was recovering from open-heart surgery.
"The old fireball is back in me," Hammargren said.
He's making his comeback with several new additions to the vast collection that already includes treasures such as an Apollo space capsule and the motorcycle Robbie Knievel used to jump the Caesars Palace fountains.
Along with the toilet, Hammargren will display what he says is a spare engine for Hughes' Spruce Goose, the largest flying boat ever built.
The engine is encased in a large metal canister that Hammargren got several years ago. Hammargren always suspected the engine was inside, but was using the canister for his Yucca Mountain exhibit. About two weeks ago Hammargren drained the liquid preservative from the canister and opened it. Inside was a 28-cylinder Pratt & Whitney engine.
Visitors will be allowed to peer through a window into the canister, though Hammargren said he might charge a buck.
"It's a time capsule," said Hammargren, who won't say how he got the engine. "Nobody has seen this for 60 years."
Bob McCaffery, a Hughes historian who helps Hammargren with the open house, called the engine a "rare find."
Hammargren also will show the chassis and wheels from the railcar that secreted Hughes to Las Vegas in 1966 on his way to his Desert Inn sanctuary.
Visitors also will get to see the rest of Hammargren's collection, which includes movie props, models and signs from old Las Vegas casinos.
Admission to the open house is free, as are flu shots for senior citizens. Refreshments will be sold to benefit the Living Grace Home for homeless pregnant teens.
The open house runs from 1 p.m. to 5 p.m. at 4318 Ridgecrest Drive, off Sandhill Road south of Flamingo Road.
Contact reporter Brian Haynes at bhaynes@reviewjournal.com or (702) 383-0281.