I-15 express lanes, but no money, on drawing board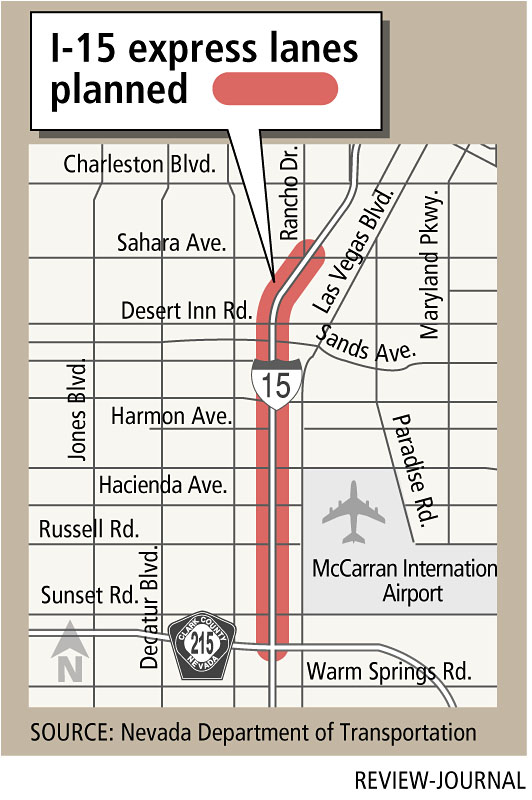 Express lanes on a busy stretch of Interstate 15 could be built and opened to traffic as soon as the end of 2008, if money can soon be found for the work, the Regional Transportation Commission was told Thursday.
The Nevada Department of Transportation plan would create two express lanes in each direction of I-15 between the southern Las Vegas Beltway and Sahara Avenue, laid atop the center median and an existing traffic lane each way.
The work would result in two express lanes, three regular traffic lanes and an auxiliary lane in each direction. Currently, there are four general purpose lanes and an auxiliary lane each way.
"The need for this project has always been there," said Jeffrey Hale, the express lane project manager for the Transportation Department. "It will allow us some interim measure of (traffic) relief instead of waiting 10 or 20 years" for larger road improvements to be designed, funded and built.
The projected cost of the work is $45 million, a pittance compared to typical road improvement projects that can cost 10 times as much, or more. That's because the project, by utilizing the center median for new lanes, wouldn't require buying additional rights-of-way.
The purpose of express lanes would be to separate traffic going through the resort corridor without intending to stop, from tourists and workers getting on and off the highway around the Strip. That, in theory, would improve traffic flow.
Express lanes would likely be separated from regular lanes by pylons. Such lanes are in use elsewhere in the United States, including on the Dan Ryan Expressway in Chicago.
Hale said the express lane additions would not improve traffic on that stretch of I-15; rather, it will keep growing traffic volumes from making traffic worse for an estimated five to seven years.
"We won't lose any ground," he said. "We'll maintain what we're seeing today."
The current concept would open express lanes to any drivers. The lanes could later be converted to car pool or toll lanes. Or restrictions could be placed on certain types of vehicles, like trucks, if desired by transportation officials.
If funding is found, work could start early next year and finish by the end of next year. Hale is hopeful that department budget officials will be able to come up with that amount before the end of this year.
"There's a good chance they can find some money for it."