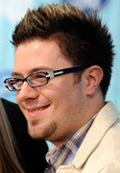 Church music director Danny Gokey, a man on a mission since his wife died in July after heart surgery, is a narrow favorite to win the eighth season of "American Idol" over pixie-sized Alexis Grace, according to a Las Vegas oddsmaker.
John Avello, director of race and sports operations at Wynn Las Vegas, established Gokey as the 4-1 favorite among the 13 finalists revealed Thursday. The 4-foot-11 Grace is 5-1.
Avello's odds are for entertainment only; no betting.
Mother of three Lil Rounds, a favorite of judge Simon Cowell, is 6-1.
Legally blind Scott MacIntyre, a gifted pianist, is Avello's fourth pick at 8-1.
Adam Lambert, a big-voiced showman, is 9-1. Allison Iraheta, at 16 the youngest finalist, is a 10-1 choice.
Matt Giraud, 12-1, one of four wild-card finalists chosen by the "Idol" judges, is betting on his soulful talents.
Anoop Desai, who's come a long way since starting off on Cowell's bad side by showing up for the Kansas City auditions in shorts and flip-flops, is listed at 15-1.
At 20-1 is quirky Megan Corkrey, the single mom from Sandy, Utah.
The others: Puerto Rico's Jorge Nunez, 25-1 (keep in mind that Avello had Taylor Hicks as a 25-1 long shot before he won Season 5; former Miss America contestant Jasmine Murray, 30-1; Texas oil rig worker Michael Sarver, 40-1 and college worship leader Kris Allen, 50-1.
Gokey's wife, Sophia, died after a third operation for a congenital heart problem. She was 27 and a fan of "Idol" because Gokey reminded her of Hicks. Gokey decided to pursue "Idol" after talking it over with his pastor in Wisconsin.
PORCEDDU TO HARD ROCK
Las Vegas chef and TV personality Marco Porceddu is taking over the kitchen at AGO in the Hard Rock Hotel and Casino.
Porceddu has been the food and wine editor at KVVU-TV, Channel 5 for the past two years and recently authored and released the cookbook series iEats, available exclusively for the iPhone through iTunes.
When Steve Wynn opened Treasure Island, he hired Porceddu to be executive chef at Francesco Italian restaurant.
Porceddu went into business for himself in 2003 and opened Bella Luna in Summerlin, where he garnered Zagat's Best of Las Vegas honors during his three-year stay.
THE SCENE AND HEARD
Bobby Slayton, aka "The Pit Bull of Comedy," might need a short leash on Sunday. It's his 500th and final show at Hooters Hotel. The parting shots begin at 9 p.m. Slayton was spotted Friday at the Tropicana. He'll be the resident headliner there after a renovation of the Comedy Stop. …
Hipster hotspot The Beauty Bar is throwing an Octo-Mom party. They're giving away eggs on March 28, a nod to Nadya Suleman, a 33-year-old California woman who has 14 children, including octuplets who arrived in January. The party starts at 10 p.m. at the 1950's-style, salon-themed nightspot near Neonopolis. …
There will be plenty of buzz at two local Irish saloons today. The buzz cuts for the annual St. Baldrick's Foundation fundraiser begin at 2 p.m. at McMullan's Irish Pub on Tropicana and Quinn's inside Green Valley Ranch. The highlight comes at 6 p.m. at McMullan's when Amelia Smith, the double-tough daughter of R-J columnist John L. Smith gives him a "Britney" for the third year in a row.
SIGHTINGS
Super Bowl MVP Santonio Holmes and his 2008 Pittsburgh Steelers receiving corps of Hines Ward and Nate Washington (now with the Tennessee Titans), partying at Tryst (Wynn Las Vegas) on Thursday night. Also there: San Francisco 49ers defensive end Ray McDonald. … Five members of Tower of Power, joining The Lon Bronson All-Star Band on stage for 90 minutes at Club Madrid (Sunset Station) on Thursday for what Bronson called "the hang of the century. A-plus!" At one time, nine horns were on stage, including T.O.P. founder Stephen "Doc" Kupka (baritone sax) and his bandmates Rocco Prestia (bass) and Adolpho Acosta (trumpet). Also participating, Tower of Power's Larry Bragg (lead vocals) and Tom Politzer (lead tenor). … New York Jets running back Thomas Jones, dining in the ESPN Zone's screening room Thursday night. … Mayor Oscar Goodman, cooking short ribs with chef Kerry Simon at Simon at Palms Place on Friday. They were being filmed for a video that will be shown during an event called "Dish" a charity event benefitting 3 Square, the valley's food bank. The event takes place at Spring Preserve on April 3 … Eighties pop teen sensation Tiffany, singing "I Think We're Alone Now," one of her two No. 1 hits, during Tao's (The Venetian) weekly Worship party Thursday. At Lavo (Palazzo) on Thursday: NFL Hall of Fame quarterback Warren Moon, dining with friends. … Tim Mondavi, son of wine icon Robert Mondavi, having breakfast at Society (Encore) on Wednesday. Mondavi's grandson, Dante, showed up for lunch.
THE PUNCH LINE
"Bishops in Rome are urging all Catholics to give up text-messaging for Lent. Unless they're texting 'OMG.' " — Jimmy Fallon
Norm Clarke can be reached at (702) 383-0244 or norm@review journal.com. Find additional sightings and more online at www.normclarke.com.