Iraq war veteran in jail two years after Pahrump shootout
October 3, 2010 - 11:00 pm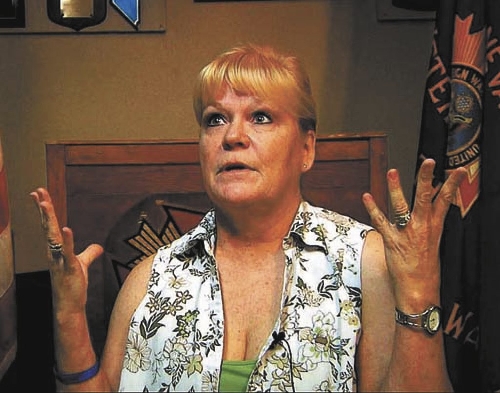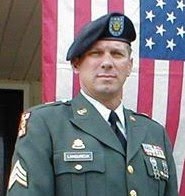 Two years after her husband, an Iraq war veteran, snapped and engaged Nye County sheriff's deputies in a pre-dawn shootout on the outskirts of Pahrump, Sue Lamoureux wants some answers.
She wonders why he's still in jail and why it took 18 months to remove a bullet from his leg after the gunbattle at Terrible's Lakeside RV Park and Casino on Sept. 19, 2008.
She also wants authorities to explain why Joseph Patrick "Pat" Lamoureux, a former Army Reserve sergeant with no previous criminal history, would do such a thing.
"There is not an answer for that except he went to war and he came home broken," Sue Lamoureux said Friday. "The country he fought for has failed him, and most certainly, Nye County, Nevada is trying to crucify him."
"Pat" Lamoureux faces 15 counts, including attempted murder with use of a deadly weapon, assault with a deadly weapon, and discharging a firearm into a structure or vehicle.
His attorney, Thomas J. Gibson, entered a plea for Lamoureux of not guilty by reason of insanity during the arraignment on Aug. 11, 2009, about 11 months after the shooting spree.
The case has had a number of unusual twists, including the deaths of state witnesses and the arrests of a sheriff's deputy and of the district attorney who originally was prosecuting the case.
The current prosecutor, Chief Deputy District Attorney Kirk Vitto, was unavailable for comment because he was not authorized to speak to the media about the case, according to his office.
Sue Lamoureux said her husband never formally waived his right to a speedy trial at any time during his arrest or any of the court proceedings.
Court records obtained by the Las Vegas Review-Journal show Gibson, whose firm is contracted as Nye County's public defender, essentially waived Lamoureux's right to a speedy trial because he asked for an extended trial date for more time to recruit expert witnesses.
"The state of Nevada is pretty liberal about keeping people in custody," Gibson said last week. "I tried to get him out. … I couldn't get the prosecutor to budge."
For a year and a half, Lamoureux sat in a cell at the Nye County Detention Center with his leg oozing from a bullet-wound infection.
Eventually the Department of Veterans Affairs "came back into the picture and started taking care of Pat again," Sue Lamoureux said, using the name by which he was known by soldiers of the Army Reserve's Las Vegas-based 257th "Rolling Thunder" Transportation Company.
"Fortunately he didn't lose his leg," she said on the two-year anniversary of the shooting spree that made the Pahrump recreational vehicle park sound "like a war zone."
"The amount of gunfire that night, it was horrific. And I remember when it became deadly silent and I knew that Pat was dead. I knew they had killed him," she said. "Two hours later I was finally able to get someone to tell me that Pat was alive."
When the gunbattle ended, Pat Lamoureux had been shot twice. One bullet passed through his right ankle, and another lodged in the calf of his left leg.
Deputy Eric Murphy suffered a gunshot wound in his back. He survived and is back on the job.
Because ballistic tests were in­conclusive, leaving open the possibility that Murphy could have been struck by friendly fire, Gibson entered a complete not guilty plea for Lamoureux on the attempted murder charge.
"It's inconclusive that Lamoureux shot anybody," Gibson said. "It's a mess. I do care for our veterans and I believe Lamoureux got a raw deal here."
Sue Lamoureux said her husband, who was 46 at the time, had been taking "a volatile cocktail of medications" that VA doctors had prescribed for him to deal with post-traumatic stress disorder and respiratory problems.
On the night of the shooting spree, he was on at least 14 different drugs, including anxiety pills, steroids and anti-depressants.
"He woke up in a really odd mood," she said. "I knew it was going to be a bad day."
That night, Sue Lamoureux said, he snapped. He apparently was distraught over the loss of a fellow soldier and was having nightmarish flashbacks of a suicide bomber attack that he experienced in the war.
"He started screaming 'Sarno' at me," she said.
Staff Sgt. Cameron Sarno died in Kuwait in 2003 when an Army vehicle slammed into the trailer of his parked truck while he was underneath it changing a flat tire.
"It was actually after he had been airlifted out of the war when Cameron Sarno was killed," Sue Lamoureux said. "I tried to explain to him that Cameron Sarno's death had nothing to do with him and that there wasn't anything he could have done to have prevented that. But he just kept exploding and it kept getting worse and I knew I needed to leave."
VA officials won't comment on Lamoureux's case, citing privacy laws.
Sue Lamoureux said she believes the VA is culpable and her husband shouldn't have been kept in jail. Instead, he needs to be in a VA mental health facility.
"It has broken my heart to see him go through what he has gone through in the past two years," she said. "I can see that the man that I married is still there. He's there. I can see it and he just needs the opportunity to pick up all the pieces and put his life back together.
"I would like to see it happen, that he doesn't even have to go to trial, that the right thing is done, that Nye County steps up to the plate and says, 'We've punished him enough. Let this man have his life back.' "
Contact reporter Keith Rogers at krogers@reviewjournal.com or 702-383-0308.
Sue Lamoureux talks about her husband on shooting spree anniversary