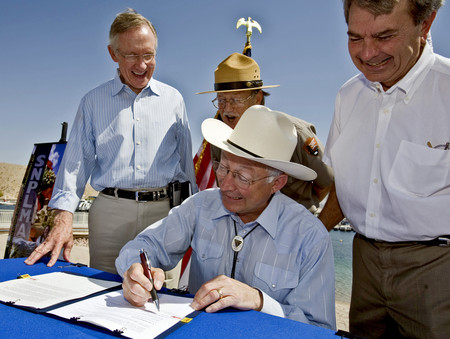 Even Sen. Harry Reid's childhood home in Searchlight isn't far enough from Washington, D.C., for the Senate majority leader to escape the politics of health care, record-high government spending and public opinion polls.
Reid visited the small mining town about 60 miles south of Las Vegas on Friday with Interior Secretary Ken Salazar to announce $135 million in funding for public land projects in Nevada.
After a breakfast stop at the Searchlight Nugget they drove 14 miles downhill to Cottonwood Cove on Lake Mohave in the Lake Mead National Recreation Area for the funding announcement.
"The drive down here was really memorable for me," Reid said. "When I was a little boy we would come down here, there was no lake, it was the (Colorado) river, and my dad used to tell us his stories how he would swim across."
Nostalgia notwithstanding, most questions Reid faced from a pack of reporters trailing him, Salazar and the Secret Service detail that protects him had to do with sticky political and social issues that could determine whether he wins a fifth term in the Senate.
Health care reform was topic number one.
Reid said he spoke about health care Wednesday with President Barack Obama and Thursday with Vice President Joe Biden.
Obama is scheduled to make a speech Wednesday before a joint session of Congress in which he is expected to lay out a detailed framework for health care reform.
"We talked, I did have some things I thought he could emphasize more," Reid said of his conversation with Obama.
Reid said it would be inappropriate for him to divulge Obama's plan for the speech, but did give some hints as to how reform might shape up.
"We're going to do everything we can to get a public option or something like a public option. We are going to do everything we can to make the insurance companies honest. We are going to do everything we can to make sure we are able to cover pre-existing disabilities so that insurance companies can't willy-nilly take a whack at people who have a disability of some kind," he said.
Republican political consultant Ryan Erwin of Las Vegas, who specializes in health care and could end up working for one of Reid's potential political challengers in 2010, said Reid and Obama should focus on cutting costs from the current health care system, then discuss a potentially bigger role for the federal government.
Erwin said tort reform, the ability to buy insurance across state lines and streamlining benefit tracking to make sure people aren't eligible for private sector care before getting care from a government plan should be priorities.
"Until we fix those, I'm reticent to suggest we put more health care in the hands of government at all," Erwin said. "Once we've saved that money, then the battle can be about who we insure first, where we invest that money."
Reid deflected a question seeking reaction to criticism that Nevada is in 50th place among states per capita in receiving federal spending, a line of attack Republicans plan to use against him in the 2010 election cycle.
"That is why you journalists never get it right," he said. "A lot of the money that comes back is based on state spending. For example on education, we are ranked 50th in the nation as far as education. The stimulus money comes back on what the states have done. So in places like education of course we haven't done very well," Reid said.
Reid also addressed a recent poll by the liberal Web site www.DailyKos.com, which showed his approval rating at just 36 percent in Nevada and trailling Republican Danny Tarkanian and statistically tied with Republican Sue Lowden in theoretical head-to-head matchups.
"My polling numbers are fine. I'm glad the Republicans are having a little trouble deciding who is going to run against me, but every person who has been mentioned so far, all my polls show me ahead," Reid said.
He ignored a question asking whether he would release the results of the polls he referenced.
Reid did find a supportive audience during the stop in Searchlight.
During the breakfast stop, local residents Lynda Baker, 60, and Grover Williams, 70, posed for pictures with Reid and later said they disagree with critics who want voters to force him out of office.
"We are definitely voting for him again," said Baker, who said she twice voted for former President George W. Bush.
She described anti-Reid sentiment at Tea Party protests and similar events in the news as, "propaganda, they are putting these ideas in peoples' heads."
Williams said he liked Reid's positions in favor of alternative energy, particularly a proposal to put 140 wind turbines near Searchlight that some local residents oppose.
"Half these people out here don't want them out here," Williams said. "I can't see what it is going to harm. We need these."
Contact reporter Benjamin Spillman at bspillman@reviewjournal.com or 702-477-3861.
view slide show