Jeffs rushed to Las Vegas hospital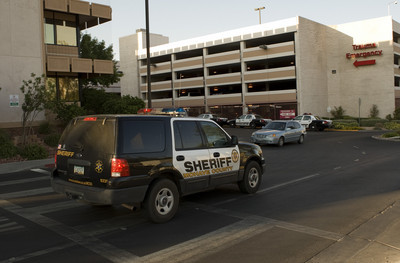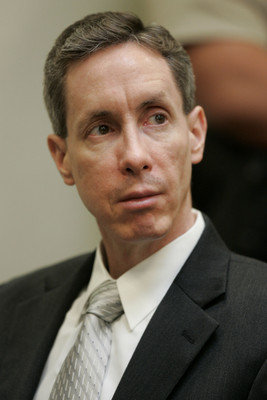 Convicted polygamist sect leader Warren Jeffs was transferred to a Las Vegas hospital Tuesday from a Kingman, Ariz., jail after authorities noticed his deteriorating health.
Jeffs was flown by helicopter to Sunrise Hospital and Medical Center, where he was placed under armed guard by the Metropolitan Police Department. Later in the evening, Mohave County, Ariz., sheriff's deputies arrived to take over guarding the 52-year-old felon.
Jeffs' condition was unknown late Tuesday.
But his condition was of enough concern that he was flown to Las Vegas from Kingman Medical Center, Mohave County Sheriff Tom Sheahan said.
The sheriff said his jail staff in Kingman noticed that Jeffs looked to be in poor health.
Sheahan said Jeffs had no other known medical problems while at the Kingman jail.
Jeffs, leader of the Fundamentalist Church of Jesus Christ of Latter Day Saints, faces trial in Arizona on charges that he arranged marriages of teenage girls to older men. Jeffs was convicted in Utah on first-degree felony accomplice to rape charges and was sentenced to two consecutive prison terms of five years to life.
Las Vegas police Lt. Sean Jackson said Tuesday the department performed a "courtesy hold" until authorities from Mohave County arrived to guard Jeffs.
Jackson would not go into details about the precautions taken to guard the high-profile prisoner but said his team took proper security measures.
About 15 police vehicles from both agencies were parked near the emergency room entrance Tuesday night. Police officials formed two lines in the entry way leading to the trauma center. People in the waiting room said the officers had been standing guard for a few hours.
"We haven't had any problems," Jackson said.
In Arizona, Jeffs had been segregated from the general population of the county jail for security and safety concerns.
In 2006, Jeffs was caught by Nevada Highway Patrol troopers north of Las Vegas during a routine traffic stop. Jeffs, who was on the FBI's most wanted list at the time, was found with $54,000 in cash.
Earlier this year, Texas authorities raided a polygamy sect associated with Jeffs and took dozens of children and teens living at the sect's ranch. Child welfare officials alleged that the sect pushed underage children into marriage. The children later were returned to the parents, but authorities said the sect was still under investigation.
Review-Journal writers Brian Haynes and Maggie Lillis contributed to this report. Contact reporter Francis McCabe at fmccabe@reviewjournal.com or 702-387-2904.