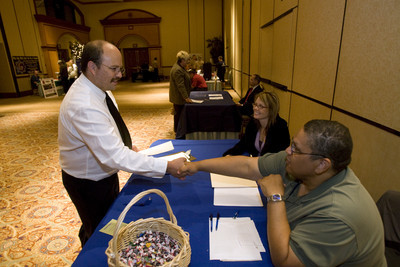 As the state's jobless rate sped toward a record in March, thousands of Nevadans gave up on finding jobs and left the work force, new numbers revealed Friday.
It's the first month since the recession's December 2007 start in which state economists observed a noticeable number of residents quitting the job hunt. Nearly 14,000 Nevadans dropped out of the labor force from February to March, according to the state Department of Employment, Training and Rehabilitation. The trend helped cap work force expansion: The labor pool grew 2.8 percent year-over-year in March, down from year-over-year growth of 4.5 percent in February.
People who opt out of the work force don't count in unemployment tabulations, so the rising ranks of the discouraged should ease growth in joblessness. But even with the decline in job seekers, the Silver State's unemployment rate jumped nearly half a percentage point from February to March, going from 10 percent to 10.4 percent. Nevada's unemployment rate was almost double the level of March 2008, when the share of residents without work came in at 5.8 percent.
Unemployment in Las Vegas rose from 5.6 percent to 10.4 percent year-over-year in March.
March's joblessness was the highest the state has seen since March 1983, and it's nearly two percentage points above the national rate of 8.5 percent.
The record for joblessness in Nevada hit 10.7 percent in December 1982. The low of 4.2 percent came in March 2006.
Experts said Friday that Nevada's unemployment will almost certainly beat the historical high.
"Over the next several months, we're likely to see the worst of this downturn," said Bill Anderson, chief economist for the department of employment. "I fully expect us to surpass that 10.7 percent mark in the near term, though not necessarily next month or the month after."
Keith Schwer, director of the Center for Business and Economic Research at the University of Nevada, Las Vegas, said he "wouldn't at all be surprised" if unemployment in Nevada reached 11 percent. He said he expects joblessness to continue upward into 2010 even if the recession eases before 2009's end. Improvements in unemployment typically lag economic revival, partly because companies stay cautious about hiring in the earliest phases of recovery, and partly because discouraged workers who left the labor force return and boost a market's share of unemployed.
Job loss visited virtually every sector of the state's economy in March, sparing only mining and the combined category of education and health services. In Las Vegas, the construction sector dropped 13,500 jobs, or 14.3 percent of its work force, year-over-year in March. Manufacturing lost 1,600 positions, or 6.2 percent of its base. Employers in leisure and hospitality sliced 15,900 jobs from their payrolls, for a reduction of 5.8 percent. Finance had 2,500 fewer workers, for a job loss of 5.2 percent. The jobs base declined 8.9 percent, or 10,200 positions, among professional and business services such as accounting firms and architecture studios. And government employment shrank by 0.4 percent, or 400 jobs.
Joblessness wasn't so evenly distributed regionally.
Anderson divided Nevada into three geographic categories with differing levels of unemployment.
Counties heavy on suburban bedroom communities have suffered the most, because they relied the most on new-home construction. Unemployment in Nye County, home to Pahrump, reached 13 percent in March. In Lyon County, near Reno, joblessness skyrocketed to 15.3 percent.
Metropolitan areas such as Las Vegas and Reno-Sparks, which rely on consumer spending to drive economic growth, posted the second-worst overall performance, Anderson said. Joblessness in Reno-Sparks was 11.2 percent in March.
The recession has largely spared rural counties, where mining prevails. In Elko, unemployment actually fell from February to March, dropping from 6.4 percent to 6.2 percent, though Elko's unemployment was below 5 percent a year earlier.
Still, as bleak as Friday's report looked, long-term job formation in Nevada remains positive.
The Silver State lost 67,400 jobs year-over-year in March, but that figure tracks well below the 250,000 or so jobs Nevada added from 2002 to 2007. The jobs base in Las Vegas grew 27 percent between 2002 and 2007; subtract the 5.2 percent of positions it dropped in the 12 months prior to March, and the city can still claim a jobs gain of more than 20 percent since 2002.
Nevada held onto its position in the top 10 states for unemployment nationally, ranking No. 7. California ranked No. 4, with a jobless rate of 11.2 percent. Michigan led the nation in unemployment, at 12.6 percent.
The employment department's analysis also shows the current recession has hurt the Silver State more substantially than did the recession of 1981 and 1982.
In the 15 months following a July 1981 peak in the business cycle, the number of jobs in Nevada declined 2.7 percent. In the 15 months following the current cycle's high point of December 2007, the state's job count has dropped by more than 7 percent.
Contact reporter Jennifer Robison at jrobison@reviewjournal.com or 702-380-4512.