Judge says defendant in laser pointer case should remain jailed, family breaks down
February 22, 2014 - 8:57 am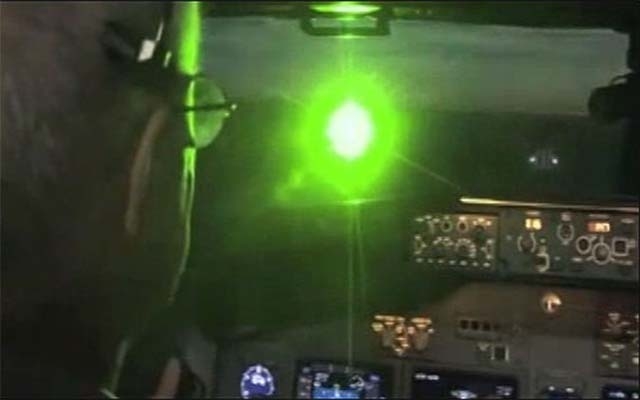 James Zipf and family members broke into tears in federal court Friday after a judge ordered him to remain behind bars while he faces felony charges of aiming a powerful laser pointer at Las Vegas police helicopters.
Following a detention hearing, U.S. Magistrate Judge Nancy Koppe said the 30-year-old Zipf had placed the lives of the people in the helicopters in danger, and she considered him a threat to the community.
In one of the attacks, the pilot became so disoriented that he had to land the aircraft and end his shift, federal prosecutors alleged in court.
Koppe said the community was fortunate that the effects suffered by the pilot were the only ramifications from the half-dozen laser strikes.
She also said she was concerned about Zipf's drug use and his lack of candor with federal agents who interviewed him.
Zipf, 30, who moved to Henderson from Phoenix nine months ago, has a 2011 conviction for pointing a similar blue laser at police helicopters there.
After Koppe refused to release Zipf at the request of defense lawyer Phil Brown, Zipf's wife, surrounded by roughly a dozen family members and friends, began sobbing in the back row.
That prompted Zipf to start crying from an area reserved for defendants across the courtroom, as a U.S. marshal handcuffed him and led him away in jail garb.
Zipf said "I love you" to family members while being escorted past them.
He was indicted Tuesday by a Las Vegas federal grand jury on six felony counts of aiming a laser pointer at the police helicopters.
The indictment alleges Zipf pointed the laser at the helicopters a half-dozen times between Jan. 31 and Feb. 12.
The charges are part of a federal statute enacted by Congress in 2012 and come amid a national campaign by the FBI to curb the rising number of laser strikes on aircraft.
FBI agents arrested Zipf on Wednesday at Brown's office after he failed to surrender to authorities at a prearranged time following his indictment.
Contact reporter Jeff German at jgerman@reviewjournal.com or 702-380-8135. Follow him on Twitter @JGermanRJ.