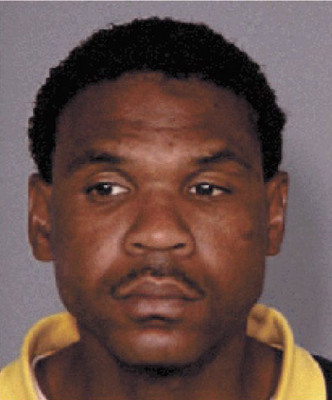 The San Francisco man accused of killing a Kansas City, Mo., rapper and his friend was found guilty Monday of murder and conspiracy to commit murder.
A District Court jury found Andre "Mac Minister" Dow guilty of two counts of first-degree murder and two counts of conspiracy to commit murder in connection with the 2005 killing of 24-year-old Anthony "Fat Tone" Watkins and his 22-year-old friend Jermaine "Cowboy" Akins in Las Vegas.
After delivering the verdict, the jury entered into the penalty phase of the proceeding and gave Dow two life sentences without the chance of parole. He will be formally sentenced on Sept. 24 by District Judge Stewart Bell.
Akins mother, Daenita Akins, broke down cried when the jury read the verdict.
"Those were tears of joy," Akins said. Daenita Akins also goes by the name Daenita Fleony.
Dow, who was mostly stoic throughout the weeklong trial, blessed the jurors after they imposed two life sentences.
"God bless you all," said Dow, a rapper and music promoter.
Authorities accused Dow and another man, 29-year-old Jason Mathis, of killing Watkins and Akins over a rap war between West Coast and Midwest rappers that spilled onto the streets of Las Vegas.
Mathis' trial is scheduled this week in District Court.
The trial gained some notoriety because rapper Snoop Dogg, aka Cordozar Calvin Broadus Jr., was on the list of potential witnesses who could have been called to testify by Dow's defense team.
Prosecutors said Dow lured Watkins and Akins to their deaths under the guise of meeting Snoop Dogg. Dow recorded with Snoop Dogg and the two attended awards shows together.
After the trial, one of Dow's attorneys, Erick Ferran, said they didn't call Snoop Dogg as a witness because they reviewed the evidence and felt they didn't need to put him on the stand.
Prosecutor Josh Tomsheck said Dow and Mathis killed the two victims in retaliation for a 2004 killing in Kansas City, Mo. The victim was a rapper named Andre "Mac Dre" Hicks, of Vallejo, Calif. Although Watkins was cleared by police of involvement in that killing, rumors spread in the rap community that he was responsible, authorities said.
Dow also is accused of killing a potential witness in the case, Lee Danae Larson, whose white Pontiac Sunfire was spotted leaving the place where Watkins and Akins were killed.
Attorney John Powell, who also represented Dow, said Dow and Watkins were friends who had travelled together to pursue their music careers. Far from bitter rivals, the two were friends who worked closely together, Powell said.
Contact reporter David Kihara at dkihara@reviewjournal.com or 702-380-1039.