Just that innocent, fan says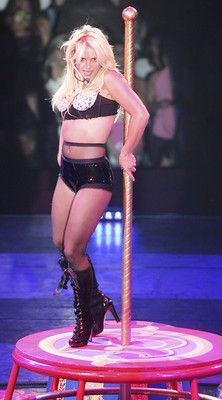 Whoever imagined Jordan Miller's Britney Spears fan site would get a half-million visits a day?
After all, he was only a high school sophomore when he launched breatheheavy.com in 2004.
Whoever thought a Spears fan in Texas would text message a declaration of love for Miller that would be flashed on a screen above Spears during a concert?
After all, Miller is now just a typical college student at the University of Nevada, Las Vegas.
And whoever imagined the 21-year-old kid who updates his site daily from his bedroom in his parents' Summerlin home would be threatened with legal action by the father of the wildly popular singer?
Miller's world turned upside-down last fall after he received an angry phone call from the pop star's dad, Jamie Spears. Since then, the communications major has been accused of copyright infringement, and he's fighting back.
"I'm working my ass off to report on this girl," Miller said Wednesday from his attorney's office.
An image of a handcuffed Spears cradling the "Breathe Heavy" title leads Miller's site, but nothing about the image or the Web site is kinky. The title comes from the star's breathing pattern in one of Miller's favorite songs. The handcuffs represent Miller's opinion that the 27-year-old singer is being held prisoner.
In February 2008, after the singer was forced into an inpatient treatment program for bipolar disorder, Jamie Spears was awarded conservatorship, giving him authority to make legal, financial and medical decisions on behalf of his daughter.
Miller posted several blogs begging for Britney Spears to be "freed." He also posted a magazine story that suggested Britney Spears' younger sister, Jamie Lynn, was expecting her second child. Then he received an unexpected call on his cell phone.
Miller said father Jamie Spears told him, "I am going to destroy your ass."
"I was really freaking out for a good three, four weeks," Miller said. "Lately, I've been doing my own thing. I just kind of want to keep going."
Each day, Miller scans the Internet for stories about Britney Spears, posts them on his Web site and adds his own comments. He encourages her fans to send him concert photos or messages about her worldwide concert tour.
Miller said the site keeps him busy, but it is not as demanding now as it was when the singer was shaving her head, battering vehicles with an umbrella and being photographed without underwear.
Henderson attorney Clarke Walton, who represents Miller pro bono, has been battling with the Spears legal team, which has threatened to sue Miller for copyright infringements.
"The unauthorized use of these recordings, images, copyrighted works and trademarks constitutes actionable infringement under … copyright and trademark law, and also violates Ms. Spears's rights of publicity and privacy," said a March 18 letter from Brad Rose, a New York-based attorney.
Rose did not return a phone message left at his office Thursday.
Miller and Walton are puzzled that Team Spears would leave other fan sites alone and sic legal hounds on a kid who is simply a huge admirer of the singer. Miller believes Jamie Spears is "trying to shut me down" because of his negative comments about the father's control over his daughter.
Miller questioned, for example, why Jamie Spears is going after him instead of the tabloid magazine that first published the story about daughter Jamie Lynn Spears.
He also defended his comments on the father's role as conservator over the pop star.
"A conservatorship is for an 85-year-old who can't take care of themselves, not a 27-year-old mom who is working and making money," Miller said. "If she really does need a conservator, she should get an independent one."
Miller suggested, as many gossip magazines have reported, that Britney Spears feels trapped by her father. The two have never had a close relationship, according to media reports. Miller and the gossip magazines also question whether Jamie Spears is serving as conservator to make money.
So, why does Miller care so much that he's willing to go head-to-head with a man who clearly has tons more money than a college student who works part-time as a gymnastics instructor?
"I've been asking that myself," Miller said. "I just think she's a really cool artist; I feel inspired by her. It's a healthy hobby. It takes a lot of work and dedication, but it's self-fulfilling."
Spears' attorneys allege Miller is profiting from images of Britney, but Miller and Walton said that is not true. Miller pays $300 a month to keep the site going and receives an average of $100 each month from advertisers.
Type in "Britney Spears fan site" on Google, and Miller's site tops the list, ahead of Spears' official Web site. Fans of the site — it receives around 500,000 hits daily — are supporting Miller.
"Leave Jordan Miller alone," one fan in Canada texted Tuesday during a Spears' concert, a message that was flashed on a stage screen.
Walton is not concerned about the legal threats coming from Spears' camp. He said the letters outlining the infringements have no substance. Photographs used originate from companies that approved their use or from camera-toting fans who submitted them.
Miller is not using images or lyrics for a commercial purpose, like selling T-shirts.
"If they want to fight, I'd love this fight," Walton said. "I feel confident we would win on the merits of this case."
Contact reporter Adrienne Packer at apacker@reviewjournal.com or 702-384-8710.