Krolicki rejects offer, wants case dismissed
November 25, 2009 - 10:00 pm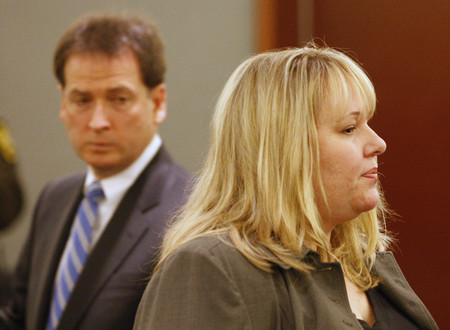 Lt. Gov. Brian Krolicki rejected an opportunity to disqualify the attorney general from his criminal prosecution Tuesday after it was disclosed the husband of Nevada Attorney General Catherine Cortez Masto is holding a fundraiser for one of Krolicki's political opponents this Saturday.
"This offer is too little, too late," Krolicki attorney Richard Wright said at the beginning of an hourlong hearing held to determine if the case should be dismissed for lack of evidence.
Wright said another delay in the case would effectively ruin Krolicki's election chances next year. Krolicki said he intends to seek a second term as lieutenant governor after serving two terms as state treasurer.
After the hearing, Wright said the case against Krolicki and his former chief of staff, Kathryn Besser, is a "partisan prosecution" and said the state should dismiss the case.
Krolicki said following last year's indictment that Democratic Sen. Harry Reid, whom Krolicki intended to challenge in 2010, was behind the charges. Krolicki wouldn't comment after the hearing, but Wright said Krolicki's political aspirations have been derailed.
Reid spokesman Jon Summers has said the charges are unfounded.
Krolicki and Besser face a Dec. 14 trial on felony charges related to what an indictment says were irregularities in how the treasurer's office handled finances from the Nevada College Savings Program from its inception in 2001 through 2006, Krolicki's final year in that office.
The indictment handed down last November alleges Krolicki misappropriated and falsified accounts and that Besser aided and abetted him. No money was ever found missing from the $3 billion fund.
Prosecutors argue Krolicki should have remanded roughly $6 million to the state general fund. Krolicki has said all along the fund was to remain in accounts separate from the general fund.
Although Krolicki has attempted to have the attorney general disqualified ever since the indictment was handed down, Wright said a disqualification at this late date would be a "pyrrhic victory," and another delay would effectively destroy Krolicki's political future.
"This is like a 'Saturday Night Live' skit," Wright said just after accusing prosecutors and the attorney general of knowing about Paul Masto's fundraising efforts. He is holding the fundraising event for Robert S. Randazzo, a Democratic candidate for lieutenant governor.
Deputy Attorney General Christine Guerci-Nyhus said she understood it was difficult to believe Cortez Masto was unaware of her husband's political activities, but she assured the court that was the case.
Chief Deputy Attorney General Conrad Hafen stood by the indictment, which began after a 2007 legislative audit pushed for by current Treasurer Kate Marshall, a Democrat, indicated $3.4 million out of a $6 million marketing and advertising budget was paid to a plan adviser.
Wright said Krolicki was acting on the advice of attorneys general, which constituted yet another conflict of interest for Cortez Masto.
Had prosecutors' efforts to be disqualified from trying the case prevailed, Cortez Masto previously chose attorney Dominic Gentile to prosecute Krolicki and Besser at a discounted rate of more than $400,000.
Hafen said prosecutors in Clark and Washoe counties wouldn't take the case, paving the way to retain private counsel.
Following the hearing, Wright said if Cortez Masto wants to "do something ethical, finally, she should dismiss the charges" against Krolicki and Besser, and "pull the trigger on a partisan prosecution." Defense attorneys argued the case attacks basic concepts of due process and that the lack of specific allegations of wrongdoing have made it difficult to defend Krolicki and Besser.
Prosecutors insist the case is not politically motivated and that the indictment is the result of Krolicki's failure to carry out his duties. Several witnesses who testified before the grand jury explained how the state's budget process works through the Nevada Budget Act.
Wright argues the Nevada College Savings Program was never intended to fall under the umbrella of the state budget.
District Judge Valerie Adair took under advisement the arguments attorneys made Tuesday on the dismissal.
She must rule on several issues before a trial. They include a determination on whether Nevada laws as they relate to the state's budget and its officers are too vague; if the charges against Krolicki and Besser create a conflict for the attorney general; and allegations of irregularities when the grand jury was convened.
Contact Doug McMurdo at dmcmurdo@ reviewjournal.com or 702-380-8135.