Lady Liberty gets stamp of approval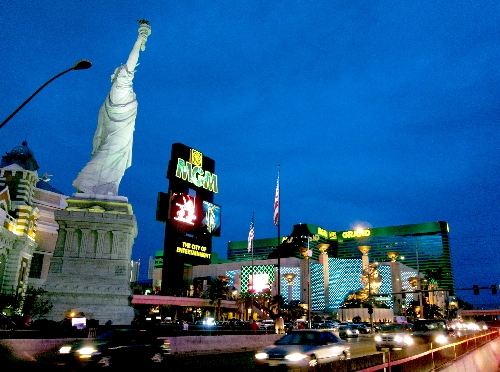 Lady Liberty, the Statue of Liberty replica outside the New York-New York hotel, might be smirking today. She has one-upped her more famous relative, who resides in New York Harbor.
Since Dec. 1, 2010, the U.S. Post Office has been printing and circulating a 44-cent stamp that supposedly was bearing the face of the original Lady Liberty.
An eagle-eyed stamp expert discovered otherwise.
Upon further investigation, USPS officials have determined that the stamp is based on a photograph of New York-New York's replica, which has overlooked the Las Vegas Strip since Jan. 3, 1997.
According to Linn's Stamp News, the postal service had received the photo from Getty Images, and Getty Images had licensed the photo only as "Statue of Liberty."
The stamp publication said the USPS has has no intention of pulling the stamp out of circulation. They are gathering historical information about the replica for their Stamp Information Booklets, which are distributed to consumers upon request.
BILL SULLIVAN SERVICES
A memorial service is scheduled today for Bill "Sully" Sullivan, a former Chicago nightclub operator who later became a legendary Las Vegas casino host.
"He brought more money to this town than any host who ever lived," longtime Luxor VIP host Gene Kilroy said. "He was the host of hosts."
An 11 a.m. service is set at Christ the King Church, at Tropicana Avenue and Torrey Pines. Sullivan died March 31. He was 78.
THE SCENE AND HEARD
Restaurateur and nightclub owner Nico Santucci is hosting six episodes of the luxury lifestyle show "Social" on the Wealth TV network. He was spotted last week shooting an episode with Golden Nugget headliner Gordie Brown.
SIGHTINGS
Academy Award nominee Jude Law and his family, backstage meeting the Blue Man Group (Venetian) after attending Tuesday's show. … Elaine Wynn, hosting the grand opening of Emilio Pucci at Crystals, the restaurant and shopping center at CityCenter. Also there: Jane Schorr, Susan Molasky, Donna Cloobeck, Dana Lee and Communities in Schools execs Cheri Ward and Terri Clark.
THE PUNCH LINE
"Insiders say that Trump is running for president as a publicity stunt. That's not the Donald Trump I know." — David Letterman
Norm Clarke can be reached at (702) 383-0244 or norm@reviewjournal.com. Find additional sightings and more online at www.normclarke.com. Follow Norm on Twitter @Norm_Clarke.