Larry Basich gets health coverage after $407,000 Obamacare exchange glitch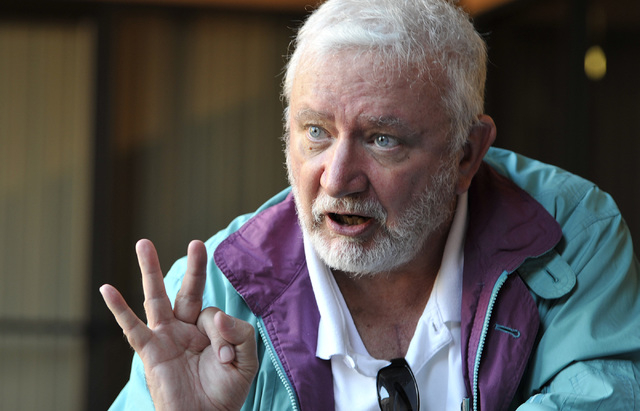 Larry Basich's health insurance nightmare has ended.
Insurer Health Plan of Nevada Thursday said it has agreed to cover Basich retroactively to Jan. 1, concluding a four-month saga during which the retired Las Vegas engineer ran up more than $400,000 in uncovered medical bills.
Health Plan of Nevada representatives said in a statement that they have "reached an agreement that will honor Mr. Basich's original desire to be enrolled with Health Plan of Nevada on Jan. 1, 2014 and we look forward to providing him with quality health care services."
The board of the Silver State Health Insurance Exchange acknowledged the agreement, and the conclusion of Basich's problems, at its Thursday meeting.
Basich said before the meeting that he won't believe the situation is resolved until he has concrete proof.
"I want them to say, 'Yes, you're covered back to Jan. 1, and here's your card,'" he said.
He could not be reached for comment after the meeting.
Basich's odyssey began in October, when he first tried to get coverage through the exchange's Nevada Health Link, the online portal through which individuals can buy insurance to comply with coverage mandates in the Affordable Care Act. Basich made it through the website's glitch-ridden sign-up process in November, and the exchange withdrew his first premium payment on Nov. 21. Basich also paid premiums for January and February.
But when Basich needed a triple bypass on Jan. 3, he found that his chosen carrier, Health Plan of Nevada, had no record of his enrollment.
The exchange and its contractor, Xerox, had instead forwarded Basich's payments to another insurer, Nevada Health CO-OP.
Because neither insurer could verify Basich's coverage, he had no carrier to help cover his $407,000 bypass tab.
Health Plan of Nevada officials said Xerox and the exchange directed the company on Feb. 14 to enroll Basich as of March 1, a request they said they "immediately" fulfilled.
But that still left Basich uncovered in January and February, when he incurred his big bills.
"We understand that there was an error by the administrator of the exchange in processing Mr. Basich's enrollment that was not known to us and he was enrolled with another carrier," Health Plan of Nevada's statement said.
Because of that mix-up, company executives had stern words for Xerox at Thursday's exchange's board session.
Kyle Clingo, senior vice president of operations for Health Plan parent UnitedHealthcare of Nevada, said the company is "exploring and reserving all legal remedies against the parties responsible for this unfortunate situation."
He also said Health Plan of Nevada, the state's biggest insurer and one of just four carriers on Nevada Health Link, would have to "rethink" its commitment to the exchange "if real changes cannot be made" in the system's functionality. The exchange has enrolled about 20 percent of its forecast 118,000 members, and many consumers have complained of problems verifying coverage.
Basich was one of those consumers. He became a regular at exchange board meetings in February and March, pleading for an answer. But he said there was no progress until the Review-Journal reported on his ordeal on March 18, "and got things rolling."
Basich also called on political leaders including Gov. Brian Sandoval and U.S. Senate Majority Leader Harry Reid.
Sandoval spokesman Mac Bybee said the governor wants to prevent similar issues for other consumers.
"Gov. Sandoval is pleased that Mr. Basich will receive his health coverage. However, the coverage decision process was delayed unnecessarily and took too long. The governor will continue to hold Xerox accountable until it can ensure instances like this do not occur again."
Reid said in a statement that he is satisfied that Basich has received help.
"I wrote to Xerox, the Silver State Health Exchange, and Health Plan of Nevada about Mr. Larry Basich, strongly urging them to grant him retroactive coverage dating back to Jan. 1, 2014. I am very pleased this coverage has been granted since it was the fault of Xerox, not Mr. Basich, that his enrollment was not finalized. This is only step one in the process and I will do everything I can to ensure the procedures he underwent are covered as they should be under his new health insurance."
Basich said he has mixed feelings now that his insurance drama appears to be in its final chapter.
"There's been so much stress. It's almost unbelievable that they could, through their ignorance, put me through this," he said. "But in the end, I'll be happy to not have to deal with this crap anymore. It will be such a great relief. It was just so much stress."
The problem, said Basich, is that he's not alone.
"If Xerox, if the state of Nevada, if Sandoval think this whole fight is over because they're going to resolve my one issue, they need to rethink that, because my broker has more than 20 issues exactly like mine on her plate right now."
Contact reporter Jennifer Robison at jrobison@reviewjournal.com or 702-380-4512. Follow @J_Robison1 on Twitter.