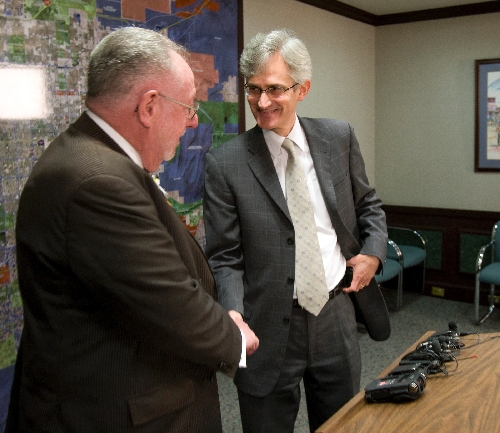 Clark County and Las Vegas will work to combine some of their fire services to save money in the prolonged recession.
County Commission Chairman Rory Reid and Mayor Oscar Goodman announced Tuesday that they will look at sharing more services, such as training, heavy rescue and hazardous materials, while they bargain with their respective labor unions.
Neither leader could say whether merging certain fire services would lead to layoffs. They also had no solid estimate of how much money the proposal would save taxpayers, although they both argued that eliminating redundant services will improve their financial health in the long run.
Reid, who is running for governor, blasted the county firefighters union. He said union leaders' lack of cooperation in cutting labor costs drove him to make this move.
"They, frankly, have been obstructionist," Reid said at a news conference. "That attitude is unacceptable and shows a lack of regard for the situation we're in."
The county is wrestling with a $57 million shortfall as the June deadline approaches for submitting a balanced budget to the state.
Goodman has criticized city employee unions for not coming forward with enough contract concessions to avoid layoffs.
He and other city leaders have asked unions to give up raises called for in their contracts and take 8 percent pay cuts in each of the next two budget years, but labor leaders have resisted.
The city has been pushed into a position of having to lay off as many as 300 workers unless the unions relent, Goodman said. "There's going to be a lot of carnage."
City and county fire chiefs will study the proposed consolidation and make recommendations to the City Council and County Commission in mid-June.
Reid said the county will consult with the firefighters union but doesn't need its permission to combine its fire services with the city's.
"That is something within our purview," Reid said.
Both officials noted that the two fire departments already collaborate in some ways. For instance, the fire crew closest to a blaze will respond, even if it's outside that department's jurisdiction.
The leaders of the city and county firefighters unions said the plans to consolidate certain services caught them off guard. But neither would speculate about whether Reid and Goodman were trying to increase pressure in bargaining.
"I was in good faith negotiations with the city, which is what we're supposed to do," said Dean Fletcher, head of the International Association of Firefighters Local 1285.
He questioned why neither fire chief was at the news conference.
Merging fire services should not be political or done at the expense of public safety, Fletcher said. "Just so the fire chiefs make the call as the experts."
Fletcher disagreed about the county and city being able to bypass the unions entirely. Government officials would have to deal with labor leaders to decide which union would represent the workers in the regional entity and what the contract would be, he said.
Ryan Beaman, head of the county firefighters union, said it would not be in the county's interest to make a drastic unilateral change.
"Our experts were never consulted on this," said Beaman, president of the International Association of Firefighters Local 1908. "Why would you not want to sit down and talk to us about how this will affect the public?"
Beaman echoed Fletcher's argument that public safety is paramount. He said he wasn't sure how combining services would save money.
Beaman repeated a familiar refrain, saying the county should hire more firefighters to reduce overtime pay, a large part of the department's labor costs.
"There's 16 vacancies right now," he said.
But Reid contends that beefing up staff is a quick fix.
"Hiring more firefighters doesn't solve the long-term problem of overtime," he said.
Goodman said he would like to delve deeper into consolidation. Parks, business licensing, animal control and even the two government TV stations could be combined, he said.
Reid said services such as police, water and health were regionalized years ago and work well.
Still, two past attempts to consolidate city and county services more extensively failed.
The state Legislature passed a law in the mid-1970s that merged the city and county. But the state Supreme Court overturned the action within a year because the law didn't apply to all counties.
Another merger was proposed in the late '70s. The city would control all urban areas other than Henderson and North Las Vegas, placing the Strip in its turf. The city and county would divvy up various services.
The proposal was put on the ballot, and county residents voted it down.
Goodman said the city and county now must explore consolidating services in response to the collapsed economy.
"We're not sitting still," he said. "It's not the world it was last year."
Contact reporter Scott Wyland at swyland@
reviewjournal.com or 702-455-4519.